Tamils of Sri Lanka – A Timeless Heritage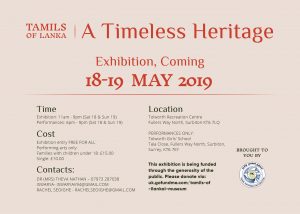 Dear friends,
We at TIC have had many requests about how the community can contribute to Varadakumar's legacy.At the time of his death, Varadakumar was working hard to organise an exhibition to memorialise the end of the war, to be held in Tolworth Recreation Centre on 18-19 May. Varadakumar worked single-mindedly for months to arrange this exhibition, entitled 'Tamils of Lanka: a timeless heritage.' He was determined that we present the resilience and creativity of the Tamil community, despite the immense hardship and violence suffered during the war and in its aftermath. Tamil children and young people are the primary focus of the exhibition; Varadakumar was intent on ensuring that the next generation are connected to their history and culture. The exhibition is the first step in a bigger project, working towards a traveling exhibition and the establishment of a permanent museum.
The exhibition organisation committee is youthful and dynamic: Varadakumar galvanised and assembled young, creative Tamil volunteers alongside seasoned activists and organisers, artists and researchers. He was encouraged and delighted by the number of young Tamils who are involved in the initiative. He saw the exhibition as an ideal platform for them to contribute to their community.
We are all stunned by his passing and determined that the exhibition – his final project and final wish – is a fitting tribute to him. 
To ensure that Varadakumar's final project is a success, we need funds urgently. He was passionately fundraising when he died. Please consider making a generous contribution to the exhibition via the Gofundme platform.
Please use this link to donate. The page is https://www.gofundme.com/tamils-of-ilankai-museum.
If you would prefer to donate by bank transfer, please use these bank details;
Centre for Community Development
A/C  No –  83512101
Sort Code: 60 23 39
National Westminster Bank 
Please use the reference: "Exhibition "
Please share with your friends and ask them to take part.
Best wishes,
Dr. Rachel Seoighe 
Exhibition Team Coordinator
Tamil Information Centre
Thulasi
Bridge end Close
Kingston Upon Thames
KT2 6PZ