by Sachi Sri Kantha, December 11, 2017
This is a rejoinder to Amit Barua's commentary in The Hindu daily (Feb. 5, 2017), with the caption "JR: I was Forced into a Deal with India". In my view, Barua has cherry-picked some items from the so-called declassified CIA documents. The items recorded by Barua are as follows:
R. Jayewardene, in his February 1988 conversation with visiting American diplomat Peter Galbraith stated, "He [Mr. Jayewardene] shared the GOI's [Government of India's] implacable hostility toward Prabakaran, calling the LTTE leader 'a mad fellow'".  There is no secret here. Jayewardene did show hostility not only to Prabhakaran, but also to M.G. Ramachandran (who supported Prabhakaran) as well as to Indira Gandhi.
"It appears that the Americans also played a behind-the-scenes role in ensuring channels of communication between President Jayewardene and Prime Minister (Rajiv) Gandhi." I guess, some details have NOT been checked for clarity by Barua here. What was this 'behind-the-scenes' role here? Was it RAW's case officer K.V. Unnikrishnan's honey-pot trap by the CIA's airlines lady? To refresh the memories of this sordid episode of what happened thirty years ago, I provide one Ajit Ninan cartoon and Salamat Ali's report nearby.
"A third CIA intelligence assessment of September 1986 stated that India was 'rapidly expanding its armed forces to 'intervene' in Sri Lanka." From my readings, and that of cryptic descriptions by A. Amirthalingam about his conversations with Indira Gandhi (before she was assassinated in October 1984), this assessment by Uncle Sam's gumshoes was no secret at all. The mystery that deserves a solution here is explicitly identifying the CIA moles in Indira Gandhi's cabinet, who leaked Indian defense secrets to the CIA.
I'm also interested in knowing whether CIA declassified any revelatory documents relating to the assassination of Indira Gandhi by her 'trusted' bodyguards in 1984? Why did Amir Barua fail to report on this?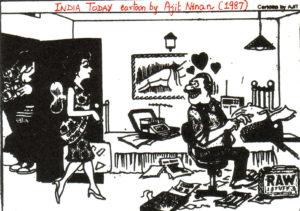 I also checked on the career of the named American diplomat Peter Galbraith (b. 1950). He was a son of John Kenneth Galbraith, tagged as "one of the most famous intellectual figures of the twentieth century". A Wikipedia entry on the younger Galbraith states that he was working as a staff member for the U.S. Senate Committee on Foreign Relations from 1979 to 1993. Then, I located an interesting profile of Peter Galbraith written by Benjamin Wallace-Welles in the New York Magazine (Oct. 31, 2010), with the caption 'Diplomat gone rogue'! He has had CIA links, and this relationship turned sour eventually! Here is a quote, from Wallace-Welles profile:
"In the Balkans he [Galbraith] directed the CIA to the mass graves at Srebrenica. As ambassador to Croatia [from June 28, 1993 to Jan. 3, 1998] he gave tacit permission for the Iranians to ship arms through the country to arm the Bosnian Muslims and help turn back the Serb militias; this antagonized the CIA, which accused Galbraith of going rogue and persuaded Congress to hold hearings…."
So what does one think about the credibility of the CIA's own source here?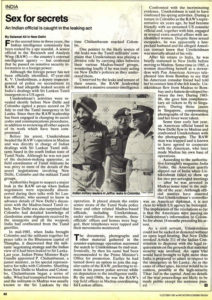 This year being the birth centenary year of Indira Gandhi, it would be of much relevance if Indian journalists made a serious attempt to expose the Indian nationals who betrayed her to the CIA – whether they be Morarji Desai (1896-1995), Jawahar Nehru's private secretary M.O. Mathai (1909-1981), Y.B. Chavan (1913-1984) or Rustom Sohrab Nagarwala (1921-1972)? Among these named, Desai and Chavan were ministers in Indira Gandhi's cabinet. Nagarwala was a Parsi army captain, who later worked for RAW, like Unnikrishnan (a police officer who later worked for RAW).
Naivete of experienced journalists like Amit Barua is rather amusing. They should be told that the history written by Uncle Sam's anonymous gumshoes belongs to that of the National Enquirer grade. Is it too much to expect, that these Barua types need to elevate their taste for history reading to the minimal National Geographic grade?
Relevant Sources
Salamat Ali: Sex for Secrets. Far Eastern Economic Review, Oct. 15, 1987, p. 40.
Dilip Bobb: Morarji Desai: The Hersch heresy. India Today, June 30, 1983.
Katherine Frank: Indira – The Life of Indira Nehru Gandhi, Houghton Mifflin Co, Boston, 2002.
Manoj Joshi: Sex, spies and secrets: How officials fall into honey traps. India Today, Dec. 22, 2011.
David Margolick: U.S. Journalist cleared of libel charge by Indian. New York Times, Oct.7, 1989.
The Nagarwala case: Is the truth buried? India Today, April 30, 1977.
Obituary: M.O. Mathai, a top official in India during Nehru's rule. New York Times, Aug 31, 1981.
Sandip Unnithan: 'Madras Café' brings back uncomfortable memories of the CIA's honey trap. India Today, Aug. 29, 2013.
Benjamin Wallace-Wells: Diplomat gone rogue. New York magazine, Oct. 31, 2010.
[http://nymag.com/news/politics/69266/]