For the uninitiated, the acronym RAW in the title stands for Research and Analysis Wing, India's equivalent of CIA. In my previous commentary on rebutting the baloney of Subramanian Swamy, I made reference to his evading answer on RAW's activities in Sri Lanka.   Thus, I wish to reminisce on the 25 year old most infamous cockamamie story here.   In brief, it was as follows:
Claptrap: Assassination of A. Amirthalingam and V.Yogeswaran on July 13, 1989.
Comeuppance: Assassination of Uma Maheswaran (PLOTE leader) on July 17, 1989.
Story's hero: Mahattaya (LTTE's then deputy leader)
Story's villain: Prabhakaran (LTTE's leader)
Pitchman: The editor of the Hindu (Madras) daily
Director: B. Raman and Bagpipers
Producer: Rajiv Affiliates
Clown: V. Perumal (then chief minister of North-East Province in Sri Lanka)
Climax: Assassination of Prabhakaran by Mahattaya in Vavuniya on July 24, 1989.
Suckers: Tamil folks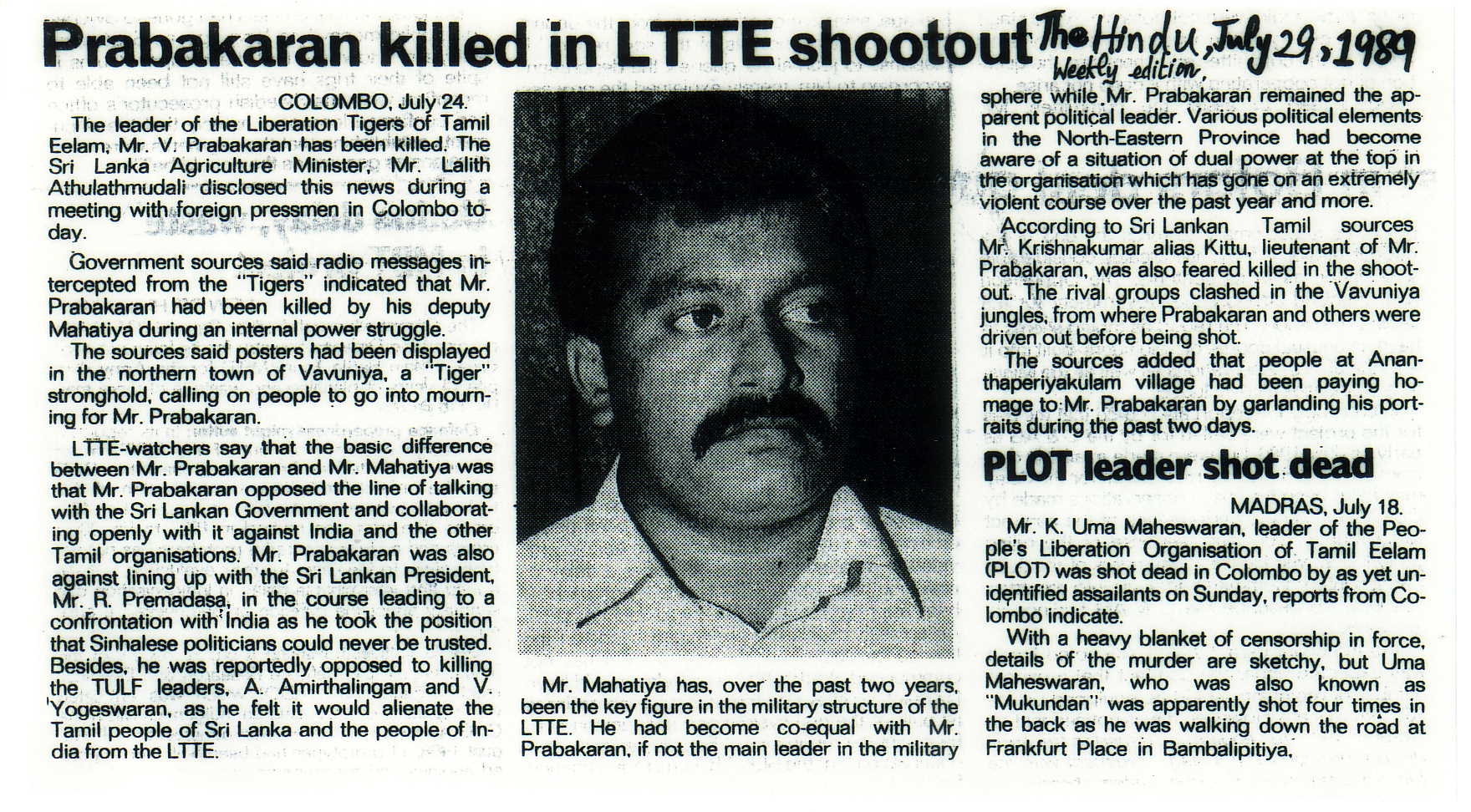 Sivanayagam – the only one to record this story
Among the books I have in my collection (see below, the listed sources) which covered that specific period, I noted that all authors, excluding S. Sivanayagam, have miserably failed to record this RAW's cockamamie story. What is worse is that all authors (Rajan Hoole et al., Rohan Gunaratna, Dayan Jayatilleka, Narayan Swamy, and Sabaratnam) had made reference to the assassination of Amirthalingam, but conveniently ignored the news event which followed 11 days later! Thus, I offer below Sivanayagam's version.
"One week after the cremation of the TULF leaders, came the most diabolical piece of disinformation ever perpetrated on the Indian and Sri Lankan public. LTTE leader Pirabakaran was 'dead' – went the word on the grapevine, 'killed by his deputy 'Mahattaya'. THE HINDU of Madras, known facetiously as 'The Mahavishnu of Mount Road' in allowing wishful thinking to get the better of journalistic prudence, led the pack in its issue of July 24, under the headline – PIRABAKARAN REPORTED KILLED IN LTTE SHOOTOUT! India's state-owned electronic media, All India Radio and Doordashan followed. In Colombo, Lalith Athulathmudali announced the death at a meeting with foreign newsmen the same day. IPKF's poodle, Perumal, said he was absolutely certain that the man was dead.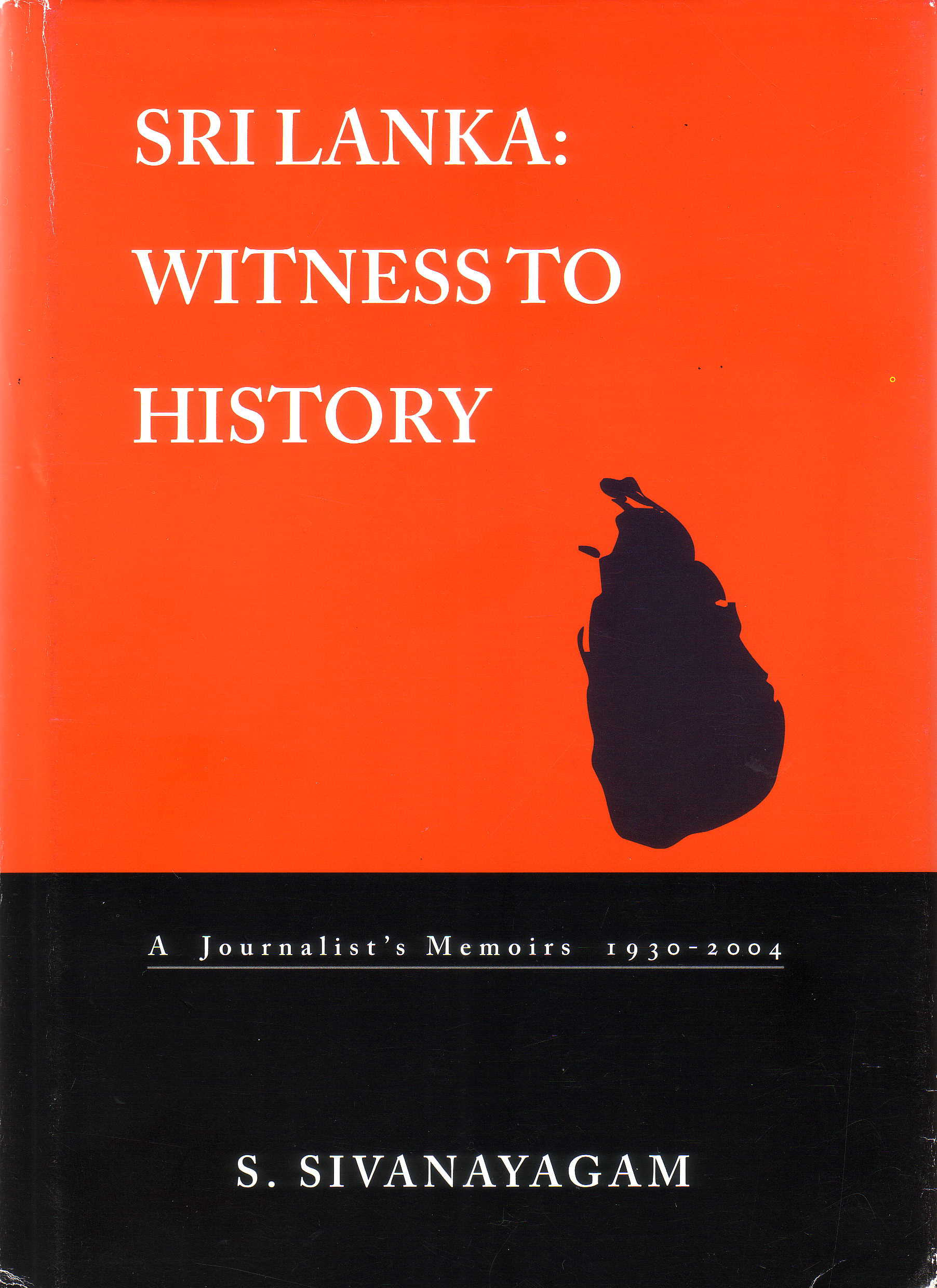 The most grotesque crime against newspaper ethics was the one perpetrated by the Brahmin-owned Tamil daily in Tamil Nadu, the Dinamalar, published in five centres. It went to town on July 24 with a screaming 8-column headline on Page 1, with three double column photographs of the 'deceased' Pirabakaran, the 'assassin' Mahattaya, and for good measure one of Kittu, also 'deceased'. The paper came out with very graphic details of an audio cassette that was being circulated in which Mahattaya explains why he had to kill Pirabakaran. The body of Pirabakaran was kept at a place called Anandaperiyakulam, 15 miles from Vavuniya, the paper said. It also quoted Indian intelligence sources saying that increasing sounds of gun fights between the Pirabakaran and the Mahattaya factions were being heard within a radius of 15 kilometres. Meanwhile several LTTE men were surrendering to the IPKF! On the following day's issue, the paper gave the 'news' that Pirabakaran's body, according to 'authoritative sources' was being taken to his home town Valvettiturai for burial!
While everyone could guess from where the fabrication originated, what could have been the motive, given the impossibility of hiding the truth for long? One possible explanation came from Janata Dal leader George Fernandes. A Madras report published in the Indian Express of August 1, said:
'Janata Dal leader George Fernandes has expressed fears that Indian intelligence agencies might have planted the rumour about LTTE leader Prabhakaran's death as part of their plan to kill him. In a letter to President R. Venkatraman, copies of which were released to the Press on Saturday, Mr. Fernandes said that he had reasons to believe that the Indian intelligence agencies 'may have wanted to kill him'. He said, 'I must express my abhorrence of the crude attempt made by Indian government and its intelligence agencies to invent this story.' "
Anita Pratap does not mention Amirthalingam's assassination. But, from her descriptions in the book, one can infer that she was dangling around Sri Lanka during that period. She also mentions that a listless Mahattaya was produced before her, by Prabhakaran, at her insistence (circa 1991).
Gen. Harkirat Sing's Thoughts
K. Natwar Singh, a former retainer of the Gandhi family, who had fallen out of favor is making news with his recently published memoir. I provide below the thoughts of IPKF General Harkirat Singh's thoughts on Natwar Singh's activities in 1987.
"A Core Group was set up in New Delhi by Prime Minister Rajiv Gandhi to make major decisions on Sri Lanka. The Core Group comprised K. Natwar Singh, Minister of State for External Affairs (Chairman), the Foreign Secretary, the Defence Secretary, the Chiefs of the three Services, heads of RAW and the Intelligence Bureau (IB), as well as senior staff officers from the civil services and the armed forces. The Core Group established close links between the PMO, the Indian Army and RAW.
This group met almost daily and the Vice Chief of Army Staff, rather than the Army Chief, attended most of the meetings. Other ministers and bureaucrats were invited as and when needed. The Core Group was supposed to take the major decisions regarding India's options in Sri Lanka, but in practice, Prime Minister and the Chief of Army staff, took the major decisions. The PM preferred to deal directly with K. Natwar Singh, the Minister of State for External Affairs, and P. Chidambaram, the Minister of State for Internal Security."
This Natwar Singh fellow represented the Indian Prime Minister at Amirthalingam and Yogeswaran funeral, held in Jaffna in July 1989! Considering the details provided by Harkirat Singh in 2006, one can infer how he aided and abetted RAW's crimes in Sri Lanka.
Checked Sources (in chronological order)
Rajan Hoole, Daya Somasundaram, K. Sritharan and Rajani Thiranagama: The Broken Palmyra, The Sri Lanka Studies Institute, Claremont, CA, 1990 revised edition.
Rohan Gunaratna: Indian Intervention in Sri Lanka – the role of India's intelligence agencies, South Asian Network on Conflict Research, Colombo, 1993.
Dayan Jayatilleka: Sri Lanka – The Travails of a Democracy, Unfinished War, Protracted Crisis, Vikas Publishing House, New Delhi, 1995.
M.R. Narayan Swamy: Tigers of Lanka – from Boys to Guerrillas, Konark Publishers, New Delhi, 1996, 2nd edition.
T. Sabaratnam: The Murder of a Moderate – Political Biography of Appapillai Amirthalingam, Nivetha Publishers, Dehiwela, 1996.
Anita Pratap: Island of Blood – Frontline reports from Sri Lanka, Afghanistan and other South Asian Flashpoints, Penguin Books, New Delhi, 2001.
Rajan Hoole: Sri Lanka: The Arrogance of Power Myths, Decadence & Murder, University Teachers for Human Rights (Jaffna), Colombo, 2001.
M.R. Narayan Swamy: Inside an Elusive Mind: Prabhakaran, Konark Publishers, New Delhi, 2003.
S. Sivanayagam: Sri Lanka: Witness to History – a Journalist's Memoirs (1930-2004), Sivayogam, London, 2005, pp. 381-382.
Harkirat Singh: Intervention in Sri Lanka – The IPKF Experience Retold, Manohar Publishers, New Delhi, 2006, p. 124.