Random Thoughts (part 1)
by Sachi Sri Kantha, July 28, 2017
Kavi Arasu [King Poet] Kannadasan's 80th birthday passed by on June 24, 2017.  While serializing the biography of his contemporary MGR in this website, I have long wondered how their friendship, cooperation, conflict and rivalry in both cinema and politics, stimulated their creativity.  Both were strong-willed talents.  In the 38 chapters I have written so far on MGR's biography, I have yet to focus on this angle — the MGR-Kannadasan dyad. Earlier, I also have had a thought of combining the lives of MGR and Kannadasan, as a dual biography.  Their interaction in cinema, politics and social activism of tentatively three decades (1950-1980) also aligned neatly with my first three decades (I tag it as my 'salad days') in Sri Lanka.  I left the island in August 1981.  Kannadasan died in Chicago in October 1981.  MGR died in December 1987.
In a short Tamil book, I published on Kannadasan twenty years ago, Thamil Kavi Arasu Kannadasan (1997), I marginally touched on the MGR – Kannadasan collaboration in Tamil movies in a brief essay.  This essay needs further expansion in the MGR biography series.  Neither Kannadasan nor MGR would have dreamt that their collaborative creativity in movie scripts, movie lyrics, and meaningful inspirational songs to Tamils and the down-trodden tribes would gain revival, wider popularity and new fans with digital media, especially in YouTube format (that was established in February 2005).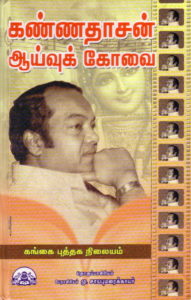 The entry on Kannadasan in Wikipedia, leaves much to be desired. For a comparison, check the Wikipedia entries on poets Dylan Thomas (1914-1953) or Philip Larkin (1922-1985). As an Wikipedian, I had experienced the futility in providing reliable citations on Tamil notables and politicians, due to the timidity of narrow-minded 'fans who want nothing but the best' about their 'heroes'. By his own admission and by general consensus, Kannadasan was a flawed person. His weaknesses for liquor, drug and women were well known and he himself had recorded these in his creative works. In fact, I'd suggest that these were the muses for his creativity. So, why one shouldn't acknowledge his weaknesses in a realistic evaluation of his talent? Thus, in this occasional series, I opt to develop a profile of Kannadasan, which will be an essential alternate to what prevails in the Wikipedia entry on him.
Eleven years ago, I received a gift of an elegant research compendium on Kannadasan (published in 2003) from my high school friend S. Sivakumaran. It was titled, 'Kannadhasan Aayvuk Kovai' [a collection of 100 critical essays on Kannadhasan], compiled by Prof. M. Sayabu Maraikayar (b. 1951). To the best of my knowledge, in 756 pages, this seems to be the foremost work on Kannadasan's creativity. Unfortunately, all the 100 essays contributed by Tamilnadu academics were written in Tamil. Sadly, not much information is available about this research compendium in the internet. As such, I provide below my English translations of the titles of 100 essays on Kannadasan, in the listed order. Some titles make reference to Kannadasan's works, which I indicate in italics.
Kannadasan's view on society
Kannadasan's Kannan songs
King Poet Kannadasan's courageous policy
Kannadasan's 'View and Path'
King Poet Kannadasan's 'Thai Paavai'
King Poet I had met…
'Aadalarasan'
Expression patterns in Kannadasan's movie lyrics
Kannadasan's commentary on Tirukural's 'Kamathu Paal'[Love]
Kannadasan's 'Yesu Kaviyam' – Genesis.
Kannadasan's linguistic pattern in prose
Kannadasan's 'Thai Paavai'
Historical vignettes in Kannadasan's drama scripts
King Poet's commentary on 'Tiruppavai'
Kannadasan – Lover of this Land
Journalist Kannadasan
Poet of the Times
King Poet's poetry Lightnings
Progressive thoughts in poet Kannadasan's songs
Social thoughts on Kannadasan's movie lyrics
Poet Kannadasan's six commands
Oppressed folks in Kannadasan's movie lyrics
Kannadasan's passion for Tamil language
Kannadasan's thoughts on feminism
Feminism in Kannadasan's poetry
Caste and society in Kannadasan's thoughts
Allegorical beauty in Kannadasan's creations
Mahakavi Bharathi and King Poet Kannadasan
Kannadasan and religious thoughts
Psychological view in Kannadasan's 'Sruthi Seraatha Ragamkal' novel
Kannadsan's view of love
Social thoughts in Kannadasan's movie lyrics
Supreme pleasure presented by Kannadasan
Kannadasan's elegies
Virutham verses among Kannadasan's poems
Kavimani Sri Krishna Anthati verses of the lover of Kannan
Trends in Kannadasan's novels
Kannadasan and theistic thoughts
Secret of Kannadasan's creativity – a study of 'Pushpamalika'
A view of Kannadasan's 'Nambikkaikal', 'Vasantha Kalangal' and 'Thoughts 1000'.
Bible and 'Yesu Kaviyam'
Kannadasan's view of Islam
Kannadasan and greetings
Became a poet because of Kannadasan
Message on Touch
Kannadasan's multi-viewed thoughts
Kannadasan – a pole star in the poetry sky
Religious Tamil in movie music
Poet Kannadasan's life experiences
Sri Krishna Anthati and Alvar saints
'Muppathu Naalum Pournami' (novel) – realism and boundary breach
Tone in Kannadasan's movie lyrics
Kannadasan's translation talent
Instability in poet Kannadasan's songs
'Mankani' [Mango fruit] – a love epic
Sayings of Kannadasan
Tamil literary thoughts in Kannadasan's movie lyrics
Kannadasan's view of history
Nehru in Kannadasan's elegies
King Poet Kannadasan's commentary on 'Abirami Anthati'
Self predicament and philosophy of King Poet
Poem in Three dimensions
Kannadasan's lullaby songs
Kannadasan's thought athletics
Philosophical thoughts in the movie lyrics of poet Kannadasan
Social view in Kannadasan's movie lyrics
Thoughts on God by Kannadasan
Language purity in Kannadasan's movie lyrics
Kannadasan's elegies
All thoughts on Kannadasan
Feminist angle in poet Kannadasan's songs
Kannadasan's 'Aachi' [Grandma] – an ethnological novel
Theism in Kannadasan's songs
'Kannamma', viewed by Mahakavi and King Poet
Love in Literature
World view in Kannadasan's songs
Multifaceted view in the mini stories of great poet
Focal dominance of Kannadasan's movie lyrics
Kannadasan and 'Kavithanjali'
His thoughts in a Cup
Philosophical songs of Kannadasan
Body language in 'Mangani' [Mango fruit] epic
A literary view of poet's 'Aviveka Chintamani'
Kannadasan's movie lyrics
Poetic depth of Kannadasan
A view of Kannadasan's 'Vanavaasam' [autobiography]
Metaphorical use and dimensions in movie lyrics
Kannadasan's theistic challenge
'Mangani' [Mango fruit]
Kannadasan's Commandments
Allegorical beauty in 'Yesu Kaviyam' [Jesus epic]
Kannadasan's philosophical view
Social focus in Kannadasan's movie lyrics
Kannadasan and Kunangudi Masthan Sahib
Nationalism and integration in Kannadasan's poetry
Sweetness of a great guy
Poet Kannadasan and felicitation verses
Social thoughts in Kannadasan's songs
Comparative view of Kannadasan and Milton – Birth of Jesus in their poetry
Grace in King Poet Kannadasan, exposited in 'Pushpamalika' essay verses
All these essays were relatively short, 4- 6 pages in length, touching on the versatility of Kannadasan's creativity. Majority deal with his move lyrics. A few had compared Kannadasan with Mahakavi Subramania Bharathi (1882-1921), John Milton (1608-1674) and Kunangudi Masthan Sahib (a 17th century Muslim saint of Tamil Nadu). A few of the specific poetry and prose works of Kannadasan, such as Mangani, Thaipaavai, Yesu Kaviyam, Aachi have also been studied. One of the best contributions which appear in this compendium was some reminiscences of Kannadasan's publisher Vanathi Thirunavukarasu (who died last year at the age of 88). In this essay, Thirunavukarasu had observed that basically, Kannadasan was a nocturnal creature, and his creativity peaked between 6:00 – 9:00 pm.
I also note that NONE of the 100 essays had touched up on themes which were dear to me; (1) Kannadasan's popularization of natural science in movie lyrics, (2) Kannadasan's take on the Eelam Tamil conflict with the majoritarian Sinhalese government. In my book, published in 1997, I had covered these themes. For reference, I provide below a PDF file of one of my essays on Kannadasan's popularization of natural science in Tamil verse form. When the original essay was published in 1982 in the Ootru (a science magazine, from the University of Peradeniya), I could refer only vol.1 of Kannadasan's movie lyrics, for reference. Now, this essay need a revised update, as 5 volumes of Kannadasan's movie lyrics have appeared. The second theme, which I mentioned above, about Kannadasan's treatment of Eelam Tamil conflict also deserves an update. In fact, Kannadasan's Tamil verses on this theme also need to be translated into English, for wider recognition.
'Scientific thoughts on Kannadasans movie lyrics (1982) by Sachi