by Sachi Sri Kantha, April 6, 2013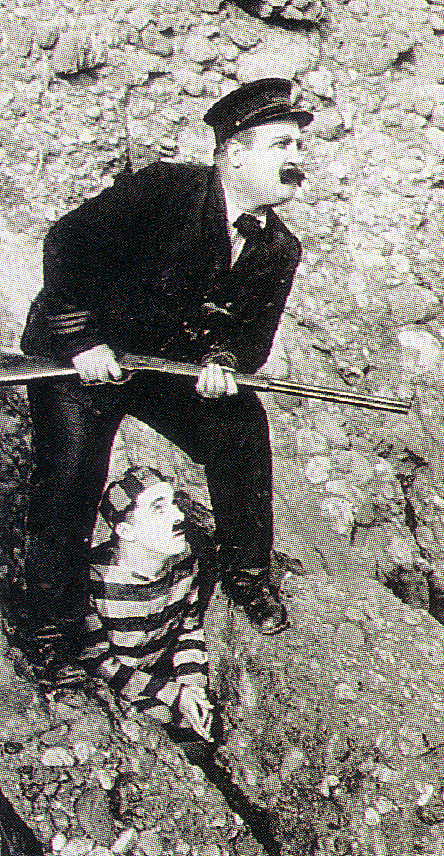 Remember the name Bastianpillai ('dirty Basti' was his dimunitive from his torture victims, borrowed from 'Dirty Harry' portrayal by Clint Eastwood in movies) – the sadistic Tamil cop who was a terror to hundreds of innocent young Sri Lankan Tamils in the 1970s?  April 7th marked the 35th anniversary of Bastianpillai's killing in a jungle in the Mannar area.  On that day, in a reversal of Clint Eastwood's Dirty Harry moment, Prabhakaran's confidant Maaveeran Lieutenant Sellakili killed Bastianpillai and his three police colleagues. Bastianpillai was only 36 years and 3 months old then. His perverse contribution to the origin of the Eelam Tamil militant movement in 1970s should not be erased. As I don't have a photo of this Bastianpillai, I replace his picture with a Chaplin (a certified tormentor of police image in silent movies) frame, and a 25th anniversary remembrance item of this episode.
1978 was the founding year, according to its Wikipedia entry, of Human Rights Watch under the name 'Helsinki Watch'. 'Asia Watch' recordings began in 1985. But human rights violation and torture in Sri Lanka pre-dated the founding of Human Rights Watch. Like numerous other dictatorial regimes, the state's law enforcement apparatus was the prime contributor to torture. Officers belonging to the notorious Criminal Investigation Department (CID) in the police division were potty-trained to torture innocent civilians for solving crimes and earning brownie points. In the 1970s, Bastianpillai was the evil face of the CID in Jaffna district.
I had saved a copy of The Parliamentary Debates (Hansard) January 5, 1979, since it contained a roster of the then ranking Sri Lankan police personnel. Noticeably, when this list appeared, Bastianpillai had died in the previous year. But, as the reference date to the solicited information relating to the question was July 23, 1977 (the day after the general election of 1977, when the new UNP government got elected), his name appears in the list.  R.P.Wijesiri (MP) on behalf of Ananda Dassanayake (MP), both then belonging to the opposition SLFP party had directed the question to Minister and the Deputy Minister of Defence,
(a)   Will he table the seniority list of police officers above the ranks of S.I. (i.e., sub inspectors) on 23rd July 1977? If not, why?
(b)  Will he table the list of Acting appointments and promotions given to those above the ranks of S.I. which are not in keeping with the seniority list of 23rd July 1977?
(c)   If not, why?
T.B.Werapitiya (Minister & Deputy Minister of Defence) had tabled the list, which included the number of individuals along the pecking rank of the Sri Lankan police force.
Inspector General 1
Deputy Inspector General 5
Superintendents – grade I, 30
Superintendents – grade II, 34
Assistant Superintendents 65
Probationary Assistant Superintendents 8
Acting Assistant Superintendents 20
Chief Inspectors 9
Inspectors – class I, 41
Inspectors – class II, 477
Bastianpillai's name appears in the Inspectors – class II list, as Number 308, among a total of 477. A few basic personal details about him were as follows:
T.L.B. Bastianpillai (CID division): date of birth 27 December 1941. Date of First appointment 18 May 1964. Date of promotion to Inspector Class II grade January 6, 1972.
Among the 477 Police Inspectors in class II grade, I could locate six Tamil names who worked at the CID in 1977, including that of Bastianpillai. The names of the other five Tamils, with their date of births and the listed seniority ranks and annotated remarks are as follows:
#43 A Sivasangarapillai (1917 June 17 – retired on 1977 August 24)
#209 V. Narendra (1934 August 17)
#247 S. Thavalingam (1939 April 19 – One special inquiry on 1971 April 13; discipline inquiry pending)
#407 V. Navasivayam (1942 January 22)
#441 S.Vigneswararajah (1942 May 15)
Among these six officers, why did it happen to be Bastianpillai who was killed on April 7, 1978? The straightforward answer was: he was a sadist-torturer.  He was the officer in charge of the TULF section in Jaffna, prior to the origin of LTTE activities.  When I was an assistant lecturer in biochemistry at the University of Peradeniya, one of my freshman medical students was P.R. Seermaran, who entered in 1979 (after Bastianpillai's death).  He  was active in the Tamil militant movement and was a recipient of corporal punishment from 'dirty Basti', before entering the university.
My notes of that period informs that the then Minister of Industries Cyril Mathew (the TULF baiter) had presented a list of murders of police officers by Tamil militants, as of September 1979.  The Parliamentary Debates (Hansard), October 4, 1979, includes the incomplete names of Bastianpillai's three police colleagues who were killed on April 7, 1978.  They were, Perampalam (sub Inspector), Balasingam (sergeant) and Siriwardana (driver).
Torture glossed over by chroniclers
I provide below mentions from four books of recent Sri Lankan history on the Bastianpillai murder.
(1)  Rajan Hoole, Daya Somasundaram, K. Sritharan and Rajani Thiranagama (1990)
"During the year 1978 the militant group, the Tamil Tigers, carried out a spate of bank robberies and killings of police officers. The most sensational of these was the killing of Inspector Bastianpillai and some other police officers who were with him, after the police had successfully apprehended some militants." (The Broken Palmyra, p. 22)
(2)  Rohan Gunaratna (1993)
"In 1978, as Colombo reinforced and strengthened their police strength in the northern peninsula, the militants moved out and established their own training camps, mostly in Murunkan, Vavuniya, Mulaitivu and Kilinochchi. On April 7, 1978, a police party led by Inspector Bastianpillai on their way to raid an LTTE training camp was attacked. Uma Maheswaran took part in the killing." (Indian Intervention in Sri Lanka – the role of India's intelligence agencies, 1993)
(3)  T. Sabaratnam (1996)
"The LTTE had become very active by this time. It had set up training camps in Vavuniya and Mannar and had begun to attract young cadres. On 7 April, it counter-ambushed the 4-man police party led by Inspector Bastianpillai and captured their weapons. This daring feat organized by Lieutenant Chelvanayakam alias Sellakili won national and international publicity for the LTTE." (The Murder of a Moderate – Political biography of Appapillai Amirthalingam, 1996)
As one can check again, torture of young Tamil militants by Bastianpillai has been excluded in these descriptions. Those who don't know the facts may perceive and conclude that Inspector Bastianpillai was an innocent law enforcement officer who was killed when he was doing his duty. Even the fact that he belonged to the CID division has been omitted!  Getting information about the notorious CID personnel in Sri Lanka is more difficult than searching for a needle in a haystack. Thus, one can excuse the lethargy of these Sri Lankan chroniclers. I surmise that they played it safe by not pointing fingers at the CID.
(4)  M.R. Narayan Swamy (1994/1996)
In my readings, only M.R. Narayan Swamy (an Indian journalist) had provided more details in his book Tigers of Lanka.  I provide his material below on the Bastianpillai killing. He has used a variant spelling for Maaveeran Sellakili.
"On April 7, Bastianpillai, the Tamil CID officer, two of his colleagues and their Sinhalese driver reached a desolate spot at Murunkan, in the northwest district of Mannar, only to stumple upon a group of Tamil youths. It was a secret training camp of the Tigers, but it was never found out if Bastianpillai staggered there by accident or was tipped off. Among those present at the camp were Uma [Maheswaran] and Nagaraja, both of whom were well known to the police. Fortunately for them, they were on a makeshift platform on a tree and remained there, frozen by Bastianpillai's unexpected arrival. The others on the ground, in shorts and lungis were not known to the CID officer.
Bastianpillai wanted to know the identity of the men, who replied nonchalantly that they were farm employees. One of the Tigers, in a bid to distract attention, said loudly in Tamil: 'Give some water to these gentlemen!' The ruse succeeded. It was just the way a labourer would treat visitors, particularly men in uniform. Bastianpillai fell for the trick. He kept his sub-machine gun (SMG) by a well and bent down for the water that was offered.
Chellakilli, a Prabhakaran confidant who was present there, moved like lightning. In one swoop, he pounced on the SMG and hit Bastianpillai on his head and simultaneously opened fire, killing him and a sergeant before they could realise what was happening. A Tamil sub-inspector Perambalam, however put up a fight, but crashed down the well where he was shot. The driver started running, but was mowed down.
When it was all over, Uma and Nagaraja came down from the tree. The Tigers quickly shifted to another hideout. Bastianpillai's Peugeot 404 was taken away. It was later found in an elephant-infested area some 80 miles away.
The killings sent shock waves in Sri Lanka. Bastianpillai was considered an authority on the Tamil rebel groups and was in-charge of the CID's TULF desk. He had joined the force in 1963 as a sub-inspector and was dreaded in the militants' quarters. Naturally, he figured prominently in the 'hit list' of the 'boys'. In fact the murder came to be known only after a wood cutter informed the police about some decaying bodies. These were identified after Perambalam's body was hauled up from the well and his ID card was recovered. Policemen who combed the area also found 300 expended cartridges and a dummy on top of a tree. The Tamils had committed their first murder with a SMG (foot note 9: In the July 1983 anti-Tamil riots, Bastianpillai's house in Colombo was attacked and torched by a Sinhalese mob.)" (Tigers of Lanka – From Boys to Guerrillas, 1994/1996)
Even in this longer account Narayan Swamy mentions that Bastianpillai was "dreaded in the militants' quarters." But, failed to provide the reason; because, Basti was a supreme torturer.
Martyr Sellakili (1953-1983)
It should be mentioned that Maaveeran Sellakili, the hero of the Bastianpillai operation, was the one who planned the ambush and set off the mine that killed 13 soldiers in Tinneveli on July 23, 1983.  He attained martyrdom in that operation, with a bullet piercing his chest.  He was one of the 11 LTTE martyrs to die in that year.
My recent email exchange with P. Jayaram
Constant vilification of the LTTE has become the prevailing trend among cloddish Indian journalists who have served brief stints in Colombo during the 1990s and 2000s and were at the mercy of the feeds from the Sri Lankan (read Sinhalese) armed forces for their paychecks.  They are too dimwitted to ask the prime question, why the LTTE originated in the first place in Jaffna.  The most recent article of this sort was from P. Jayaram (the then 'Sri Lankan correspondent of UNI, who flew from Colombo to Palaly 'by a commercial flight operated by the air force' in 1994) in The Hindu daily ('The many Balachandrans of Jaffna', April 3, 2013). These ignoramus Indian journalists, some of them aligned to the infamous Indian intelligence agency RAW as conduits, never bother to read Sri Lankan history prior to 1983.  Sadistic cops like Bastianpillai who 'enjoyed their assigned duty' on tiger-hunting to an extreme level in the 1970s, is one of my answers to the prime question.
On the day Jayaram's commentary appeared, I sent him the following email.
"Dear Mr. Jayaram:
I send this mail, after reading your item in The Hindu, entitled 'The many Balachandrans of Jaffna'.  As you had provided your email, I send it directly to you, rather than posting my comments to The Hindu electronic edition. This is because, I had noticed a nefarious practice of The Hindu editorial team, excluding pro-LTTE comments vigorously.
I have read your reports previously. And you mention that you had been taken to Palaly "by a commercial flight operated by the air force". Other than that, I'm interested in knowing, how many times you visited the Northern province on your own to file your stories. If you had never visited that zone, then I guess that most of your reports were derived from partisan news sources (especially Sri Lankan army) from Colombo.
Your requiem to "all those nameless children who perished fighting in the Sri Lankan conflict" is an insult to Tamils. Why you couldn't offer your requiem to 'all those nameless children" who died in the Northern province due to aerial attacks by the Sinhalese government? If you had added this bit, then I'd appreciate your vigor and sincerity. It seems
that even now, you have been deluded by the Sri Lankan government's propaganda."
In his prompt acknowledgement mail (only 11 words) to me, Jayaram tactfully evaded answering my question posed in the second paragraph. Cheers for the partisanship and lack of sincerity of Indian journalists like Jayaram! It is for guys like him, that I contribute this story of torturer Bastianpillai.