by Sachi Sri Kantha, January 6, 2017
'Better late than never' has been one of my working mantras. So, I pen this memoriam to one of one of my benefactors and big fans of my writing, Dr. Alvapillai Vijayaragavan, a neurosurgeon of repute among Eelam Tamil doctors. Though a kin and living in Colombo, as I was a junior to him by 20 years, I never had the opportunity to mingle with him, during our Sri Lankan days. Of course, I did recognize him as the eldest among the three progeny of Mr. Kovindapillai Alvapillai. Interested readers can check my previously posted tribute to this reputed civil service officer of Ceylon.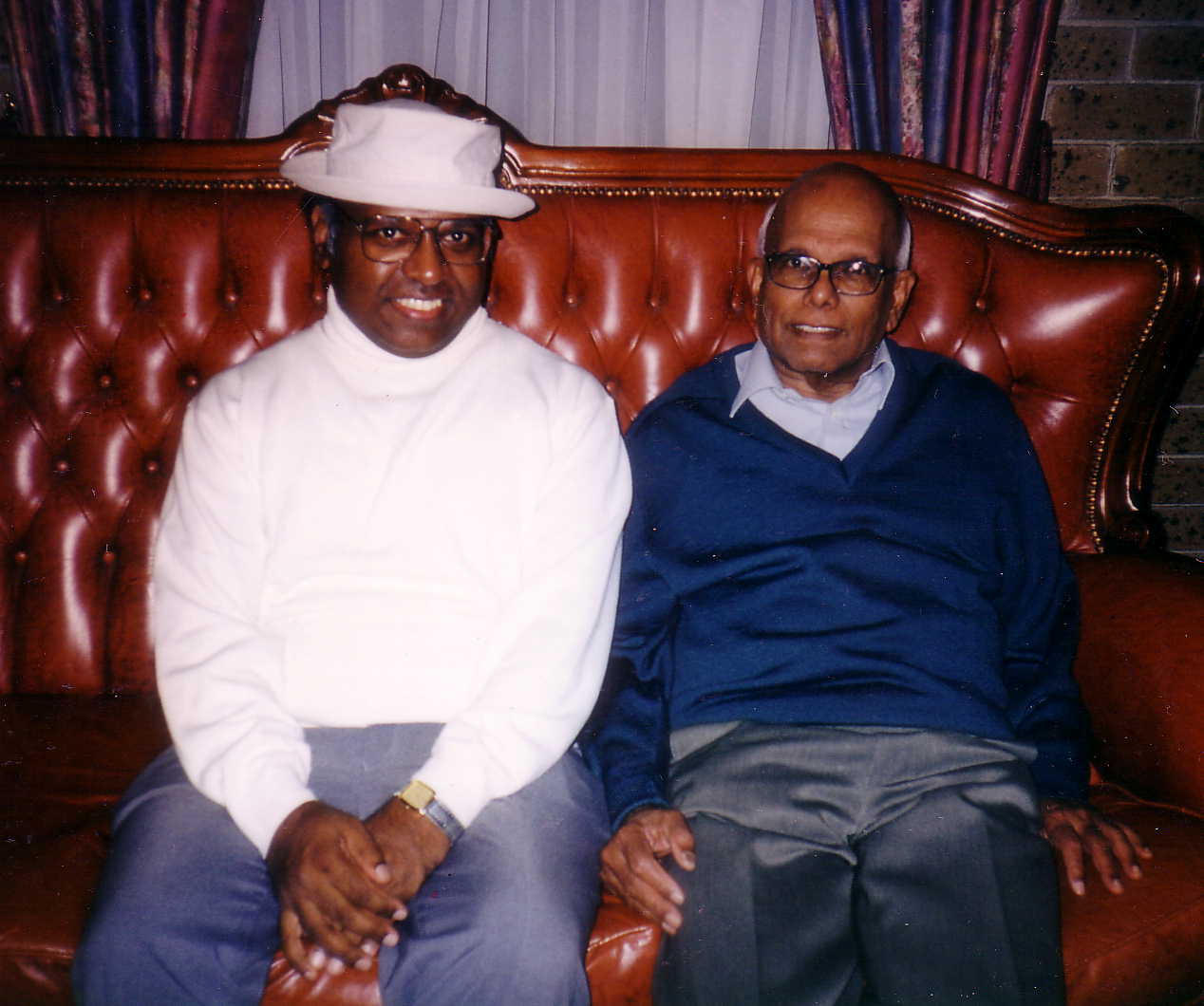 Photo: Sachi and Dr Vijayaragavan (July 2003)
Whenever I visited Alvapillai house at Charles Circus, Kollupiti, in the 1970s, I became friendlier with his younger sibling late Senthilkumaran (1948-2011; Senthil Anna for me, because the age gap between him and me was only 5 years), who died unexpectedly on January 9, 2011. Then, during my American days in early 1980s, Vijayaragavan's younger sister Bhavani Rajasingham (Pava Akka) became my kin pen pal, while she was residing at Belize.
Only in 2001, after Dr. Vijayaragavan (hereafter, Ragavan anna) had settled in Melbourne, through casual talk with my parents (who also had moved to Hamilton, New Zealand), he came to recognize me. Thus, I received his postal letter (a sort of fan letter), dated Aug 2, 2001. It read as follows:
"Dear Sri Kantha,
This will come as a surprise to you. I am Mr. K. Alvapillai's elder son. I made contact with your parents recently & came to know that the Sachi Sri Kantha whose many articles I have read and enjoyed is their son.
I most congratulate you on your evaluation and wide political knowledge of events not only of Sri Lanka but the world over. It is only after retirement that I have found time to read, study and keep abreast of all these. I also find your presentation unique especially the 'Pirabakaran Phenomenon', the Eelaventhan episode which I recently read. I must say that your approach is very novel. You must spend lot of time on this. You also must have access to a formidable library for your research. How do you do it? It really amazes me.
I, of course had not known you at all during the Colombo days and then had no way of recognizing the potential that must have been latent….
With best wishes to you and the family.
Yours sincerely,
Ragavan Anna"
This was the beginning, and for the next 14 years, we exchanged views via emails, sharing our thoughts on Sri Lankan politics, Karnatic Music and culture. Occasionally, he did send me reading materials too. Here is a sample email from him, dated Dec. 26, 2001.
"Dear Sri Kantha,
Herewith attached some reading material for you. It is very heavy and I am not sure that you will be able to find the time for it. However I thought that you would like to read through it given your diverse interest. I hope you enjoy it.
I have read your articles that you sent as well as the book 'MGR Movies Revisited' etc. I thoroughly enjoyed it and also marveled at your thoughts and presentation. You have an ability to see things in a different way to others, in an analytical way. I was reminded of my former professor of surgery – Milroy Paul – who too had this way of approaching a subject. It was very novel at that time when teaching in Colombo consisted mainly of memorizing the lecture notes and regurgitating them. But, he was the one exception who made some of us think differently – though this was not helpful in the exams. Medical students, I later learnt from a lecturer (who became a Reader at Cambridge) are taught what is convenient and not the facts."
When I visited Melbourne in July 2003 to attend the 19th International Congress of Genetics, I was a guest at Ragavan anna's house and enjoyed the hospitality of him and anni Dr. Selvarani Vijayaragavan. He had a good collection of recordings of Carnatic Music recitals of the great musicians (Madurai Mani Iyer, M.S. Subbulakshmi, D.K.Pattammal, T.R. Mahalingam, etc.), devotional songs, old Tamil movie songs. It was also his passion to share his collection of songs with kin and close friends. During his teenage years, Anna did learn mridangam from Tambapillai Ratnam master of Radio Ceylon fame. This elicited his early interest in the intricacies of rhythm, beat and explorative excellence of mridangam great Palakkad T.S.Mani Iyer.
In early 2005, I received an email from Ragavan Anna. It read as follows:
"Last week our daughter was here from Sydney and I was looking thru some of the Anantha Vikatans she brought along. They now have a new section reviewing recent book releases. I found that review of a book titled, 'Saathanaygal Padaitha Thamizhth Thiraipada Varalaru' by 'Film News' Ananthan. It includes almost all (if not ALL) films released. I thought this may be of interest to you. I have written to the publishers for details. It was reviewed in the Nov issue, so it would have been released long before my Indian visit. Had I known about it then, I could have brought it with me. I'll let you know the details later." In fact, subsequently I did receive a complimentary copy of this 'Film News' Ananthan book from Ragavan Anna. And this compendium has served me well in writing my essays on Tamil movie personalities and 'MGR Remembered' series. Anna also sent me the unusual clipping on the life story of Jaffna-born Tamil movie star Kathiresan Thavamani Devi, who had acted in MGR's first hero-role movie 'Rajakumari' (1947) and also with carnatic diva M.S. Subbulakshmi in Sakuntalai (1940). Later that year, when I executed a plan to publish 'Pirabhakaran Phenomenon' in a novel sponsorship method in 2005, Ragavan anna and his son Dr. Muralidharan (Murali) became benefactors who supported my venture wholeheartedly.
Anna did tell me, that technical writing was not his forte. Maybe, as a physician, he might have felt that he was gifted to handle scalpel and tongs more delicately than pen. As such, his scientific productivity is minimal – with only 7 research papers to his credit. (see, appendix below). But I can attest, that in private correspondence, Anna knows how to get to the point precisely like that of a skilled physician. Anna gave tremendous encouragement to me instantly, whenever my postings at the Sangam site, touched his heart. He was also a good critic. I do remember, when I wrote a review of Film New's Anandan's compendium of the Tamil Movie history in this website, in which I had casually listed some of the best Tamil movies of my choice, he let me know that I had failed to include some of his favorite Tamil movies of 1940s.
On January 10, 2011, Anna let me know the untimely death of his younger sibling as follows:
'Dear Sri Kantha,
Kumar passed away suddenly last afternoon. He was at home and when his wife rang him at about 11 am, had complained about having difficulty in walking. She left work immediately and took a cab home. But by then he was dead. It was such a shock. He had fever for a couple of days and had just got back after seeing his GP. He was sixteen years younger to me. He must have had a massive stroke.
Ragavan Anna"
My response was as follows:
"Dear Anna,
Thanks for your mail informing the shocking news about the passing of Appu anna. I cannot believe it, and feel depressingly sad about this. I think, the last time I talked with him, was when I was at your place in 2003. Unfortunately, I have not been in regular touch with him, after I left Ceylon. But, while I was in Colombo and Peradeniya, whenever I visited Charles Circus regularly, we used to discuss quite many issues of the day. Though separated by distance, I close my eyes and bring back the memories of the times I spent with him. As you noted, its too early for him to say adieu to all of us. Kindly accept our deep felt sorrow."
Then, in the subsequent mail, Anna wrote, "We just returned from the funeral [to Senthil], which was on the 15th. I didn't realise that he was so popular as there were massive crowds – old Royalists, work mates, friends etc. It will take a long time for me to recover…Best wishes.
Ragavan Anna"
On December 9, 2015, when I sent birthday greetings to him, he replied with health concerns of his wife and him. Excerpts:
"…I found that my stamina was going down and I was feeling tired all the time. When I mentioned it to one of the specialists, his remark was that I was no longer a spring chicken. However things came to a head in late October when I started losing weight and appetite. You know the old adage – 'Cancer somewhere, Cancer nowhere, Cancer in the Pancreas'. I then conveyed my doubts to Murali. Now you must understand that though we live in the same house, it is like living in different houses. He is so busy…Normally I may not see him for days – leaves at 6 -7 am and is gone by the time I rise and comes back late at night, after the house is asleep… I managed to ask him to look at my tummy on Sunday November 1st at 10 pm. That started the ball rolling and CT, MRI, PET scan followed. Result: CA body of pancreas and three secondaries in the right lobe of the liver. So, I am on cyclical chemotherapy and internal radiotherapy administered by the femoral artery into the hepatic artery. On my birthday I was in hospital getting my third round of chemotherapy. My only complaint is that there was such short notice that I couldn't tie up the myriad loose ends. But that's how the cookie crumbles. Best wishes. Anna"
And, our beloved anna departed from us on April 28, 2016.
Appendix: Research Publications of A. Vijayaragavan
Rasaretnam R and Vijayaragavan A: The management of gun shot injuries of the chest and abdomen. Ceylon Medical Journal, 1973 March; 18(1): 31-36.
Rasaretnam R, Vijayaragavan A and Thavendran A: Injuries of the inferior vena cava. British Journal of Surgery, 1974 Jan; 61(1): 45-48.
Rasaretnam R, Vijayaragavan A, Thavendran A and Ktugampola W: Thoracic and abdominal trauma – an analysis of 821 cases. Ceylon Medical Journal, 1975 Mar; 20(1): 26-30.
Thavendran A, Beligaswatte AM, Vijayaragavan A and Rasaretnam R: Liver injuries. Ceylon Medical Journal, 1975 Jun; 20(2): 103-108.
Beligaswatter AM, Sritharan S and Vijayaragavan A: Urinary tract injuries. Ceylon Medical Journal, 1975 Jun; 20(2): 93-98.
Thavendran A, Vijayaragavan A and Rasaretnam R: Selective surgery for abdominal stab wounds. British Journal of Surgery, 1975 Sep; 62(9): 750-752.
Vijayaragavan A, Alwis PS, Thavendran A and Rasaretnam R: Blunt thoracic trauma. Ceylon Medical Journal, 1975 Sep; 20(3): 178-182.