by Sachi Sri Kantha, August 24, 2014
A synopsis of MGR's political career
Was it Amma (aka Jayalalitha) magic or MGR magic? In the recently held India's general election (May 2014), All India Anna DMK, founded by MGR in 1972 (and currently led by his protégé Jayalalitha) made a convincing sweep in Tamil Nadu electorates. It won 37 among the 39 constituencies. It was the first time that the party contested alone, without any seat-sharing arrangement with any other national or regional party. AIADMK whacked convincingly its chief rival DMK party led by Karunanidhi, Sonia-Rahul led Congress Party, Modi-led BJP party and its allies, Vijayakanth-led DMDK party.
Though 26 years had passed since MGR's death, how could one explain the performance and popularity of AIADMK? Many reasons can be cited, which may include, (1) MGR 'vote bank' still remains solid; (2) Jayalalitha was a no-nonsense leader; (3) DMK led by Karunanidhi, with dynastic policies is nauseating to voters; (4) Grand –old Congress Party is faction ridden, had lost its moorings, and never have a chance of revitalization; (5) It will be tough for BJP (though successful in the North) to root itself in Tamilnadu; (6) Communist Parties, like that of Congress Party, totally lack voter base and voter confidence.
One fact which deserves admiration is that, even after 42 years of its establishment by MGR as an offshoot of DMK party, and 26 years after the death of its founder, that AIADMK should possess some exceptional degree of attachment with Tamilnadu voters to shine so big in this year's general election. This was the party, which was ridiculed as a '100-day movie show', by MGR's political opponents (including Karunanidhi), many media pundits and wags in Tamilnadu, when it was founded. Latest technological advances in media in the past 20 years (computer use, DVDs, cell phones and YouTube) perpetuate MGR's memories via his movies and 'philosophy-packed' songs.
Especially of note was the 60-year old song, 'Ethanai Kaalam Thaan Emarruvaar Intha Naatile?' (How long these guys will be cheating us?). This time-less, meaningful song appeared in the Malai Kallan (Mountain Thief, 1954) movie, in which MGR played the hero. The song was set in a mountain-range, where MGR was lip-synching the song while accompanying the heroine P. Bhanumathi, seated in a white horse. Though this song's lyricist was Thanjai Ramaiah Das, musically arranged by S.M. Subbiah Naidu and sung by T.M. Soundararajan, it is perpetually identified as MGR's supreme song. Ironically, the script for this movie was written by none other than Karunanidhi. Among the Tamil movie songs, it has a high quotient of You Tube access, for its catchy tune and political meaning for the down-trodden.
A synopsis of the chronological highlights of MGR's political career is given below.
mid 1930s-1947: a sympathizer of pre-independence Congress Party.
1947-1951: Unaffiliated with any party.
1953: formerly joined the DMK party founded by C.N. Annadurai, during its Tiruchi district conference (25-26 April).
1967: elected as a MLA from DMK party.
1968: After Anna's death, was influential in electing M. Karunanidhi as the successor to Anna's vacated chief minister position.
1971: re-elected as a MLA from DMK party.
1972: sacked by the DMK party, led by Karunanidhi; founded his own party,
named Anna DMK; Later, revised the name to All India Anna DMK (AIADMK).
1977: Elected Chief Minister of Tamil Nadu, after his AIADMK party was voted to power.
1980 Feb: Ministry dismissed by Indira Gandhi, then Prime Minister of India.
1980 June: AIADMK party elected to power for the second time.
1984 Dec: AIADMK party elected to power for the third time, while MGR was recuperating in Brooklyn Hospital, New York.
1985 Feb: Assumed third consecutive term of Chief Minister of Tamil Nadu and held it
until his death in Dec.24, 1987.
MGR's entry into DMK
While checking the progress of MGR's movie career as a hero, after the untimely death of his mentor P.U.Chinnappa in September 1951, he had three movies released in three consecutive months of 1952. These were, Andhaman Kaithi (Anthaman Convict, March 1952), Kumari (Miss, April 1952) and Yen Thangai (My Sister, May 1952). The first two were adopted from stage dramas. It was only in Andhaman Kaithi, that the moniker M.G. Ramachandran came to be used in the title credit. Until then, he had preferred the name M.G. Ramchandar. All three movies had limited success in box office. Though MGR's performance as the sympathetic brother of a blind girl in Yen Thangai movie was rated highly by the opinion makers, it did not fare well with the public. The script writer for two of the movies was lyricist Ku. Sa. Krishnamurthy. Year 1952 was the water-shed year in Tamil movie history, as Sivaji Ganesan debuted in Parasakthi movie (scripted by Karunanidhi) in October 1952. Two months later, in December of that year, Panam (Money) – a second Sivaji Ganesan and Karunanidhi combination movie – directed by comedian N.S. Krishnan was also released. It was in this movie, Krishnan sang a punning propaganda song 'Theena Moona Kaana' [the Tamil alphabets which tagged the Dravida Munnetra Kazhagam – DMK party] written by poet Kannadasan. To escape from the scissors of censor board, the alphabets were superficially tagged to Thirukural Munnetra Kazhagam; 'Thirukural' being the holy book for Tamils.
In hindsight, it is easy to infer the reasons why MGR opted to join the DMK bandwagon in 1953. The factors which could have contributed to his decision include, lack of financial success of his three 1952 movies, a rivalry spirit with Sivaji Ganesan who was younger to him by 11 years, influence of comedian-mentor N.S. Krishnan, previous acquaintance and attraction to Karunanidhi's skills as a talented script writer (since 1947) and influx of other DMK-affiliated talents in the Tamil movie world. Apart from Anna, Karunanidhi and N.S. Krishnan, there were others such as D.V. Narayanasamy, lyricist Kannadasan, script writers A. V.P. Asaithambi and Rama Arangannal. Though MGR himself had tactfully hidden these mutliple reasons for his official entry into DMK, and alluded to his chief attraction to Annadurai's books, they seem so obvious. In a photo taken at Sivaji Ganesan's wedding on May 1, 1952, MGR was seen with his DMK contemporaries, before his entry into DMK. Among the seven featured in this photo (from left to right: Rama Arangannal, Sivaji Ganesan, producer of Parasakthi movie P.A. Perumal, lyricist Kannadasan, Karunanidhi, MGR and director A.S.A.Sami), other than Perumal, Sami and MGR, other four were in DMK at that time.
MGR's political career had been treated extensively by Robert Hardgrave Jr. in 1960s and 1970s, before MGR assumed the Chief Minister position in 1977. Then, M.S.S. Pandian published his tract on MGR's politics in 1992, focusing on MGR's politics as the Chief Minister of Tamilnadu. Recently, Anna's biographer Kannan had provided excellent details on MGR's affiliation to DMK party, until Anna's death in 1969. As such, I'll not regurgitate the details provided by them.
In my view, Prof. Hardgrave and Pandian had failed to provide proper context to MGR's political career in association with movies, by treating him in isolation, and virtually ignoring the parallel contemporary trends of movie making in Hollywood, Soviet Union, China, and other European countries. MGR's harshest critics were Communist Party sympathizers in India (Chidanand Das Gupta, D. Jayakanthan and Pandian) and Sri Lanka (K. Sivathamby). What I consider appalling is that, these critics of MGR never ever focused their eyes on how movies were made and promoted in the then Soviet Union and China, and for what purpose movies were used.
1992 Diatribe by an MGR critic (Pandian)
In introducing his tract, 5 years after MGR's death, Pandian offered the following criticism. I provide an unabridged entire paragraph:
"I am one among those many – both within and outside the state of Tamilnadu – who have been puzzled and pained by MGR's unparalleled political success. His eleven year rule (1977-87) was undoubtedly on of the darkest periods in the contemporary history of the state. Under his dispensation, profiteers of different kinds – liquor barons, real estate magnates, and the ubiquitous ruling party politicians – greatly prospered while a stagnant, if not declining economy, forced the poor, who constituted the mainstay of MGR's support, into unbearable misery. And the well-honed police machinery in Tamilnadu, with its characteristic ruthlessness and MGR's open blessings, snuffed out even the mildest forms of dissent from the working people, whether they were workers, poor peasants or professionals, such as, school teachers and government employees. His rule also witnessed a considerable dilution of the cultural gains achieved by the subaltern classes in Tamilnadu due to the relentless struggles waged by the Dravidian Movement during its early progressive phase. In place of the earlier rationalism, religious revivalism now reigned supreme. Despite all these drawbacks, MGR and his party enjoyed large-scale support from the subaltern classes. Only his death in 1987 could dislodge him from the centre stage of Tamil politics and give a fresh lease of life to his political opponents. In fact, even death could not undo him fully. Given his continuing popularity, MGR's erstwhile opponents are today inaugurating memorials for him in a desperate bid to win over his supporters to their side. How did MGR succeed the way he did? This study is an effort to unravel the complex terrain of Tamil politics."
Was this a case of 'sour grapes' sentiment? One wonders, how does Pandian feels now (after 22 years) and still MGR's party makes a big splash in the general election held in last May? If Pandian had bothered to study how movies during Stalin era (1930s to 1953) or during the Mao Zedong era (1949 to 1976) were produced, he might have reconciled his pained mind.
Soviet Film under Stalin
For MGR critics like Pandian, I paraphrase the following details offered by Peter Kenez, in the authoritative 'The Oxford History of World Cinema' (1996). I specifically offer six details. According to Peter Kenez,
Item 1: "The Bolsheviks considered film to be an excellent instrument for bringing their message to the people, and they aimed to use it, more than any other artistic medium, for creating the 'new socialist man'."
Item 2: "Socialist Realist novels and films followed a master plot: the hero, under the tutelage of a positive character, a Party leader with well-developed Communist class-consciousness, overcomes obstacles, unmasks the villain, a person with unreasoned hatred for decent socialist society, and in the process himself acquires superior consciousness – that is, becomes a better person."
Item 3: "Between 1933 and 1940 inclusive, Soviet studios made 308 films …Historical spectacles became especially frequent in the second half of the decade, as the regime paid increasing attention to rekindling patriotism by old-fashioned appeals to national glory. These films were made about heroes such as Alexander Nevsky, Peter the Great, or Marshall Suvorov…"
Item 4: "A recurrent theme in films dealing with contemporary life was the struggle against saboteurs and traitors…In more than half the films about contemporary life (fifty two out of eighty five), the hero unmasked hidden enemies who had committed criminal acts. The enemy turned out to be sometimes his best friend, sometimes his wife, and sometimes his father."
Item 5: "According to official doctrine, it was the script-writer, rather than the director, who was the crucial figure and ultimately responsible. Stalin thought that the director was merely a technician whose only task was to position the camera, following instructions already in the script."
Item 6: "From the late 1930s until his death in 1953, Stalin became the supreme censor, who personally saw and approved every film released. Like Goebbels in Nazi Germany, he micromanaged the cinema, suggesting changes in titles, supporting favoured directors and actors, and reviewing scripts. In some politically sensitive films such as Friedrich Ermler's The Great Citizen (Veliky grazhdanin, 1939), the changes were substantial and Stalin could be regarded almost as a co-author."
Almost all the central tenets of the six items paraphrased above for Soviet films under Stalin, compares favorably with MGR's 'politics-tinged' movies in which he acted as hero since 1950 to 1977. Thus, the question arises, if it was good for Soviet movies to build character among citizens and develop a strong nation, then what was wrong with MGR's ideas of movies?
Politics in Movies of Other Countries
To study the reality whether Tamilnadu was an exception in using politics in movies, I checked the 'Bloomsbury Foreign Film Guide' (1988) prepared by Ronald Bergan and Robyn Karney. It has a selection of over 2,000 movies produced in many countries, 'since the dawn of cinema'. According to the compilers, 'every significant film – classics which have stood the test of time or works that are integral to cinema history – and movies, which, irrespective of quality or current appeal, are representative of trends, fashions, styles and developments' were included in this selection.
I limited my search to movies produced in Soviet Union, China, Germany and France, from 1920s to 1949. The reason being, DMK was founded in 1949, and a myth was spread by early researchers of Tamilnadu politics (especially Eric Barnow and Robert Hardgrave) that DMK party was unique in introducing politics into cinema medium. And this myth had been repeated ad nauseam by later researchers and journalist hacks as well. Here is a select list of political movies from each of these four countries.
Soviet Union
Sergei Eisenstein's Battleship Potemkin (Bronenosets Potemkin, 1925).
Vsevolod Pudovkin's Mother (Mat, 1926).
Vsevolod Pudovkin's The End of St.Petersburg (Konyets Sankt-Peterburga, 1927).
Sergei Eisenstein's October (Oktyabr, 1928)
Nicolai Ekk's The Road to Life (Putyovka V Zhizn, 1931)
Sergei Vasiliev & Georgi Vasiliev's Chapayev (Chapayev, 1934).
Friedrich Ermier's Peasants (Krestyaniye, 1935)
Mikhail Romm's Lenin in October (Lenin V Oktiabrye, 1937)
Mark Donskoi's The Childhood of Maxim Gorky (Detstvo Gorkovo, 1938)
Alexander Dovzhenko's Shors (Shchors, 1939)
Mikhail Romm's Lenin in 1918 (Lenin V 1918, 1939)
France
Abel Gance's Napoleon (Napoleon, 1927)
Jean Renoir's The Marseillaise (La Marseillaise, 1938)
G.W.Pabst's The Shanghai Drama (Le Drame de Shanghai, 1938)
Andre Malraux's Man's Hope aka Days of Hope (Espoir aka Sierra de Teruel, 1939)
Rene Clement's Les Maudits (The Damned, 1947)
Germany
G.W. Pabst's Paracelsus (Paracelsus, 1943) – Nazi Germany's propaganda film using
the career of physician-alchemist Paracelsus
China
Zheng Junli's Crows and Sparrows (Wuya Yu Maque, 1949)
Ling Zhifeng's Daughters of China (Zhai Jiang's Zhonghua Nuer, 1949)
One shouldn't exclude Hollywood movies as well. David Wark Griffith's classic The Birth of a Nation (1915), based on Thomas Dixon's novel The Clansman, itself was a monumental melodrama of the American Civil War and its aftermath. Now, many movie fans consider this classic as seriously flawed for its anti-Black bias. Then, 25 years later, Charlie Chaplin produced his first talkie, 'The Great Dictator' (1940), making fun at Adolf Hitler, while he was in power. In between, there had been quite a number of politics-tinged movies produced in Hollywood.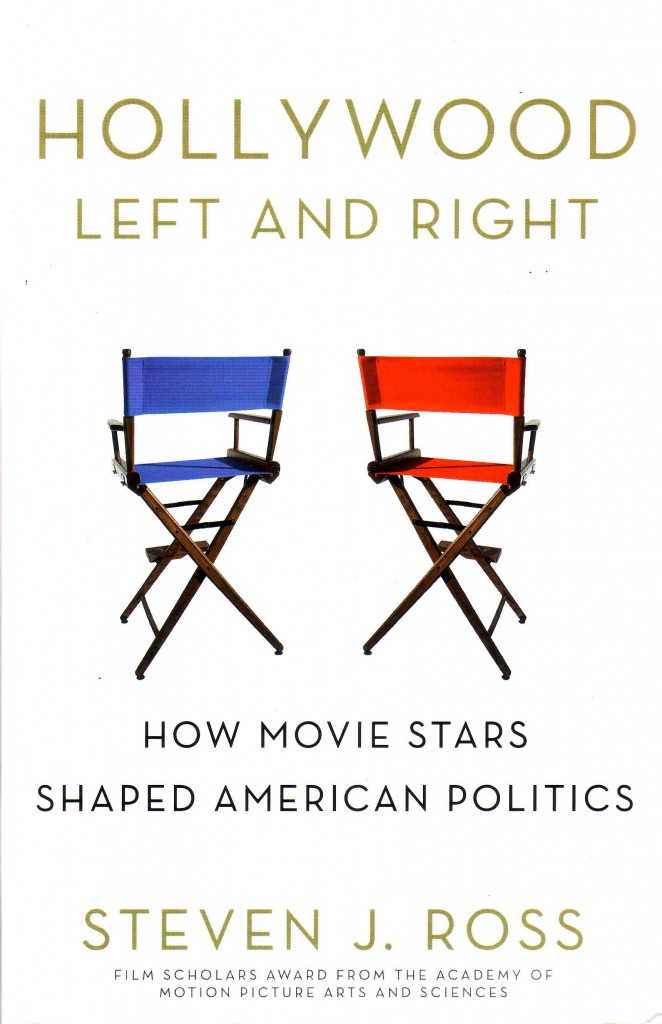 Politician-Activist Actors in Hollywood
Stephen Ross authored a fascinating portrayal of Hollywood's politician-activist actors in 2011. He identified five Left-leaning actors and five Right-leaning actors in the history of Hollywood. The Left-leaning actors in Ross's list were Charlie Chaplin, Edward G. Robinson, Harry Belafonte, Jane Fonda and Warren Beatty. The Right-leaning actors were, George Murphy, Ronald Reagan, Charlton Heston (moved from Left to Right), and Arnold Schwarzenegger.
According to Ross, political Hollywood started much earlier than most people realize and Charlie Chaplin was the "first major star to use movies as an ideological weapon, and he did so in a way that both amused and politicized audiences." Chaplin's message of mixing politics with humor was adeptly picked up by Tamil movie land's prominent comedian and MGR's contemporary N.S. Krishnan. Whereas Chaplin used mime and his tramp character for his political message, N.S. Krishnan used songs as the prominent medium.
Eric Barnow (1908-2001), the first American who wrote about MGR's role in his 'Indian Film' (1963), identified various media in his career such as, 'theater, magazine, radio, pamphlet, advertising, vaudeville, film, classroom, book, song lyric, animated film, video' and inferred poignantly, "media shifts seemed to be power shifts at the heart of modern history". Coming to think of it, other than book and animated film, MGR's movie-political career was enriched by all other media; theater, radio, advertising, film, song lyric, video – you name it! Even in the 21st century, computers, DVDs and You Tubes also promote MGR's image prominently. Whether one likes it or not, this may explain the success of his AIADMK party with the Tamilnadu voters in the 2014 Lok Sabha elections.
Cited Sources
Eric Barnow: Media Marathon – A Twentieth Century Memoir, Duke University Press, Durham, North Carolina, 1996.
Ronald Bergan and Robyn Karney: Bloomsbury Foreign Film Guide, Bloomsbury Publishing, London, 1988.
R. Kannan: Anna – The Life and Times of C.N. Annadurai, Penguin Books, New Delhi, 2010.
Geoffrey Nowell-Smith: The Oxford History of World Cinema, Oxford University Press, Oxford, 1996.
M.S.S. Pandian: The Image Trap – M.G.Ramachandran in Film and Politics, Sage Publications, New Delhi, 1992.
Steven J. Ross: Hollywood Left and Right – How Movie Stars shaped American Politics, Oxford University Press, New York, 2011.