by Sachi Sri Kantha, November 25, 2022
Pirabhakaran Phenomenon, by Sachi Sri Kantha, 2005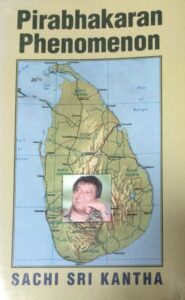 Seventeen years had passed since my analytical biography 'Pirabhakaran Phenomenon' on Velupillai Prabhakaran (1954-2009) was published in a print version. This biography was first serialized in the Sangam site for two years from May 2, 2001 to Feb 19, 2003. Though Indian journalist M. Narayan Swamy's print biography on Prabhakaran [Inside an Elusive Mind] appeared in late 2003, and Eelam journalist T. Sabaratnam's biography of Prabhakaran was serialized in the Sangam site subsequently, I'm rather proud of my contribution to Eelam literature in English, via this book.
For the benefit of younger generation living in the diaspora, I provide here, the galley proof copy of Pirabhakaran Phenomenon, for digital preservation – all the 640 pages of 54 chapters. In reality, Rajiv Gandhi assassination of 1991 was covered in depth, from chapter 24 to 35.
Excerpts from the Preface
Here are excerpts from the preface I wrote to the book.
"Initially I checked my own merits and disadvantages of authoring such a laborious endeavor. Merits, I had a few. Disadvantages were equally bothersome, especially the lack of proximity to the subject of my focus. Three motives which propelled me to write this biography are as follows:
A Thanksgiving: ….I consider that writing this biography on Pirabhakaran is my thanksgiving to the sacrifices of more than 17,000 youths who had believed in his leadership. These young men and women were no'human robots prepared to die for the cause' as the mean-spirited 'Leo Panthera' had tagged them. They were intelligent and courageous human beings who stayed in the island to fight against state oppression and eco-vandalism of pristine Tamil homeland. Among them would have been talented tacticians, technicians, teachers, musicians, engineers and artists. Though their voices have been stilled, I felt that I had to write on their behalf.
Inspiration from a bargain book: For me, the inspiration to write a biography on Pirabhakaran was first kindled as a small flame when he was in the middle of Indo-LTTE war, and his premature obituary had appeared in the Hindu newspaper [see, chapter 1]. In the fall of 1989, when I was living in Philadelphia, I visited New York for a weekend. At the bargain pit of the Koch & Brentano's bookstore, I picked up an unusual book, War Zones: Voices from the Worlds Killing Grounds (1988) by Jon Lee Anderson and Scott Anderson for $2.98, originally priced at $21.95. It contained a chapter on Sri Lanka…..
Rejections and wanton omissions by the print media editors: …By providence, Pirabhakaran and I share the same Tamil heritage, same native locality in Vadamarachchy region of Jaffna and same generational match up. I'm only 18 months older than him. Due to lack of proximity, as of now, I haven't interviewed him; but I have gathered assiduously documentary materials (for the past 20 years) generated by those who have interviewed him in person. I also have gathered arduously materials scribed by his adversaries and critics. Thus, it need not be stressed that the views presented in this book are those of the author; no endorsement by the subject of this biography or his organization LTTE has been given or should be inferred…."
Dedication
I dedicated the book to the memory of
"17,701 young Tamil fighters [13,928 men and 3,773 women] of Eelam, who believed in the message and magic of Pirabhakaran
and
M.G. Ramachandran (MGR), the legendary movie star cum political leader of Tamil Nadu, who also believed in the objectives of Pirabhakaran."
Coda
One of my regrets was that (to the best of my knowledge), this book has not been reviewed by any knowledgeable academic peers – who are fluent in Tamil language, especially from India. I did send review copies to Col. R. Hariharan and journalist M. Narayan Swamy. But, considering their covert 'links' to the blockheads of India's notorious intelligence agencies, especially the one with a tag RAW, I could hardly expect a review for a book that was highly critical on the nefarious deeds of that particular agency in the Eelam soil. Nevertheless, I did receive appreciation for my efforts from a few intellectuals like Prof. Margaret Trawick and journalists S. Sivanayayagam and T. Sabaratnam. I had mentioned about this, in my memoriam to Prof. Margaret Trawick. [https://sangam.org/memoriam-professor-margaret-trawick-1948-2022/]