by Sachi Sri Kantha, October 9, 2013
At a ripe age of 102, Vietnamese General Vo Nguyen Giap died on October 4th at an army hospital in Hanoi. He was an inspiration to Velupillai Prabhakaran (1954-2009), the leader of LTTE. Prabhakaran gained strength by learning about the successes of Giap-led army against the French and the Americans. Quite a number of battle-field strategies adopted by Prabhakaran against the Sri Lankan and Indian armies were learnt from Giap's leadership. As such, on behalf of Prabhakaran and his army, I stand in to contribute this requiem.
For the record, I provide two of my Vo Nguyen Giap collections in PDF files. One was Stanley Karnow's interview with the General that appeared in the New York Times magazine of June 24, 1990.
Giap Remembers by Stanley Karnow [New York Times Magazine June 24 1990]
The second one was an interview by John F. Kennedy Jr. (the son of President J.F. Kennedy) that appeared in his short-lived journal George in November 1998. Kennedy Jr. had a tragic death in a plane crash nine months later in July 1999. Giap Interview by John Kennedy [George magazine Nov 1998]
Check the cover description in George for General Giap: 'Vietnam's Ruthless Warrior'. The same 'ruthless' adjective was also tagged as a constant pejorative for Prabhakaran in 1990s by media folks in Colombo, India and elsewhere. Thus, Prabhakaran was in good company. I'll refrain from citing directly from these two PDF files. To learn about Gen Giap's thoughts on how he conducted his wars against the French and American armies, readers can check them in these two features. But, one should note that these were maturity-enhanced reflective views of General Giap, after 15 or 24 years.
Other than a handful of Generals/Admirals from Japan who gained international fame in the 20th century (such as Gen. Marasuke Nogi due to the victory of Japan in the Russo-Japanese war, and Admiral Isoroku Yamamoto as well as Gen. Tomoyuki Yamashita who put up gallant fight in Japan's war in the Second World War), only General Giap had a distinct recognition in the post-World War II period as a real military General from Asia. Of course, there were also other 'paper' Generals who had tagged the title for vanity from other Asian countries (especially Pakistanis like Gen. Ayub Khan, Gen. Yahya Khan, Gen. Zia ul Haq, and Gen. Pervez Musharaff, and an Indonesian General Suharto) who hardly shined in the battlefields.
In my view, even the now accepted 'World War' tags appear as hyperbole and a serious re-evaluation is needed. In fact, both World War I and II were essentially 'European' Wars and not 'World War' per se. This was especially so, for the World War I. Over enthusiastic print media reporters (in the absence of radio and TV) from Europe tagged them as 'World' Wars. Then, we had a so-called Cold-War (a misnomer) between USA and the Soviet Union. In reality, the Cold-War should be tagged as World War III, where Americans and Russians pitted their military technology in the Southeast Asian nations (Vietnam, Cambodia and Laos).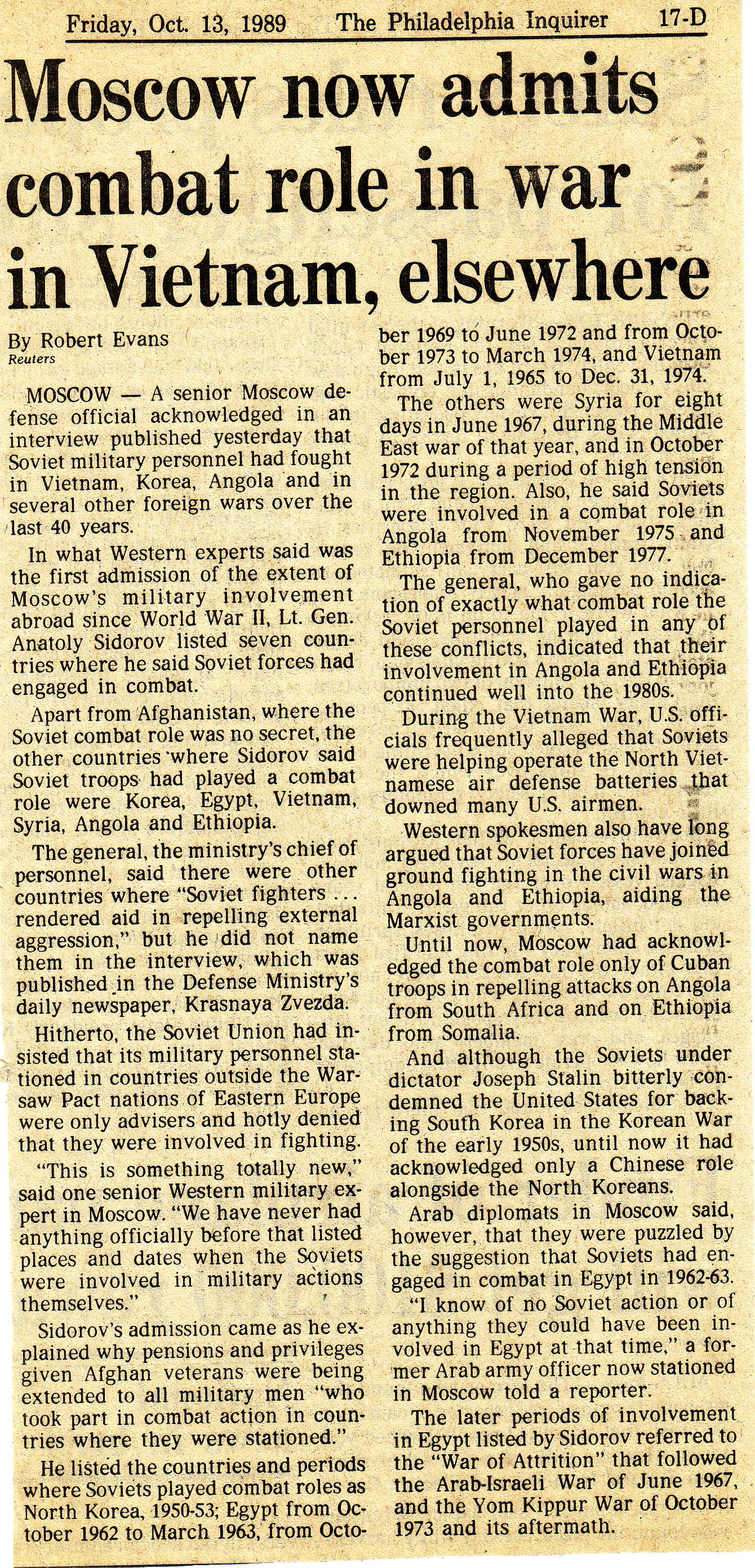 The history is true in recording that General Giap led Vietnam to victory against the Americans. But, he had military aid and support from two of the post-World War superpowers, Soviets and the Chinese. This should not be forgotten. At that time, the third world media promoted Giap's victory as an exceptional feat against the militarily superior and powerful American army, and underplayed the contribution of Soviets and Chinese to the Vietnamese army. For political reasons, Soviets and Chinese were also unwilling to openly acknowledge their help to Vietnamese then. Only after the deaths of principal leaders in Soviet Union (Leonid Breznev) and China (Mao Zedong), this dirty secret leaked out. I provide a newspaper clipping from Philadelphia Inquirer of October 13, 1989 that provides a Reuters report of Soviet defense officials acknowledging their role in the Vietnam war. Receiving such side support from Soviet and Chinese, to gain a victory against the Americans should not deprive the glory of General Giap. Later, there was also bad blood between China and Vietnam in 1979, when Vietnam invaded Pol Pot-ruled Cambodia, which was supported by China.
But, Gen. Giap's victory over Americans had a positive and negative influence on how Prabhakaran conducted his war against the Sri Lankan army. General Giap's prime strategy was to 'wear down the enemy', despite heavy losses. Prabhakaran successfully incorporated the guerrilla warfare from General Giap's book to Sri Lanka and caused much pain in the crotches of his Indian and Sri Lankan enemies. Prabhakaran also firmly believed that with severe handicaps (in personnel and military budget), he could eventually win against the Sri Lankan army. But, he failed to take into his calculation the aid provided by Soviets and Chinese to General Giap's army. Secondly, Prabhakaran also failed to realize the truth in the adage, 'Time and Tide waits for no one'. When, Giap's army defeated the Americans in 1975, computers and GPS systems were not known. By general consensus, Prabhakaran did win against his Indian enemy –but this victory was gained before the introduction of computers and GPS systems into warfare. When Prabhakaran lost his war to the Sri Lankan army in 2009, the military technology had advanced to such an extent, that LTTE was severely handicapped in the asymmetric warfare. Nevertheless, none of the twelve Sri Lankan military generals who led the war against LTTE can brag that they could match General Giap's skills at the battle field. That honors goes only to Prabhakaran.
Sources
Robert Thomson (consulting editor): War in Peace – Conventional and Guerrilla Warfare since 1945, Harmony Books, New York, 1985, pp. 181-220.