ILSA: Can I tell you a story, Rick?
RICK: Has it got a finish, honey, has it got a twist?
ISLA: I don't know the finish yet.
RICK: Maybe one will come to you as you go along.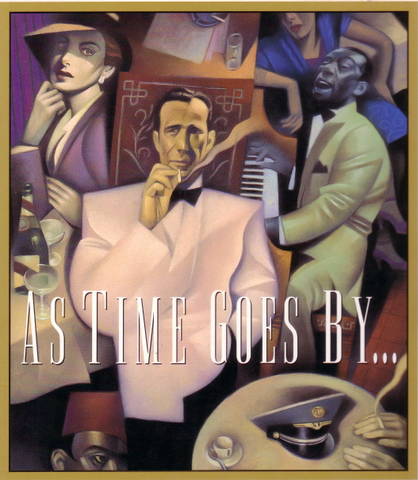 Many movie fans and lovers who sacrificed their personal love at a higher altar of duty to the nation will remember this classic dialogue from the screenplay of Casablanca (1942) movie co-written by Julius Epstein, Philip G.Epstein and Howard Koch.
Another memorable dialogue exchanged between Ilsa (played by Ingrid Bergman) and Rick (Humphrey Bogart) in the same movie follows like this.
ILSA: We were married three weeks when Victor got word they needed him in Prague. Just a two-line item in the paper, 'Victor Laszlo apprehended: sent to concentration camp.' The months went by. Then came a rumor that he was dead. (She pauses for a moment) I was lonely before, but now I had nothing left – not even hope (She puts her hand on his) until I met you.
RICK: But why didn't you tell me all this?
ILSA: Victor made me promise to eep our marriage a secret. I knew his plans and his friends. If the Gestapo found out I was his wife, Victor felt it would be dangerous for me and for those working with us. I kept my promise.
RICK: Then you got word he escaped?
ILSA: You remember there was a telephone call? (RICK nods) A friend of Victor's. They were hiding him in a freight car on the outskirts of Paris. He was sick and he needed me. I didn't tell you because you wouldn't have left Paris – and they would have caught you. So, well you know the rest.
RICK: It's still a story without an ending. (looks at her directly) What about now?
Humphrey Bogart (Bogie) fans like me remember November 26. It was on that day, 70th years ago, Casablanca had its premiere at the Hollywood Theater in New York, with a special parade in honor of the Free French. It is a coincidence that  Velupillai Prabhakaran's birthday also falls on November 26.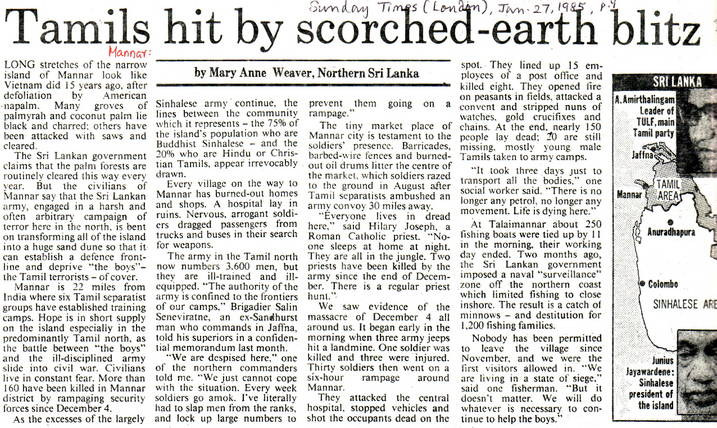 For the past three years (2009, 2010 and 2011), to pay homage to the memory of Tamil Tigers (LTTE) and their leader, I had assembled a total of 189 research papers published in peer-reviewed journals, in which either Prabhakaran or LTTE was specifically mentioned. This year, I opt to deviate from this routine, for multiple reasons. Not that the stream of half-baked papers on 'terrorism' in the international journals has dried up. The prime stimulus was a four page commentary by renowned physicist Samuel A. Goudsmit (1902-1978), which I accidentally read while skimming through past issues of Physics Today journal. In the September 1968 issue of this journal, Goudsmit titled, his commentary, 'Is the Literature worth retrieving?'
The first paragraph of this commentary was thought-provoking. It had only two sentences: "A few years ago John Maddox, now editor of Nature, wrote an article seriously questioning whether the scientific literature was worth keeping. He complained that style and incorrect sentence construction often make scientific articles unintelligible, thus hastening their obsolescence."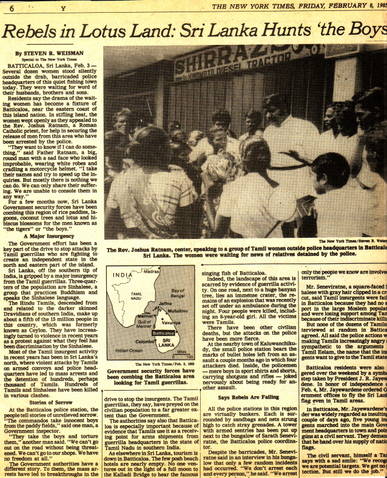 I sincerely consider Sir Maddox (1925-2009) as one of my benefactors in my scientific publishing career and had the privilege of corresponding with him via snail mail. His thoughts were totally appropriate to my views on the recently published "research"studies on LTTE. As such, this year I postpone my annual exercise of compiling the LTTE-related literature, published by Tamil illiterate non-Sri Lankan researchers, to next year.
As I have borrowed the main title for this anniversary exercise, from the ever popular Casablanca (1942) movie song'As Time Goes By', I opted to transcribe some recorded relevant facts that had appeared in international press on the ethnic cleansing atrocities of Sri Lankan army on Tamils, for the year 1985. In those pre-internet days, investigative reporters had to travel personally (risking their lives and limbs) to locations to file their reports.  Terrorism scholars like Robert Pape (University of Chicago) do maintain a database on the number of suicide bombing attacks carried out by LTTE since July 5, 1987. But, they hardly check the events that preceded 1987. I consider databases like theirs as akin to'Garbage In Garbage Out' [GIGO] exercise in computer science, of terrorism experts.
I focus on the year 1985. Here is a list of prominent events which are featured in the 8 books (see the bibliography at the end) that I have scanned for this particular year.
March: Prime Minister Indira Gandhi's advisor on Sri Lankan affairs (G. Parthasarathy) was replaced with Romesh Bandhari, by her successor Rajiv Gandhi.
April 10: Ill-fated formation of ENLF (LTTE, TELO, EPRLF and EROS) by RAW.
May 14: Anuradhapura massacre by the LTTE.
July 8-13: Thimpu (Bhutan) talks between SL government and Tamil parties. Round 1.
Aug.12-17: Thimpu (Bhutan) talks between SL government and Tamil parties. Round 2.
Deportation orders were issued by Indian bureaucrats to A. Balasingham, S.C. Chandrahasan and N. Satyendra.
Sept. 2: Assassination of ex-TULF MPs V. Dharmalingam and M. Alalasundaram by TELO.
Dec.23: Assassination attempt on A. Balasingham in Madras (hatched by a powerful UNP cabinet minister).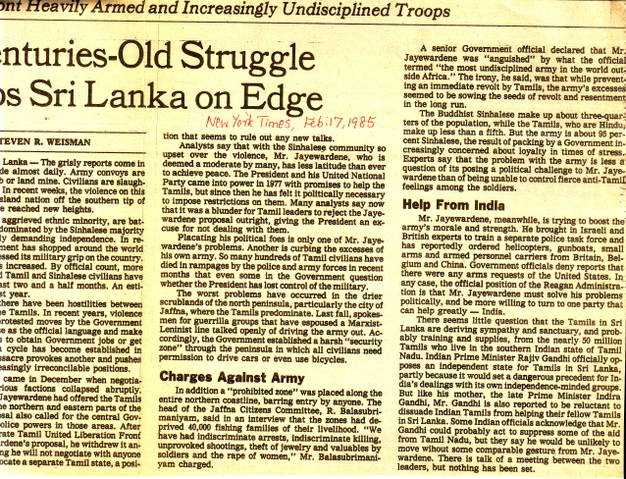 Excluded in these books (for convenience or due to lack of access to the available records) were the ethnic cleansing events that were perpetrated in the Tamil homeland of Sri Lanka by the Sri Lankan army and its abettors(the Home guards) armed and trained by the government. I bring to light four reports for the attention of terrorism scholars to answer the question, 'Why did the Tamil Tigers become Ferocious?' These are as follows:
Item 1: Tamils hit by scorched-earth blitz, by Mary Anne Weaver (Sunday Times, London, Jan. 27, 1985. 660 words)
Item 2: Rebels in Lotus Land: Sri Lanka hunts 'the Boys', by Steven R. Weisman (New York Times, Feb.8, 1985. 945 words)
Item 3: A Centuries-Old struggle keeps Sri Lanka on edge, by Steven R. Weisman (New York Times, Feb. 17, 1985. 930 words)
Item 4: Behind the lines with the Tamil guerrillas, by Simon Winchester (Sunday Times, London, June 23, 1985. 1,355 words)
While Mary Anne Weaver described the scene in Mannar, Steven Weisman covered the events of Batticaloa and the most vital report was by Simon Winchester from Trincomalee. Among these, Simon Winchester's recording of the destruction of Tiriyai village in Trincomalee district was a powerful piece (see article below).  The Gestapo policy of ethnic cleansing was then instituted and led by Lalith Athuladmudali (1936-1993), who ironically also had November 26 as his birthday also.Three of the reports appeared during January and February 1985.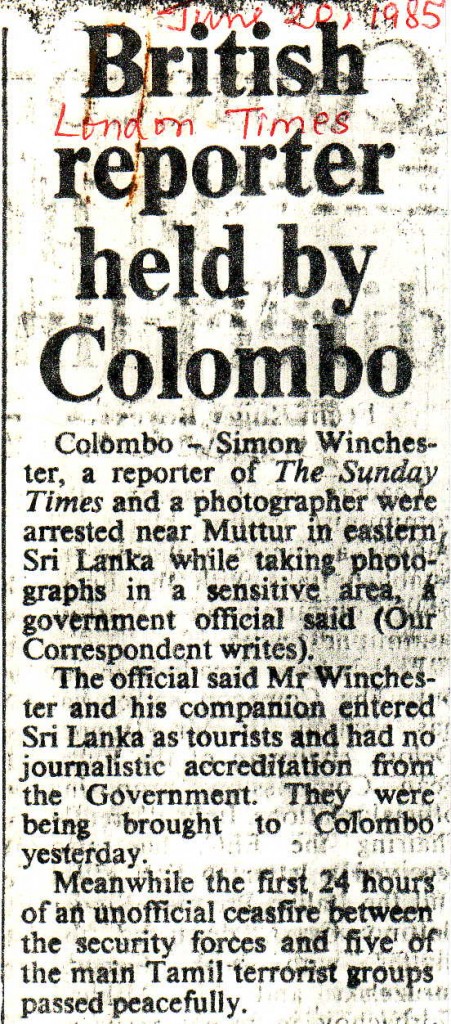 I provide these archival materials from my files for three reasons. First, I'm rather furious that time-in and time-out, anti-LTTE freelancer scribe D.B.S. Jeyaraj conveniently sanitizes the Tamil ethnic cleansing activities of the SL army and that of Muslims perpetrated during the mid-1980s and singularly focuses attention on the October 1990 event of the LTTE driving out the Muslims from Jaffna province. I provide the following four reports by non-Tamil journalists to counter Jeyaraj's vitriolic anti-LTTE propaganda, to show why the LTTE became furious in 1985. Secondly, you won't be able to find these details in the Sri Lankan army's website, or even in the Wikipedia entries. Thirdly, to educate the terrorism experts (like Robert Pape) who were clueless even to dig materials published in English! Tamil-speaking Christians were seriously affected during 1980s and as such, the LTTE had a sizable percent of Tamil-Christians in its Black Tiger ranks. But, for political correctness, Robert Pape has refused to recognize that Christians were in Black Tiger ranks, and has euphemistically tagged the LTTE's Black Tigers as 'Hindu/secular'!
Tamils hit by scorched-earth blitz
by Mary Anne Weaver [Sunday Times, London, Jan.27, 1985]
Long stretches of the narrow island of Mannar look like Vietnam did 15 years ago, after defoliation by American napalm. Many grooves of palmyrah and coconut palm lie black and charred; others have been attacked with saws and cleared.
The Sri Lanka government claims that the palm forests are routinely cleared this way every year. But the civilians of Mannar say that the Sri Lankan army, engaged in a harsh and often arbitrary campaign of terror here in the north, is bent on transforming all of the island into a huge sand dune so that it can establish a defence front line and deprive 'the boys'– the Tamil terrorists – of cover.
Mannar is 22 miles from India where six Tamil separatist groups have established training camps. Hope is in short supply on the island especially in the predominantly Tamil north, as the battle between 'the boys' and the ill-disciplined army slide into civil war. Civilians live in constant fear. More than 160 have been killed in Mannar district by rampaging security forces since December 4.
As the excesses of the largely Sinhalese army continue, the lines between the community which it represents – the 75% of the island's population who are Buddhist Sinhalese – and the 20% who are Hindu or Christian Tamils, appear irrevocably drawn.
Every village on the way to Mannar has burned-out homes and shops. A hospital lay in ruins. Nervous, arrogant soldiers dragged passengers from trucks and buses in their search for weapons.
The army in the Tamil north now numbers 3,600 men, but they are ill-trained and ill-equipped. 'The authority of the army is confined to the frontiers of our camps', Brigadier NalinSeneviratne, an ex-Sandhurst man who commands in Jaffna, told his superiors in a confidential memorandum last month.
'We are despised here', one of the northern commanders told me. 'We just cannot cope with the situation. Every week soldiers go amok. I've literally had to slap men from the ranks, and lock up large numbers to prevent them going on a rampage.'
The tiny market place of Mannar city is testament to the soldiers' presence. Barricades, barbed-wire fences and burned-out oil drums litter the centre of the market, which soldiers razed to the ground in August after Tamil separatists ambushed an army convoy 30 miles away.
'Everyone lives in dread here', said Hilary Joseph, a Roman Catholic priest. 'No one sleeps at home at night. They are all in the jungle. Two priests have been killed by the army since the end of December. There is a regular priest hunt.'
We saw evidence of the massacre of December 4 all around us. It began early in the morning when three army jeeps hit a landmine. One soldier was killed and three were injured. Thirty soldiers then went on a six-hour rampage around Mannar.
They attacked the central hospital, stopped vehicles and shot the occupants dead on the spot. They lined up 15 employees of a post office and killed eight. They opened fire on peasants in fields, attacked a convent and stripped nuns of watches, gold crucifixes and chains. At the end, nearly 150 people lay dead; 20 are still missing, mostly young male Tamils taken to army camps.
'It took three days just to transport all the bodies', one social worker said. 'There is no longer any patrol, no longer any movement. Life is dying here.'
At Talaimannar about 250 fishing boats were tied up by 11 in the morning, their working day ended. Two months ago, the Sri Lankan government imposed a naval 'surveillance' zone off the northern coast which limited fishing to close inshore. The result is a catch of minnows – and destitution for 1,200 fishing families.
Nobody has been permitted to leave the village since November, and we were the first visitors allowed in. 'We are living in a state of siege.' said one fisherman. 'But it doesn't matter. We will do whatever is necessary to continue to help the boys.'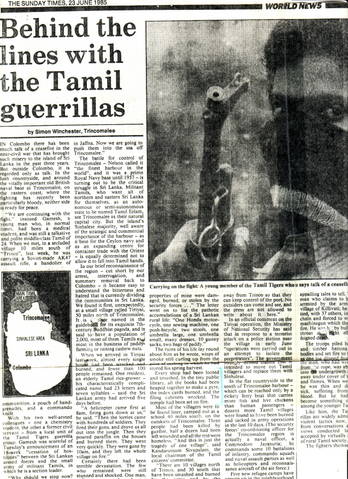 *****
Rebels in Lotus Land: Sri Lanka hunts 'the Boys'
by Steven R. Weisman [New York Times, Feb.8, 1985]
Batticaloa, Feb.3 – Several dozen women stood silently outside the drab, barricaded police headquarters of this quiet fishing twon today. They were waiting for word of their husbands, brothers and sons.
Residents say the drama of the waiting women has become a fixture of Batticaloa, near the eastern coast of this island nation. In stifling heat, the women wept openly as they appealed to the Rev. Joshua Ratnam, a Roman Catholic priest, for help in securing the release of men from this area who have been arrested by the police.
'They want to know if I can do something', said Father Ratnam, a big, round man with a sad face who looked improbable, wearing white robes and cradling a motorcycle helmet. 'I take their names and try to speed up the inquiries. But mostly there is nothing we can do. We can only share their suffering. We are unable to console them in any way'.
For a few months now, Sri Lanka Government security forces have been combing this region of rice paddies, lagoons, coconut trees and lotus and hibiscus blossoms for the men known as 'the tigers' or 'the boys'.
A Major Insurgency: The Government effort has been a key part of the drive to stop attacks by Tamil guerrillas who are fighting to create an independent state in the north and eastern part of the island.
Sri Lanka, off the southern tip of India, is gripped by a major insurgency from the Tamil guerrillas. Three-quarters of the population are Sinhalese, a group that practices Buddhism and speaks the Sinhalese language.
The Hindu Tamils, descended from and related to the darker skinned Dravidians of southern India, make up about a fifth of the 15 million people in this country, which was formerly known as Ceylon. They have increasingly turned to violence in recent years as a protest against what they feel has been discrimination by the Sinhalese.
Most of the Tamil insurgent activity in recent years has been in Sri Lanka's north, where violent attacks by Tamils on armed convoys and police headquarters have led to mass arrests and the detention of hundreds, perhaps thousand Tamils. Hundreds of Tamils and Sinhalese have been killed in various clashes.
Stories of Sorrow: At the Batticaloapolice station, the people tell stories of unrelieved sorrow. 'The commandos take innocent boys from the paddy fields', said one man, a Government inspector.
'They take the boys and torture them', another man said. 'We can't go out on the road without being threatened. We can't go to our shops. We have no freedom at all.'
The Government authorities have a different story. To them, the mass arrests have lead to breakthroughs in the drive to stop the insurgents. The Tamil guerrillas, they say, have preyed on the civilian population to a far greater extent than the Government.
The authorities say also that Batticaloa is especially important because of evidence that Tamils use it as a receiving point for arms shipments from guerrilla headquarters in the state of Tamil Nadu in southern India.
As elsewhere in Sri Lanka, tourism is down in Batticaloa. The few posh beach hotels are nearly empty. No one ventures out in the light of a full moon to the Kalladi Bridge to hear the famous singing fish of Batticaloa.
Indeed, the landscape of this area is scarred by evidence of guerrilla activity. On one road, next to a huge banyan tree, lies an immense crater, the remains of an explosion that was recently set off under an ambulance during the night. Four people were killed, including an 8-year-old girl. All the victims were Tamils.
There have been other civilian deaths, but the attacks on the police have been more fierce.
At the nearby town of Kaluwanchikudy, the small police station bears the marks of bullet holes left from an assault a couple months ago in which four attackers died. Inside, the policemen – mere boys in sport shirts and shorts, carrying shotguns and rifles – joked nervously about being ready for another assault.
Says Rebels are Failing: All the police stations in this region are virtually bunkers. Each is surrounded by sandbags and nets strung high to catch stray grenades. A tower with armed sentries has been put up next to the bungalow of SarathSeneviratne, the Batticaloa police coordinator.
Despite the barricades, Mr. Seneviratne said in an interview in his bungalow that only a few random incidents had occurred. 'We don't arrest each and every person', he said. 'We arrest only the people we know are involved in terrorism.'
Mr. Seneviratne, a square-faced Sinhalese with gray hair clipped in a crew-cut, said Tamil insurgents were failing in Batticaloa because they had no support in the large Moslem population and were losing support among Tamils because of their indiscriminate killing.
But none of the dozens of Tamils interviewed at random in Batticaloa agreed. All said the police actions were making Tamils increasingly angry and sympathetic to the arguments for Tamil Eelam, the name that the insurgents want to give to the Tamil state.
Batticaloa residents were also angered over the weekend by a symbolic step taken by President J.R.Jayewardene. In honor of independence day Feb.4, Mr. Jayewardene ordered Government offices to fly the Sri Lankan flag even in Tamil areas.
In Batticaloa, Mr. Jayewardene's order was widely regarded as insulting. A couple of days ago, five young insurgents marched into the main Government headquarters in town and pointed guns at a civil servant. They demanded that he hand over his supply of national flags.
The civil servant, himself a Tamil, says with a sad smile: 'We recognize we are potential targets. We get no protection. But still we do the job.'
*****
 A Centuries –Old Struggle keeps Sri Lanka on Edge
by Steven R. Weisman [New York Times, Feb.17, 1985]
Colombo: The grisly reports come in from the countryside almost daily. Army convoys are blown up by a bomb or land mine. Civilians are slaughtered in retaliation. In recent weeks, the violence on this beautiful tropical island nation off the southern tip of India seems to have reached new heights.
The Tamils, an aggrieved ethnic minority, are battling a government dominated by the Sinhalese majority and are increasingly demanding independence. In response, the Government has shopped around the world for arms and has pressed its military grip on the country. But the violence has increased. By official count, more than 500 soldiers and Tamil and Sinhalese civilians have been killed in the last two and a half months. An estimated 2,500 died last year.
For centuries, there have been hostilities between the Sinhalese and Tamils. In recent years, violence erupted as Tamils protested moves by the Government to establish Sinhalese as the official language and make it harder for Tamils to obtain Government jobs or get into schools. Now a cycle has become established in which each new massacre provokes another and pushes both sides into increasingly irreconcilable positions.
A turning point came in December when negotiations involving various factions collapsed abruptly. President Junius R. Jayewardene had offered the Tamils some autonomy in the northern and eastern parts of the island, but his proposal also called for the central Government to retain police powers in those areas. After leaders of the moderate Tamil United Liberation Front rejected Mr. Jayewardene's proposal, he withdrew it angrily and now is saying he will not negotiate with anyone who continues to advocate a separate Tamil state, a position that seems to rule out any new talks.
Analysts say that with the Sinhalese community so upset over the violence, Mr. Jayewardene, who is deemed a moderate by many, has less latitude than ever to achieve peace. The President and his United National Party came into power in 1977 with promises to help the Tamils, but since then he has felt it politically necessary to impose restrictions on them. Many analysts say now that it was a blunder for Tamil leaders to reject the Jayewardene proposal outright, giving the President an excuse for not dealing with them.
Placating his political foes is only one of Mr. Jayewardene's problems. Another is curbing the excesses of his own army. So many hundreds of Tamil civilians have died in rampages by the police and army forces in recent months that even some in the Government question whether the President has lost control of the military.
The worst problems have occurred in the drier scrublands of the north peninsula, particularly the city of Jaffna, where the Tamils predominate. Last fall, spokesmen for guerrilla groups that have espoused a Marxist-Leninist line talked openly of driving the army out. Accordingly, the Government established a harsh 'security zone' through the peninsula in which all civilians need permission to drive cars or even use bicycles.
Charges against Army: In addition a 'prohibited zone' was placed along the entire northern coastline, barring entry by anyone. The head of the Jaffna Citizens Committee, R. Balasubramaniyam, said in an interview that the zones had deprived 40,000 fishing families of their livelihood. 'We have had indiscriminate arrests, indiscriminate killing, unprovoked shootings, theft of jewelry and valuables by soldiers and the rape of women,' Mr. Balasubramaniam charged.
A senior Government official declared that Mr. Jayewardene was 'anguished' by what the official termed 'the most undisciplined army in the world outside Africa'. The irony, he said, was that while preventing an immediate revolt by Tamils, the army's excesses seemed to be sowing the seeds of revolt and resentment in the long run.
The Buddhist Sinhalese make up about three-quearters of the population, while the Tamils, who are Hindu, make up less than a fifth. But the army is about 95 percent Sinhalese, the result of packing by a Government increasingly concerned about loyalty in times of stress. Experts say that the problem with the army is less a question of its posing a political challenge to Mr. Jayewardene than of being unable to control fierce anti-Tamil feelings among the soldiers.
Help from India: Mr. Jayewardene, meanwhile, is trying to boost the army's morale and strength. He brought in Israeli and British experts to train a separate police task force and has reportedly ordered helicopters, gunboats, small arms and armed personnel carriers from Britain, Belgium and China. Government officials deny reports that there were any arm requests of the United States. In any case, the official position of the Reagan Administration is that Mr. Jayewardene must solve his problems politically, and be more willing to turn to one party that can help greatly – India.
There seems little question that the Tamils in Sri Lanka are deriving sympathy and sanctuary, and probably training ad supplies, from the nearly 50 million Tamils who live in the southern Indian state of Tamil Nadu. Indian prime minister Rajiv Gandhi officially opposes an independent state for Tamils in Sri Lanka, partly because it would set a dangerous precedent for India's dealings with its own independence-minded groups. But like his mother, the late Prime Minister of Indira Gandhi, Mr. Gandhi is also reported to be reluctant to dissuade Indian Tamils from helping their fellow Tamils in Sri Lanka. Some Indian officials acknowledge that Mr. Gandhi could probably act to suppress some of the aid from Tamil Nadu, but they say he would be unlikely to move without some comparable gesture from Mr. Jayewardene. There is talk of a meeting between the two leaders, but nothing has been set.
*****
Behind the lines with the Tamil Guerrillas
bySimon Winchester [Sunday Times, London, June 23, 1985]
Trincomalee: In Colombo there has been much talk of a ceasefire in the near-civil war that has brought such misery to the island of Sri Lanka in the past three years. But outside Colombo, it is regarded only as talk. In the lush countryside, and around the vitally important old British naval base at Trincomalee, on the eastern coast, where the fighting has recently been particularly bloody, neither side is ready for peace.
'We are continuing with the fight,' insisted Gamesh, a young man who, in normal times, had been a medical student, and was still a talkative and polite middle-class Tamil of 24. When we met, in a secluded village 10 miles south of Trinco, last week, he was carrying a Soviet-made AK47 assault rifle, a bandolier of ammunition, a pouch of hand grenades, and a commando knife.
With his two well-armed colleagues – one a chemistry student, the other a former civil servant – from the local unit of the Tamil Tigers guerrilla group, Gamesh was scornful of Tuesday's announcement of an 18 week 'cessation of hostilities' between the Sri Lankan armed forces and the small army of militant Tamils, in which he is a section leader.
'Why should we stop now? What is in it for us? Anyone can see that we are well on the way to winning', he said. 'We have already trounced the forces up in Jaffna. Now we are going to push them into the sea off Trincomalee.
The battle for control of Trincomalee- Nelson called it 'the finest harbor in the world', and it was a prime Royal Navy base until 1957 – is turning out to be the critical struggle in Sri Lanka. Militant Tamils, who want all of northern and eastern Sri Lanka for themselves, as an autonomous or semi-autonomous state to be named Tamil Eelam, see Trincomalee as their natural capital city. But the island's Sinhalese majority, well aware of the strategic and commercial importance of the harbor– as a base for the Ceylon navy and as an expanding centre for container trade with the Orient – is equally determined not to allow it to fall into Tamil hands.
In our brief reconnaissance of the region – cut short by our arrest, interrogation, and summary removal back to Colombo – it became easy to understand the bitterness and hatred that is currently dividing the communities in Sri Lanka. We found it first, unexpectedly, at a small village called Tiriyai, 50 miles north of Trincomalee. It is a place named in the guidebook for its exquisite 7th century Buddhist pagoda, and is said to have a population of 2,000, most of them Tamils and most in the business of paddy-farming or raising cashew nuts.
When we arrived in Tiriyai last week, almost every single house had been wrecked and burned, and fewer than 100 people remained. One resident, an elderly Tamil rice-grower – his characteristically complicated name had 23 letters and seven syllables – said the Sri Lankan army had arrived five days before.
'A helicopter came first at 8 am, firing guns down at us,' he said. 'Then the lorries came with hundreds of soldiers. They fired their guns, and drove us all out into the jungle. Then they poured paraffin on the houses and burned them. They went very quickly. They were gone by 10 am, and they left the whole village on fire.'
Certainly there had been terrible devastation. The few who remained were still stunned and shocked. One man, a farm manager, showed me a letter he was writing to his superior in Trinco: 'Sir, I beg to inform you that the following properties of mine were damaged, burned or stolen by the security forces…' The letter went on to list the pathetic accumulations of a Sri Lankan rural life: 'One Honda motorcycle, one sewing machine, one push bicycle, two stools, one umbrella large, one umbrella small, many dresses, 10 gunny sacks, two bags of paddy'.
The ruins of his life lay round about him as he wrote, wisps of smoke still curling up from the piles of sacking in which he had stored his spring harvest.
Every shop had been looted and smashed. In the tiny public library, all the books had been heaped together to make a pyre, the index cards burned, and the filing cabinets wrecked. The temple had been set on fire.
Most of the villagers were to be found later, camped out at a school 40 miles south, on the outskirts of Trincomalee. Three people had been killed by gunfire, half a dozen had been left wounded and all the rest were homeless. 'And this is just the tragedy of one village', said KandaratnamSivapalan, the local chairman of the Tamil Citizens' Committee.
'There are 10 villages north of Trinco, and 30 south that have been smashed and burned by the army and by the hooligans they call the Home Guard', he said. 'The Sinhalese are trying to drive the Tamils away from Trinco so that they can keep control of the port. No outsiders can come and see, and the press are not allowed to write about it here.'
In an official comment on the Tiriyai Operation, the Ministry of National Security has said that in response to a terrorist attack on a police station near the village in early June 'Operations were carried out in an attempt to isolate the perpetrators'. The government strongly denied claims that it intended to move out Tamil villagers and replace them with Sinhalese.
In the flat countryside to the south of Trincomaleeharbour– which can be reached only by a rickety ferry boat that carries more fish and live chickens than human passengers – dozens more Tamil villages were found to have been burned and sacked in army operations in the last 10 days. (The security forces' coordinating officer for the Trincomalee region is actually a naval officer, a CommondoreJayasuria; he commands some 10 batallions of infantry, commando squads and naval assault parties as well as helicopters and reconnaissance aircraft of the air force.
Five new refugee camps have sprung up in the neighbourhood of the gutted village of Sampoor and now house some 30,000 refugees, many with appalling tales to tell. We met a man who claims to have been arrested by the army in the village of Killivetti; he had been tied, with 37 others, in a human chain and forced to walk past a machine gun which then opened fire. He was hit by bullets in the throat and right elbow, but feigned death.
The troops piled brushwood and timber battens on the bodies and set fire to them. But as one log slipped from the pile the man, who had wriggled free from the rope, was able to dive into the undergrowth and crawl away under cover of the smoke and flames. When we met him he was thin and desperately sick, suffering from loss of blood. But he had already become something of a hero among the younger Tamils.
Like him, the Tamil guerrillas are widely admired, their violent tactics now, to judge from conversations and interviews conducted last week, accepted by virtually all sectors of rural Tamil society.
The fighters themselves, who agreed only with great reluctance to be interviewed, were confident and, it has to be admitted, impressive. The trio we met, though possibly not representative, were intelligent young men. They were not the hooligans or cowboys mentioned in the Colombo press and they also were not, they insisted, Marxists. True, their weapons were Soviet-made (the Sri Lankan army uses American M-16s). But they said: 'We want no more socialism for Tamil Eelam than President Jayewardene wants for Sri Lanka as a whole. We want freedom for our people, that is all.'
But in pursuit of that freedom had not some terrible acts of slaughter been committed by the guerrillas? 'Yes, but it is a vicious circle', said Gamesh, the medical student. 'Violence breeds more violence. You have it in Ireland. We have it here. It will not end until the cause is taken away. That is why this talk of a ceasefire is so meaningless in the long term'.
Coda
One yearns to find out what happened to the LTTE warriors Gamesh (the Tamil medical student) and his two pals, portrayed by Simon Winchester in 1985.
Herman Hupfeld's lyrics, as sung by Dooley Wilson, ends with the lines,
It's still the same old story,
A fight for love and glory,
A case of do or die.
The world will always welcome lovers
As time goes by.
Bibliography
Balasingham, Adele: The Will to Freedom – An Inside View of Tamil Resistance, Fairmax Publishing, Mitcham, UK, 2001. [provides the LTTE version]
Gunaratna, R: Indian Intervention in Sri Lanka, South Asian Network on Conflict Research, Colombo, 1993. [provides the SL government version]
Hoole, R., Somasundaram D., Sritharan, K. and Thiranagama, R: The Broken Palmyra, 1990 (revised version). [provides the Tamil-loathing, Christian fundamentalist version]
Miller, F: Casablanca – As Time Goes By… 50th anniversary commemorative, Virgin Books, London, 1992.
Narayan Swamy, M.R: Tigers of Lanka – From Boys to Guerrillas, Konark Publishers, New Delhi, 1996, 2nd ed. [provides the Indian officialdom version]
Sabaratnam, T: Out of Bondage – The Thondaman Story, The Sri Lanka Indian Community Council, Colombo, 1990. [provides the CWC leader's version]
Sabaratnam, T: The Murder of a Moderate – Political biography of AppapillaiAmirthalingam, Nivetha Publishers, Dehiwela, 1996. [provides the TULF version]
Sivanayagam, S: Sri Lanka: Witness to History – a journalist's memoirs (1930-2004), Sivayogam, London, 2005. [provides the pro-LTTE version]
Somasundaram, D: Scarred Minds – The Psychological impact of war on Sri Lankan Tamils, Sage Publications, New Delhi, 1998.[provides the Tamil-loathing, Christian fundamentalist version]
Thomas S: Best American Screen Plays. First series, Crown Publishers, New York, 1986 [Casablanca, pp. 123-168].