by Sachi Sri Kantha, June 11, 2021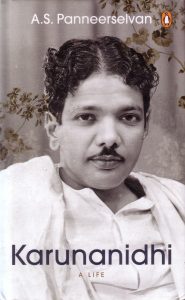 Penguin Random House India Pvt. Ltd, Gurgaon, Haryana, 2021, 450 pp.
Prelude to the Review
The dictionary defines realpolitik as 'n. politics based on realities and material needs, rather than on morals or ideals'. Tiruvaroor Muthuvel Karunanidhi (1924-2018) was an unparalleled Indian master of realpolitik and pungent repartee of his era. In this website, I have written about the career of literateur-politician Karunanidhi frequently. Since he lived into his nineties, as a public figure, Tamils everywhere entertain an opinion on his deeds. While I have remained a fan of Karunanidhi the talented Tamil literateur, from the time he expelled his pal MGR from the DMK party in 1972, I have come to hate his politics.
Apart from the three parts entitled, 'Quo Vadis Karunanidhi' series, while commenting on volumes 5 and 6 of M. Karunanidhi's autobiography, in my long running MGR series (Part 19 MGR Remembered – Part 19 – Ilankai Tamil Sangam) I had commented the following in 2014.
"Karunanidhi's autobiography plot is abysmally simple. In all six volumes, the hero was Karunanidhi. The heroine was 'Chief Minister position' of Tamil Nadu. Only the villains change. Then, there are supporting casts for hero, and villain. Into this supporting cast, falls all the other lead players of Tamil Nadu politics (his elders, Periyar E.V. Ramasamy Naicker, Rajaji, Anna, Kamaraj, MGR and Nedunchezhiyan) and Eelam politics (Prabhakaran). As MGR had died in 1987, the villain in Parts 4, 5 and 6 was Jayalalitha, the leader of MGR's AIADMK party. Here is a summary of Karunanidhi's autobiographical volumes, who played the villain role for him, since he entered the public life in 1938.
Part 1 (period 1924-69), 755 pages. Hero: Karunanidhi. Villain: Congress Party members of Central Government and Madras State Government.
Part 2 (period 1969-76), 586 pages. Hero: Karunanidhi. Villains: Indira Gandhi and MGR.
Part 3 (period 1976-88), 612 pages. Hero: Karunanidhi. Villain: MGR.
Part 4 (period 1989-95), 633 pages. Hero: Karunanidhi. Villain: Jayalalitha.
Part 5 (period 1996-99), 1,037 pages. Hero: Karunanidhi. Villain: Jayalalitha.
Part 6 (period 2000-03), 551 pages. Hero: Karunanidhi. Villain: Jayalalitha.
…. Karunanidhi delights himself by noting that cumulatively he had written 4,168 pages which covers his life until 2003.
In Karunanidhi's story-telling, there are three fascinating aspects. First, friends do turn into foes (like MGR), if they dis-promote his relationship with heroine (aka, the Tamil Nadu chief minister position). Secondly, foes do turn into friends (like Indira Gandhi) for mutually agreeable political dance steps. Thirdly, political foes, after their deaths, do become friends if they 'own' a sizeable vote-bank in Tamil Nadu (such as MGR, Kamaraj or even actor Sivaji Ganesan). As such, Parts 5 and 6 of Karunanidhi's autobiographies do contain complimentary comments about MGR, as opposed to how MGR was portrayed in Parts 2 and 3."
Furthermore, I also bring to reader's attention my review of the autobiography of actor-politician, S.S. Rajendran [Autobiography of Actor-politician S.S. Rajendran – Ilankai Tamil Sangam] posted on January 3, 2015, relating to Karunanidhi's tantrum of quitting the DMK following a scolding he had received from Anna. This fact had been omitted by Karunanidhi in his autobiographical volumes.
Review of Panneerselvan's work
Due to his long life in active politics for over six decades, Kalaignar Karunanidhi dealt with three generations of Nehru's family; Nehru himself (1949-1964), his daughter Indira Gandhi (1966-1984), his grandson Rajiv (1984-1991) as well as his grandson's wife Sonia (1998-2011). To Nehru, he was a minor irritant from the Madras State; to Indira, he was a 'friend in need' who saved her prime minister position from the 'old vultures' of Congress and later a sparring partner in Tamil Nadu politics; to Rajiv and Sonia, he was a wily, old 'Sage of Tamil Nadu'. What a treasure served in a platter by Karunanidhi for a spirited biographer to deal with? But, his biographer Panneerselvan fails in his assigned task.
I can point out only two merits for this Karunanidhi biography. The chief merit: Panneerselvan had condensed 4,168 pages of Karunanidhi's six volume autography written in Tamil, into a sizeable chunk of 402 page text into English in 24 chapters. Whereas Karunanidhi had stopped his autobiography in 2003, Panneerselvan could present material on his own, only in the last two chapters of his book. This amounts to only 22 pages!
But, such condensation comes with a price. A ten-fold reduction from principal's autobiography to Panneerselvan's biography had enforced limits on exclusion of specific details that came to characterize Karunanidhi, the image maker. Specifically, I provide the following example. In 310 pages of Volume 2 of autobiography, Karunanidhi covers the period 1971 to 1976, after being elected as the chief minister of Tamil Nadu with a big mandate. Panneerselvan covers the same period in 44 pages of chapter 15. Excluded in the book are six specific events in Karunanidhi's political career, which he had described in his autobiography. These are,
Receiving a honorary Ph.D. degree from Annamalai University (July 1971)
Introduction of a bill for bribe prevention for personnel in Public Service (Feb.12 1973)
Participation at Allahabad meeting of Dalits (Oct. 14, 1973)
Regional autonomy resolution passed at the Tamil Nadu state assembly (April 20, 1974)
Jaya Prakash Narayan's visit to Chennai (May 5, 1975)
DMK sponsored protest meeting against the Declaration of Emergency at Chennai beach (July 6, 1975)
The second merit of the book is the listing with complete names provided at the end to indicate Karunanidhi's creative world. It shows what a prolific litterateur he was. The appellation 'Kalaignar' (artist) fits perfectly in his scalp. The creative categories to which Karunanidhi contributed include, Autobiography – 6 volumes, Epistolary polemics (in Murasoli daily) – nearly 7,000 letters in 7 volumes, Movie script writing – 67 Tamil movies, Short stories – 46, Novellas – 2, Plays – 15, Novels – 10, Literary treatises – 5, Travelogue – 1 and Tamil translation of Maxim Gorky's novel 'Mother' – 1. Omitted in this listing are 10 lyrics Karunanidhi penned for Tamil movies. A Youtube link to listen 9 of these lyrics is https://www.youtube.com/watch?v=D6U-DbHP2RE
This may not be an inappropriate spot to mention a correction. In my Aug. 21, 2013 essay on the semantics of the endearing word 'Anna-Annathe-Annachi' I had erroneously mentioned the author of popular lyric 'Kaa – Kaa – Kaa', sung by Chidambaram Jayaraman (in the Karunanidhi-scripted Parasakthi 1952 movie), as Karunanidhi. [https://web.archive.org/web/20140704111420/http://sangam.org/anna-annachi-annathe/]. Udumalai Narayana Kavi, and not Karunanidhi, was the lyricist of this song.
In his voluminous autobiography, Karunanidhi's description of events and the interactions he had with his friends and foes have bias for selective inclusions and omissions. For an autobiography, an author is given licence to select favorable items and omit records which reflects badly about his deeds. But, the duty of a biographer is to present to the readers, what had been omitted in the principal's autobiography. The main demerit of this work is that, Panneerselvan do NOT take the trouble to go beyond what was missing in Karunanidhi's autobiography.
A notable example was the omission of Ponniah Ramar Pillai episode of the discovery of herbal gasoline (aka 'herbal fuel') in 1996. Karunanidhi was the Chief Minister then and he was shown in a TV news clip, watching Ramar Pillai demonstrating his 'miraculous' finding to the media. Instantly, Karunanidhi pledged financial assistance for research and building a factory! But, Ramar Pillai's nature-defying finding was immediately discredited. In the best traditions of a politician, Karunanidhi had conveniently omitted telling this pledge in vol. 5 of his autobiography. Even if Karunanidhi had omitted, it was Panneerselvan's duty to the readers to record this Ramar Pillai episode.
Shall I tag Karunanidhi, an unabashed male chauvinist? His personal life was enriched by many women in his immediate family. The list is long: mother Anjugam, two elder sisters Periyanayagam and Shanmughasundaram (Paneerselvan mentions that Karunanidhi's elder siblings were given essentially male names by his parents because of their desire to have a male child), three wives (Padmavathi, Dayalu, Dharmambal), two daughters (Selvi and Kanimozhi) and four daughter in laws – wives of his four sons  Muthu, Alagiri, Stalin and Thamilarasu. But, with the exception of his deceased first wife Padma, autobiographical volumes of Karunanidhi hardly provide any details about their influence on his activities and decisions. Of course, the passing of his mother was noted. Two prominent women who receives much space in Karunanidhi's autobiography were Indira Gandhi and Jayalalitha! Panneerselvan should have taken courage to dig deeper into Karunanidhi's women. But, it is a pity that he failed in his task as a diligent biographer.
Manorama outed Karunanidhi's infidelity in 1967
In a public function felicitating stage and cinema actress Gopi Santha aka Manorama (1937-2015) in January 2008, Karunanidhi (then the Chief Minister of Tamil Nadu) openly acknowledged the infidelity he had committed in 1965, that resulted in the birth of his second daughter Kanimozhi, in January 1968. He had stated, his leader Anna knew about it, and had given permission for him to marry Dharmambal (aka Rajathi). The video clip of Karunanidhi's speech is posted in Youtube at https://www.youtube.com/watch?v=u4yeZkbyhyg
In a nutshell, the essence of this speech is as follows: After becoming a Cabinet minister in 1967, the car he was traveling met a road accident near Thindivanam, which resulted in his hospitalization in Chennai, in an unconscious state. While visiting to see her husband, his wife Dayalu noted another woman screaming loudly nearby in the room. Dayalu was curious to know, and had asked Manorama, who was visiting at the sametime with her mother. Then, Manorama had divulged to Dayalu the secret of Karunanidhi's adultery, with a quip, 'Oorellam therintha vishayam, unakku theriyaatha Amma? [Madam, when all the village knows about it, Why you haven't known this?]'
After Karunanidhi had become an open bigamist since 1965, the conflicts Dayalu and Rajathi had in bringing up their children and how Karunanidhi managed these conflicts had been tactfully omitted by Panneerselvan. Simply, he had gulped what had been revealed by Karunanidhi himself, and regurgitated Kanimozhi's birth incident, already known to the public openly. For those interested, I found tid-bits from an article which appeared in the Caravan magazine of Apr 1, 2011. Excerpts from this item authored by Vinod K. Jose follows:
"The distance between Gopalapuram and CIT Colony, two neighbourhoods in central Chennai, is just 2 km. Karunanidhi makes this commute twice a day, dividing his food and rest between his two wives, Dayalu Ammal and Rajathiamma. All his meetings with visitors take place at Dayalu's Gopalapuram residence, where he also has his breakfast and evening tea. He sleeps each night at Rajathiamma's house in CIT Colony, where he has his lunch and dinner.
Karunanidhi wakes up early every morning in CIT Colony at 4:30 am and departs for Gopalapuram. He writes for an hour or two in his office there, finishes his breakfast, meets his visitors and leaves for the secretariat. At lunchtime, he returns to CIT Colony, eats and then rests for an hour, before departing again for Gopalapuram for tea and more meetings with visitors. Then he goes back to the secretariat before proceeding to the DMK headquarters, Anna Arivalayam, to watch the news on television at 7:30 pm with party leaders. This routine, I was told, rarely deviates and has hardly changed in the decades since 1969…."
On three MGR movies which flopped in box office
One should also point out that the financial aspects on a few movies made by Karunanidhi and/or MGR stated in the book varies from the real truths. According to the author, the first movie 'Naam' (We) produced under the banner Mekhala Pictures by Karunanidhi and MGR in which the latter played the hero role, released on March 5, 1953, was a 'hit film' (p. 93). But, Tamil film historians Aranthai Narayanan and Randor Guy had recorded, this was not so. Even MGR, in his autobiography, specifically mentions that this movie was not a success, around that period. A lyric written by 29 year old Karunanidhi to this Naam movie and sung by Chidambaram S. Jayaraman (Karunanidhi's brother in law) is now available in Youtube. It was tuned by Chidambarm Jayaraman himself. The link is, https://www.youtube.com/watch?v=xeHBuTQj7JE
In the lyric lines, Karunanidhi introduced the now famed literary metaphor of Anna – 'Ethaiyum thaangum ithayam vendum' [Need a heart to hold]. He had waxed eloquence with lines, 'Look at the life of Socrates – Look at the end of still living Gandhi; Do not fall for vexation – Do not wilt with troubles'.
Panneerselvan's deviance from facts is exposed in another page, related to another flopped MGR movie – 'En Kadamai' (My Duty)'. To smear MGR, Panneerselvan had written the following "When there was an income-tax inquiry against him in 1965, MGR not only took undue interest in participating in Kamaraj's sixty-third birthday celebrations, but also ensured that most newspapers, including those which had only Delhi editions, carried his averment: 'Kamaraj is my leader.' This statement had a direct bearing on the box office collection of his next film 'En Kadamai' (My Duty), which was boycotted en masse by the DMK cadres. The substantial financial loss that the film incurred made him realize the organic hold of Anna and the DMK among Tamils." (p. 217) Panneerselvan's feint fails to fly, because 'En Kadamai' movie was released on March 13, 1964. MGR's controversial speech on 'Kamaraj my leader, Anna my guide' happened in July 1964, according to Kannan's biography of MGR. So, what purpose is served in linking the income tax inquiry of 1965, to the 'En Kadamai''s flop?
Paneerselvan also mentions about the 1963 MGR movie 'Kanchi Thalaivan' (Leader of Kanchi), in a paragraph. The title was an allusion to DMK's leader Anna, who was from Kanchi, and Karunanidhi wrote the title song, 'Velga Naadu' (Victory for the Nation), sung by his brother in law Chidambaram Jayaraman. He emphasizes one point, that with the defection of lyricist Kannadasan from DMK in 1961, new lyrists (like Alangudi Somu) were given the opportunity to write 5 songs. But, omits more salient details on the outcome of this movie, Karunandhi's nephew Murasoli Maran had provided to American researcher Robert L Hardgrave. In his 1973 analysis on DMK politics and film, Hardgrave had included that because of the deceptive allusionary title of this movie, "The censors demanded a change of title, but, afterall, it did refer to a Pallava kingdom. The DMK got the title, but the censors so badly mangled the film that it was a financial failure." [Asian Survey, March 1973]
Shifting Electoral Alliance in Indian Politics for Expediency
Karunanidhi, though not an exception in post-Independent Indian politics, was an expert in shifting electoral alliances for expediency. Without making an attempt to analyze this dubious strategy, Panneerselvan fusses that MGR had 'nagging insecurity' and 'shifted his loyalties thrice in less than three years' between 1977 and 1979 (p. 259). History records that Karunanidhi also faced similar insecurity during the same period. In Feb 1977, there was a DMK-Janatha Party bond prior to the March 1977 Lok Sabha elections. In May 1977, this DMK-Janatha Party bond cracked. In late Oct 1977, Indira Gandhi was treated with a violent black flag demonstration organized by DMK leadership, when she visited Tamil Nadu. In May 1979, a story floated that Karunanidhi would challenge Indira, if the latter contested Tanjavur by-election. Due to MGR's volte-face, this didn't materialize. Then, by later 1979, there was a DMK- Congress Party tie up, for the Jan 1980 Lok Sabha elections. All in all, from 1996 till 2013, Karunanidhi was indulged in such expediency politics, to have one leg firmly planted in New Delhi. Cumulatively, this policy had resulted in 12 DMK individuals serving in Central cabinet minister positions, thus making a mockery of much-touted DMK rationalism. Among these 12 were, Karunanidhi's nephew Murasoli Maran, grand nephew Dayanithi Maran (son of Murasoli Maran) and son M.K. Alagiri. One hidden reason why Karunanidhi indulged in this expediency politics was to check mate his Tamil Nadu rival Jayalalitha.
Political flip flops on Eelam Issue
British author Samuel Butler (1835-1902) in his posthumously published novel 'The Way of All Flesh (1903) wrote, "Every man's work whether it be literature or music or portraits or architecture or anything else, is always a portrait of himself." There's no difference of opinion among Tamils, that Karunanidhi was a grandmaster of Tamil word play and alliteration. Here is an example. When V.P. Singh's government was toppled by the designs of Rajiv Gandhi in installing Chandrasekhar's minority government on November 5, 1990, Karunanidhi had written, "I believe that rather than living like a rat (eli) it's respectable to die like a tiger (puli)."[vide, vol.4 of Karunanidhi's autobiography, p. 299]. The same Karunanidhi behaved like a rat in May 2009, when Eelam Tamils and LTTE needed a helping hand from him!
As an Eelam Tamil, I was dismayed at the author for the twisted details presented in one chapter – that of chapter 19 'Karunanidhi and the Sri Lankan Tamil Issue'. Rebutting the biased details presented in this chapter with evidence alone deserves another essay. Whenever he needed Eelam Tamils and LTTE to promote his career objectives and his glory, Karunanidhi never flinched to use them for benefit and applause. Two examples would suffice. One of the Tamil movies, he scripted was titled, 'Veeran Veluthambi' [Hero Veluthambi] was released on June 3, 1987, where Radha Ravi, actor-son of renowned actor M.R. Radha, featured in the titular role. The allusion in title is to Prabhakaran, whose father's name is Velupillai. Then, in his autobiography (vol.4, p. 586) Karunanidhi mentions his speech after opening the Sixth International Tamil Research Conference in Kuala Lumpur, Malaysia on November 15, 1987: "The Tamils who are not afraid of death – where? where? The mother extolled in Purananooru poem where? where? in Eelam, in Eelam!" Please check the date mentioned. It was when LTTE was fighting against the IPKF in Jaffna.
Pannerselvan is entitled to impress the readers that Karunanidhi's attempts to find a meaningful solution to the Eelam Tamils was better than that of MGR, his political rival. Not many Eelam Tamils will be convinced by this line. I point out two differences which distinguished MGR's deeds from that of Karunanidhi. First, whereas MGR hardly heeded the designs of India's gumshoes and took decisions based on his instinct, Karunanidhi played to the tunes set by the same gumshoes to promote his political image in Tamil Nadu. How else, one could explain the 'quit politics' drama Karunanidhi played in October 7th 1993, based on a flimsy "unconfirmed information" he had received from the chief secretary of the Tamil Nadu government, "I am directed by the chief minister [Note by Sachi: who was Jayalalitha, his bete noire at that time!] to inform you that the Government of India has come across unconfirmed information that the LTTE has plans of eliminating you in order to promote the interests of Gopalsamy." (p. 326) Two days later, he rescinded his decision! Karunanidhi acted out a similar 'indefinite fasting drama' on behalf of the suffering of Eelam Tamils and calling it off in the afternoon, in May 2009. His phony pretense was New Delhi informed him that it got an assurance from Sri Lanka that major combat operations were over! Secondly, whereas Karunanidhi was adept at the political art of 'running with the hare and hunting with the hounds' for promoting his interests, once MGR made a decision of supporting the LTTE, (in preference to other militant groups aided by the Indian gumshoes) he never deviated from his stand till he died.
Here is something interesting. In 2000, same Panneerselvan, wrote about Karunanidhi's flip flops, as follows: "Within a span of fifteen days Karunanidhi has made five contradicting statements. First, after the fall of Elephant Pass, he told the state legislative assembly that, 'India must refrain from sending its army to Sri Lanka and from extending arms, ammunition and logistical support." He also criticised the Centre for not taking the state government into confidence. But following his visit to New Delhi, he changed tack and said that he 'would not like to tie the Centre's hands in taking appropriate steps to resolve the crisis in Lanka'. Then, a couple of days later, in a press conference held to mark the completion of four years of DMK rule, he said that 'he would be happy if the Tamils in Sri Lanka get Eelam'. On May 15, in the state legislative assembly, he once again changed his tune: 'The DMK has distanced itself from the LTTE long ago." In this book, Pannerselvan had neatly omitted reference to what he wrote to Outlook magazine on May 29, 2000!
While the book is supplemented with 18 periodic photos, the lack of an index is another serious demerit for this book. In addition to photos, I would have preferred to see inclusion of a few cartoons which had portrayed Karunanidhi's policy flip flops along the decades. One which I liked for its subtle humor was Mathi's Sept. 23, 2007 brain scan cartoon on 'DMK rationalism', presented nearby. The cartoonist had identified 21 separate regions of DMK brain (of course, none other than Karunanidhi) which catalogs support for conflicting policies presented by Karunanidhi. To name a few (clockwise from 6 o'clock position): friend MGR rationalism, buffoon MGR rationalism, Muslim League alliance rationalism, BJP alliance rationalism, support for idol worship rationalism, opposition for statue worship rationalism, support for Ravana rationalism, opposition for Rama rationalism, support for Other religions rationalism, Opposition for Hinduism rationalism, DMK rationalism, DK rationalism, Black shirt rationalism, Yellow shawl rationalism, Participation in Central Government rationalism, etc. The pungent comment by a mustachioed commoner with an umbrella, telling the doctor standing behind was "Sir, I had seen many rationalists and heard about them. Looking at this scan report, this appears to be a rationalism disease."
Suppressing Communism's growth in Tamil Nadu
The less said the better on the self-prattling, anti-LTTE-biased 11 page preface contributed by the Hindu stable journalist Narasimhan Ram. He had merely expanded what he told to Vinod K. Jose ten years ago (The Caravan, Apr.1, 2011) in few sentences as follows: "Karunanidhi will be remembered for the three to four institutions that are working decently in Tamil Nadu – the public distribution system, healthcare and a few social welfare programmes. But he will be mostly remembered for institutionalising corruption in all spheres of the state."  In addition, Ram also had mentioned to Jose,
"The DMK has never been a pro-Dalit party. When caste clashes take place, they either stay neutral, or align with the caste Hindus."
Nevertheless, the devil should be given his due. What I consider as Karunanidhi's major contribution to Tamil Nadu politics was his valiant activism as an orator and writer in multiple media to suppress Communist Party from gaining a strong hold in Tamil Nadu. If not for Karunanidhi, Tamil Nadu politics might have moved parallel to the path neighboring Kerala state had seen since mid-1950s. Communist Party did have valiant activist – promoters of Tamil literature such as P. Jeevanandam (1907-1963), lyricist Pattukottai Kalyanasundaram (190-1959), D. Jayakanthan (1934-2015), K.C.S. Arunachalam, and in politics like K. Balathandayutham (?-1973). Due to the premature deaths of Jeevanandam, Kalyanasundaram and Balathandayutham as well as in-fighting within cliques, Communist flame flickered for a while; and Jayakanthan couldn't match Karunanidhi's organization skill in cinema and politics. This is one vital fact, N. Ram (an afficinado of Communist manifesto, during his salad days) had failed to mention in his preface.
To my disappointment, this biography of Panneerselvan do not do adequate justice to Karunanidhi's literary contributions to Tamil language. A serious appraisal of Karunanidhi's contribution to Tamil literature and Indian politics for 40 years (between 1969 and 2010) remains to be written. At the end, we still don't know much about Karunanidhi, the person. How fluent was he in languages, other than Tamil? Could he comprehend or speak Hindi? Who were his favorite authors? Other than his two mentors, E.V. Ramasamy Naicker and Anna, who else influenced his political thinking? What was his financial worth, prior to his entry to the then Madras Legislative Assembly in 1957, and what was his financial worth, when he quit as the Chief Minister of Tamil Nadu in 2011? Tentatively, how much he earned as an enterprising script writer for Tamil movies, between 1947 and 2011? Despite his proximity to the principal, Paneerselvan had failed to provide answers to these questions.
Coda: I sincerely thank my friend R. Kannan for gifting a copy of this book.
Cited References
Robert L. Hardgrave. Politics and the film in Tamil Nadu: The stars and the DMK. Asian Survey, Mar 1973; 13(3): 288-305.
Vinod K. Jose: The Last Lear. Caravan Magazine, Apr. 1, 2011.
MGR: Naan Yean Piranthaen – Part 1 Autobiography, Kannadhasan Pathippagam, Chennai, 2014, p.30.
Aranthai Narayanan: Thamizh Cinemavin Kathai, 3rd ed., New Century Book House Ltd., Chennai, 2008, p. 408.
Sachi Sri Kantha: Quo Vadis Karunanidhi – part 1. June 19, 2006. Quo Vadis Karunanadhi (sangam.org)
Sachi Sri Kantha: Quo Vadis Karunanidhi – part 2. June 14, 2012, Quo Vadis Karunanidhi? – part 2 (sangam.org)
Sachi Sri Kantha: Quo Vadis Karunanidhi – part 3. May 28, 2016. Quo Vadis Karunanidhi? – Ilankai Tamil Sangam