Thirty years ago, the name Kuttimani made waves in Sri Lanka. His given name was Selvarajah Yogachandran, and he was one of the Tamil militant leaders in Sri Lanka in 1970s. On July 25th 1983, he was one of the Tamil prisoners who were killed inside the Welikade jail. As such, it may be appropriate to reflect on Kuttimani's life. Whether the Sinhalese politicians or their Tamil sycophants or Sri Lankan officialdom like it or not, Kuttimani was a martyr for the Tamil cause.
Last March, when I checked the Wikipedia entry on Kuttimani aka Selvaraja Yogachandran, I found it incomplete and erroneous in many details about his short life. I did make some marginal revisions to that Wikipedia entry. But permanency of that revision remains uncertain. For all its merits as an instant source of information, the offered details in Wikipedia have to be scrupulous and unbiased. It is my impression that most of the Wikipedia entries on Tamil militant leaders and Tamil militant movement have been enriched by disinformation with weasel words (such as smuggler, terrorist, and criminal) emanating from anti-Tamil agencies for propaganda purposes. If such words have to be tagged to the elected and unelected honorable members of the Sri Lankan parliament, majority will qualify in these categories without any doubt. As the activities of these Wikipedia-contributing culprits deserve repudiation, I try my best to offer legitimate details on Kuttimani in this website.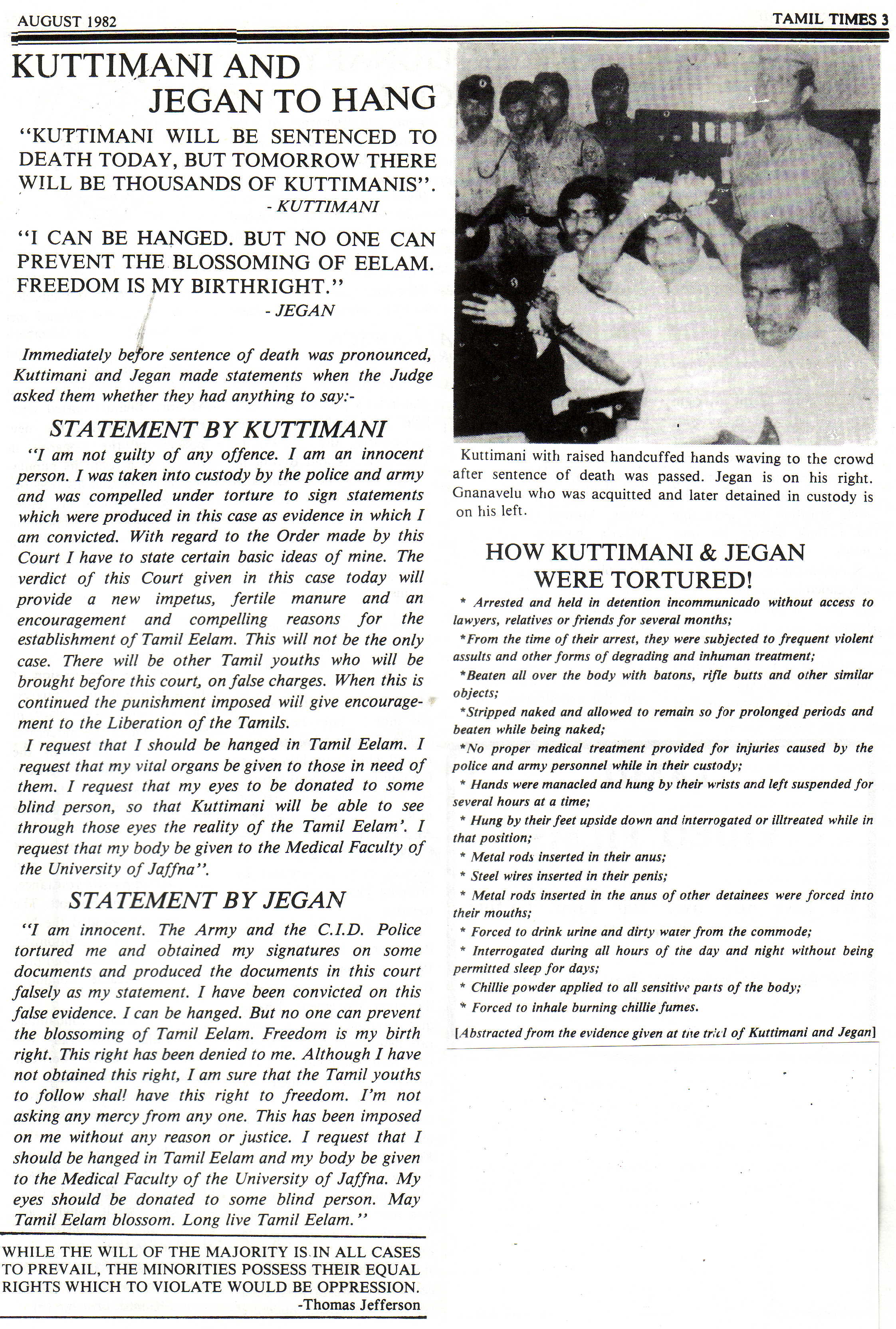 As of now, I'm not sure how old was he when he was killed on July 1983. I guess he might have been in his 30s, when he died. Any readers of this remembrance item who know Kuttimani's birth year, please feel free to let us know.
Kuttimani Chronology
1969: In Valvettithurai, Kuttimani, with Nadaraja Thangavelu (Thangadurai) formed an informal group Tamil Liberation Organisation (TLO), which formed the nucleus of Tamil Eelam Liberation Organisation (TELO) later. According to Sri Lankan police records, Kuttimani was a smuggler and a law-breaker.
1973: After crossing over to India, based on the complaints of Sri Lankan law enforcement authorities, Kuttimani was arrested in Tamil Nadu and deported to Sri Lanka, to face a prison sentence. The DMK party (led by M.Karunanidhi) was in power then.
1976: Kuttimani's name appears in the list of 47 Tamil prisoners held without trial under Emergency Regulations, that appeared in the Report of an Amnesty International Mission to Sri Lanka (9-15 January 1975) prepared by Martin Ennals. The name is mentioned as 'Joha Chandran' (I). The letter I within parenthesis indicates that "prisoner whose case is under investigation by Amnesty International." It also mentions the date of arrest "August 1975" and place of detention "Welikada".
1977: Kuttimani was released from Sri Lankan prison.
Mar. 25 1981: Neervely People's Bank robbery of 8 million Sri Lankan rupees took place; according to the Sri Lankan police officials, the alleged mastermind was Kuttimani.
Apr. 5 1981: Kuttimani was arrested, along with Thangadurai and Thevan, while attempting to escape in a boat to Tamil Nadu.
Aug.1, 1982:  T. Thirunavukarasu (the then TULF MP for Vaddukoddai constituency) died.
Aug. 1982: Kuttimani and Jegan were served a death sentence by the Colombo High Court, under the draconian provisions of the Prevention of Terrorism Act (PTA). Attempts were made to force the TULF leadership to nominate Kuttimani as their sponsored candidate in the forthcoming first Presidential election. But A. Amirthalingam, the leader of TULF repulsed such moves (partly being scared by the dictatorial Jayewardene regime's repressive measures), by announcing TULF 'will not resort to cheap stunts and put forward candidates to contest the Presidential election. Our objectives are will known and we will work towards achieving our goal – Eelam.'
Oct.14, 1982: A. Amirthalingam, the Secretary-General of the TULF, informed the Elections Commissioner of the decision of his party to nominate Mr. Selvarajah Yogachandran alias Kuttimani, as the new MP for Vaddukoddai.
Oct.16, 1982: The Prison Commissioner Priya Delgoda announced that Kuttimani would not be released from prison to take his oaths.
Oct. 17, 1982: Authoritative legal sources pointed out that according to the law,  Kuttimani is disqualified from membership of parliament.
Oct. 20, 1982: First Presidential election held, and J.R. Jayewardene got elected.
Nov.2, 1982: Trial of Kuttimani, Thangathurai and Devan began under the Sri Lanka Prevention of Terrorism Act.
Dec. 22, 1982: Referendum held to extend the Eight parliament for six more years.
Jan. 24, 1983: Kuttimani resigned his seat, a day before the end of the 3-month period during which he should have taken his oaths.
Feb.15-17, 1983: Nadesan Satyendra, the lead defence counsel for Kuttimani and other accused, addressed the Court on the question of admissibility of confessionary statements.
Feb. 24, 1983: Kuttimani along with five fellow-accused were sentenced to life imprisonment.
March 8, 1983: Neelan Tiruchelvam, the alternative nominee by TULF, took his oaths as an MP.
July 25, 1983: Kuttimani was killed inside Welikade Prison compounds, while his appeal to the Supreme Court was pending.
Aug 29, 1983: M. Karunanidhi (the DMK leader) unveiled portraits of Kuttimani, Thangadurai and four other Tamil youths at a function organized by TELO in Madras. Not to be outdone, MGR (the then Chief Minister of Tamil Nadu) declared that his government will allot a house to members of Kuttimani family.
*****
For record, I provide below some of the Kuttimani- related news items that appeared in 1982 and 1983.
Kuttimani nominated as MP
[Tamil Times, London, Nov. 1982, p.6]
Having successfully resisted the pressure to nominate him as its presidential candidate, the Tamil United Liberation Front (TULF) has nominated Selvarajah Yogachandran (Kuttimani) as a member of parliament to the vacancy created at the northern constituency of Vaddukoddai by the untimely death of its elected MP, Mr. T.Thirunavukkarasu.
The appeal against the death sentences passed on Kuttimani and Jegan is pending. In a statement issued explaining the reasons for nominating Kuttimani, the TULF has stated:
"The TULF which firmly believes in the Gandhian credo of non-violence on strong convictions and not as a matter of convenience, dissociates itself from the alleged acts of violence which Kuttimani may or may not have committed. Our irrevocable commitment to this lofty ideal of ahimsa notwithstanding, we are constrained to take this decision in exceptional circumstances owing to a variety of valid reasons:
(1)  Kuttimani's nomination is a token protest against the state terrorism perpetrated from time to time through the agencies of the police and military personnel especially on the young Tamils of the country;
(2)  It is a symbol of the TULF's protest against the iniquitous Prevention of Terrorism Act which has provided for an extraordinary procedure including provisions denying trial by jury, admitting confessions obtained by the police from the accused by various processes of torture and defying all accepted principles of law.
(3)  It is a protest against the death penalty imposed on Kuttimani and Jegan.
(4)  It is a protest against the cruel and inhuman treatment and torture inflicted on Tamil young men in army camps at Panagoda, Elephant Pass and now at Gurunagar, whereby alleged confessions were extorted from them to be admitted in evidence at their trials;
(5)  To impress upon the government that characterizing Tamil young men who are politically oriented and motivated as terrorists and directing repressive measures against them will not help to resolve the problem.
The death penalty imposed on Kuttimani and Jegan is in sharp contrast to the treatment meted out to the Sinhala youths who participated in the 1971 insurgency. Convictions and sentences imposed on them were annulled by law and they were released from jails.
*****
Kuttimani is not an MP: Sri Lanka Speaker Rules
[Tamil Times, London, Dec. 1982, p.14]
The Speaker of Sri Lanka's Parliament, Mr. Bakeer Markar, has ruled that Yogachandran alias Kuttimani, who is in prison awaiting the verdict on an appeal in the Supreme Court on his conviction in a case of murder and robbery, is not a Member of Parliament.
The Speaker informed the Minister of State, Mr. Anandatissa de Alwis, that Kuttimani would not be recognized as an MP until he took his oath. Kuttimani was nominated by the Tamil United Liberation Front (TULF).
******
Kuttimani – Death Sentence commuted to Life
[Tamil Times, London, Feb. 1983, p.7]
Selvarajah Yogachandran alias Kuttimani, who is under sentence of death following his conviction under the Prevention of Terrorism Act, has had his sentence commuted to life imprisonment under the general amnesty proclaimed by President Jayewardene on February 4. In all 62 condemned prisoners will benefit from the amnesty.
*****
Kuttimani – Death Sentence commuted to Life
[Tamil Times, London, Feb. 1983, p. 9]
Mr. Selvarajah Yogachandran (Kuttimani) has resigned his Vaddukoddai seat in Parliament to which he was nominated by the Tamil United Liberation Front after the death of the former MP, Mr. T. Thirunavukkarau. Mr. Yogachandran was nominated to this seat and his appointment was gazetted while he was under sentence of death. However he was not permitted to take oaths or sit in Parliament.
*****
Neelan Thiruchelvam – a UNP-TULF link?
[Tamil Times, London, Mar. 1983, p. 3]
The nomination of Dr. Neelan Thiruchelvam (son of the late MThiruchelvam, QC, Cabinet minister in Dudley Senanayake's 1965 administration) to the vacant Vaddukoddai seat by the TULF is said to be not without political significance. Having never had to go through the hurly-burly of election politics, and therefore not being ever compelled to take a definite position publicly, and being essentially an academic-politician behind the scenes, he is said to be eminently suited to revive the UNP-TULF 'dialogue'. He is said to enjoy cordial relations with many Cabinet ministers including the President himself. It will be recalled that Dr. Neelan was a member of the Committee that produced the report on the District Development Councils.
Dr. Neelan's nomination as MP is seen by political observers as an attempt to strengthen the hand of those sections of the TULF leadership which believe in the line of 'negotiations' with the government, and the eventual acceptance of the District Councils as an instrument of decentralized administration of the Northern and Eastern provinces. And with a little more power granted to District Councils, will the TULF accept District Ministerships is the question that is being currently raised in political circles.
Critics of the TULF suggest that the nomination of Kuttimani as MP for Vaddukoddai in the first instance under pressure from the 'militants', and the present nomination of Dr. Neelan in his place concretely demonstrates the TULF's lack of a coherent political strategy and the dilemma it faces in its attempt to reconcile the contradictory pressures within itself.