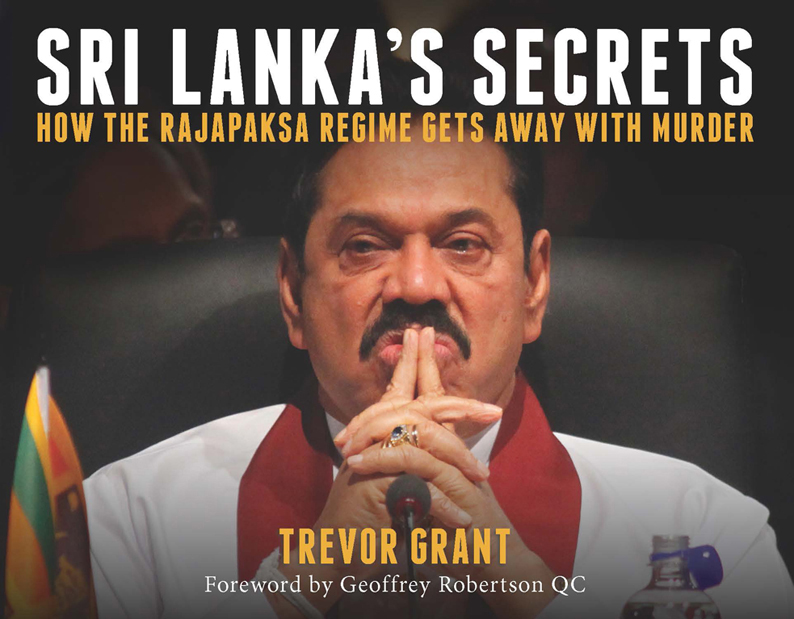 by Trevor Grant, Monash University Publishing, Australia
Date:  2014.  ISBN: 9781922235534 (paperback).
Pages: 220, of which about 90 consist of photographs.
Epigraph: The battle against power is the battle of remembering against forgetting (Milan Kundera).
With a foreword by Geoffrey Robertson QC
As the civil war in Sri Lanka drew to its bloody end in 2009 the government of this island nation removed its protection from UN officials and employees, who, along with other international observers, were forced to leave the conflict zone. President Mahinda Rajapaksa and his inner circle wanted, it seemed, a war without witness.
The end result was the deliberate slaughter of an estimated 70,000 innocent civilians. However, many survivors, and some who died, were able to capture on camera the horrifying conclusion to the war and the cruel deprivations of the internment camps that followed. Today, through their images and testimony, Rajapaksa stands accused of war crimes.
In Sri Lanka's Secrets experienced journalist Trevor Grant presents the shocking story of the final days of this war, alongside the photographs and eye-witness accounts of many Tamils, including Maravan, a social worker who fled to Australia by boat after being tortured by soldiers seeking his folio of photographs.
Grant also details the continuing torture and abuse of Tamils in Sri Lanka, and some national governments' ongoing support for a regime that has abandoned any pretense of democracy. Foremost among these enthusiastic supporters has been the Government of Australia, cynically preoccupied with 'stopping the boats' fleeing Sri Lankan state terror. At any cost.
ABOUT THE AUTHOR
Trevor Grant has worked as a journalist for more than 40 years, as a reporter and specialist feature writer for The Age and News Ltd in Melbourne, mostly in the sports arena. He now works as a broadcaster and writer on activist issues in Australia, and as an advocate for refugees through the Tamil Refugee Council and Friends of Refugees.
————————————-
From the Foreword by Geoffrey Robertson QC:
You do not help human rights by 'engaging' with tyrannical governments which destroy them.
The Tamil Tigers were bloody terrorists who committed war crimes against their own people.
If Tamils are not accorded equal rights – and they never have been – they are entitled to autonomy. (Torture, disappearances, rapes, jailings and harassment remain a fact of life for the minority Tamil population.
From the 'Acknowledgement', page xii:
The vast bulk of the Sinhalese remain in denial about the conduct of the military during the war (p. 9).
From the text:
The stench of the master-race philosophy permeates the language of the government (p. 10).
Nations in a position to do something about this travesty in Sri Lanka are lining up to back Rajapaksa (p. 14).
Wilful blindness often becomes the only defence against a nagging conscience       (p. 25).
As a Tamil tortured, now a refugee in Australia said, a leaky [refugee] boat is preferable to a torture chamber (p. 35).
Sinhalese military power "seemingly knows no limits of human degradation and respects nothing but its right to unfettered dominance and gratification (p. 40).
They laughed and said there is no one to question their actions, not even God        (p. 41).
"One [Australian medical] report details the agony he now suffers from internal tears and wounds in his anus that still bleed constantly. (During exploratory surgery in 2013 doctors found pieces of wood and plastic deep inside his anal passage.) Then there are cigarette burns on his scrotum, his penis and thighs… (p. 47)
They put fire ants in my ears. They put bicycle spokes in my penis. They also put a metal rod into my anus as well as the neck of a bottle. I was raped regularly (pp. 54-5).
"In a society as corrupt and debased as Sri Lanka, fear will always be the predominant weapon of the state." Privilege and racist superiority, built on terror, will collapse "without the support of military and civilian police forces that are free to inflict terror upon sections of the citizenry" (p. 59).                                                            World powers "keep up appearances as human-rights protectors". They produce "lame public statements and UN resolutions, gently admonishing the regime but doing deals behind the scenes to guarantee it protection from any serious action" by the UN (ibid).
"a particular favourite, suffocation by placing petrol-infused plastic bags over the heads of victims" (p. 60).
"There were sixty-five reported attacks on medical facilities during the final, frenzied assault" (p. 87). "The few surviving doctors had to live with the chilling thought that in their desperation to save lives they had probably caused the deaths of hundreds of despairing patients and brave medicos. As they surveyed the smoking ruins of their hospitals and the torn and shredded bodies piled around them, they mourned their naivety in placing their trust in the humanity of the Sri Lankan Government and military commanders" (p. 88).
The UN deserted these people in every possible way (p. 91).
When Tamil people saw the swift reaction from global powers to the Libyan civil war crisis in 2011, they were left confused and disgusted. The Security Council which did not discuss the Mullivaikal massacre, unanimously voted for Libya to be referred to the International Criminal Court (p. 91).
"Centuries of brutal conflict on this earth leave no-one in doubt about the human capacity for evil. But, in the final days of the Sri Lankan Army's wipe-out of the Tamil Tigers, a president, his government and his military found it in them to plumb rare depths of depravity in war" (p. 93).
"What goes through the minds of the perpetrators? Do they think of their own wives and children when they see these pictures of the scattered body parts of a baby, of the head lying on the ground fifty metres from the minced torso… It is more than war. It is genocide" (p. 94).
Chapter Eight: 'Dancing on Tamil graves'. "On May 18, 2009, the day after the war officially ended and thousands of bodies were strewn across the killing fields, President Rajapaksa told the country the military had conducted a humanitarian operation that resulted in zero civilian casualties" (p. 109).
"After the Kfir jets, cluster and bunker-busting bombs and its white phosphorous, the Sri Lankan military's most important weapon was its propaganda unit and its capacity to bombard the world with shameless lies" (p. 110).
"A special acid that would dissolve bones quickly was imported from China" (p. 111).
At least 25 Tamil war cemeteries, containing 20, 400 graves, were deliberately bulldozed (p. 111).
The military built a holiday resort, 'Lagoon's Edge', "alongside the final killing field of the war, where tens of thousands of Tamil civilians were murdered by government forces. It was boldly advertised in the Colombo press as an attraction for 'war tourism', where you could party the night away on a fancy teak dance floor".  The President and his brother, Gotabaya, "came to cut the ribbon and kick off the partying in late 2012 in a grotesque display of indifference to their victims" (p. 112).
"What happened in Mullivaikal in 2009 has the indelible stamp of state-sanctioned mass murder upon it. These were men consumed by evil (p. 114).
Chapter 10: Children. "When the Sri Lanka military deliberately bombed hospitals and schools (…) they knew many of their victims would be helpless children and infants. The "jets would swoop again, taking careful aim at the terrified children, in their unmistakable white uniforms" (p. 149).                                                                    Perhaps over dinner, the pilot would show the medal awarded him, his children not knowing he was really a mass murderer of children (pp. 149-150).                       "Many countries have banned cluster bombs, but not Sri Lanka" nor the USA which secretly advised Rajapaksa's military on their use (p. 153).
Chapter 11 Women. "Along with injured and dying patients in hospitals, children in schools, and incapacitated elderly people, women were an easy target for the rampaging Rajapaksa soldiers" (p. 166). [Sorry, have omitted details: fatigue! The next chapter is on the old, now forced to fend for themselves, with many not succeeding.]
"The Tamil population of South Asia's teardrop island has been crying out for decades for the outside world to relieve its suffering. The only response has been trickery and deceit from foreign governments" and indifference from people conditioned not to react to the plight of others (p. 221).