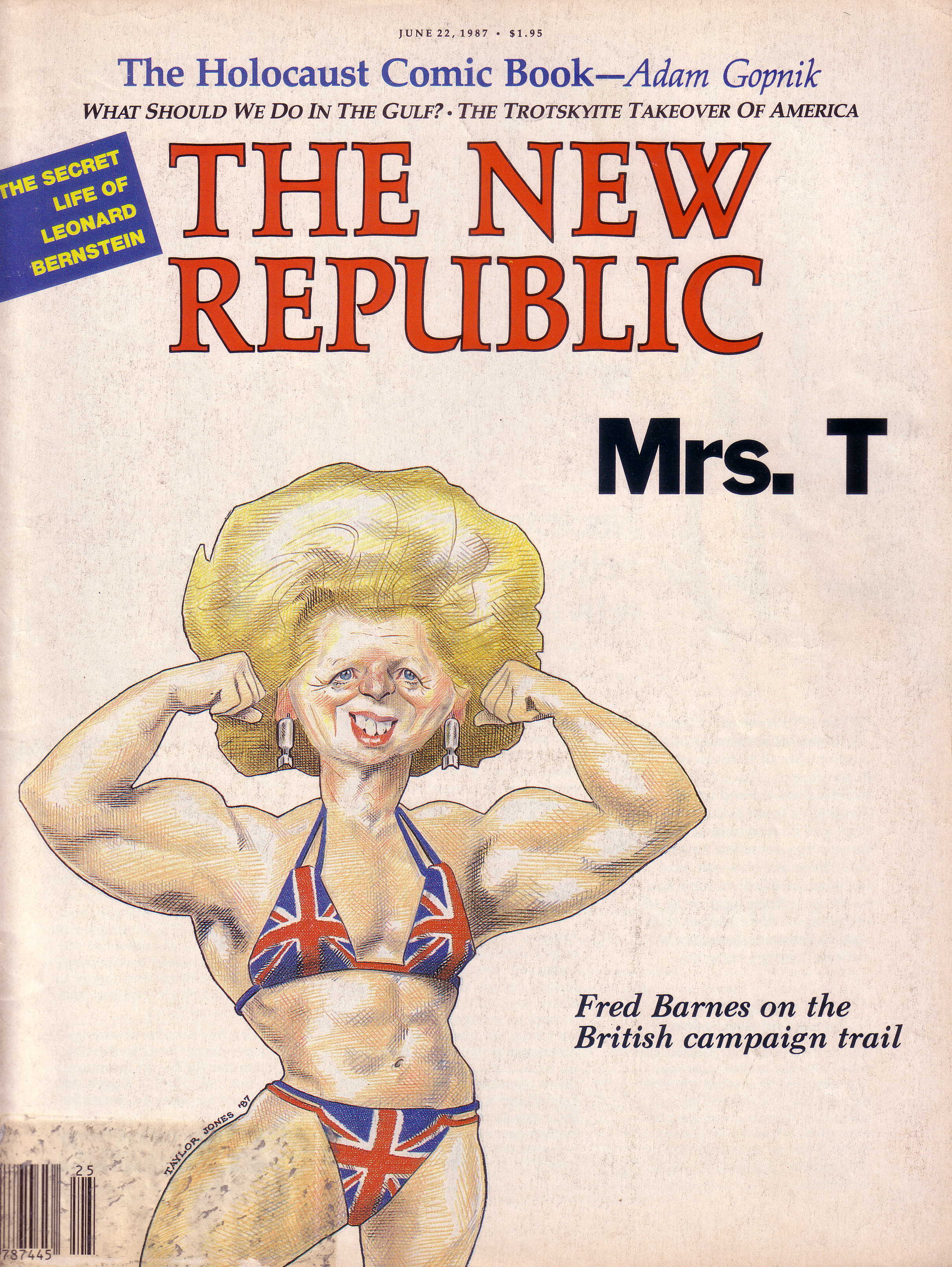 British MPs against gunboats for Sri Lanka 1985
24 die in Tamil rocket attack as Thatcher arrives in Sri Lanka 1985
Of the many cartoon and graffiti images of Margaret Thatcher (1925-2013), the ex-British prime minister, I like the three which I present nearby. The two cartoon images appeared when Thatcher was holding the prime minister position. The graffiti image is recent and humorous for its word play.
The June 22, 1987 cover cartoon in the New Republic magazine was a take from Mr. T, a mini-celebrity in America during that period, who was a body-builder and a bouncer. In this cartoon, Mrs. Thatcher was shown as Mrs. T., flexing her political muscles. In the  real world, body builders flexing muscles are not taken seriously for their intellect. What they gain in muscle power, they lose out in cerebral power. Though it was a cartoonist's flight of fancy, something else can be read in this cartoon. Body-building fad, if it exists among women, is tagged to teenage hormones and twenty somethings. But, Thatcher was 52 (in her grandma phase), when this cartoon appeared. Thus, though Thatcher had a chemistry degree from Oxford University and was tagged as a 'scientist', this cartoon depicted her rather as dim-witted in the political circus dominated by men.
The Time magazine (Sept.12, 1988) cartoon of Thatcher and her pal President Ronald Reagan, screaming while being skewered by the nibs of political cartoonists tells that both deserved such skewering for their rash and insensitive acts.
Thatcher visited Sri Lanka in mid-April 1985. She was given the honor of addressing the Sri Lankan parliament, by the then dictator President J.R. Jayewardene. To the glee of Sinhalese MPs and Sinhalese community, she talked: "Both our countries have been the victims of terrorist violence – a disease which affects so many countries today, so I can sympatise with your efforts to combat terrorism here in Sri Lanka. A firm response to those who use violence and who try to achieve with the bullet what they cannot do through the ballot is essential." Her reference to 'both countries' related to the Irish Republican Army (IRA) violence in UK and the Tamil militant violence in Sri Lanka. Six months before, she had narrowly escaped from an IRA bomb planted at the Brighton Hotel on October 12, 1984. Then, within few weeks after her visit to Sri Lanka, new visa restrictions on Tamils fleeing to Britain was announced by Thatcher's government.
Not only Tamil militants and IRA, Thatcher also labeled African National Congress (ANC) under the leadership of Nelson Mandela and Oliver Tambo as 'terrorists'. Now, some of her acolytes and sympathizers are attempting to cover up her vitriolic criticism of ANC during the 1980s. Even the New York Times obituary (by Joseph Gregory, April 8, 2013) mildly recorded, "Though she regarded apartheid as repugnant, she initially refused to impose economic sanctions on South Africa, arguing that apartheid would ultimately be undone by greater trade and the prosperity and yearnings for democracy that come with it. But pressured by other Commonwealth countries, she grudgingly reversed herself."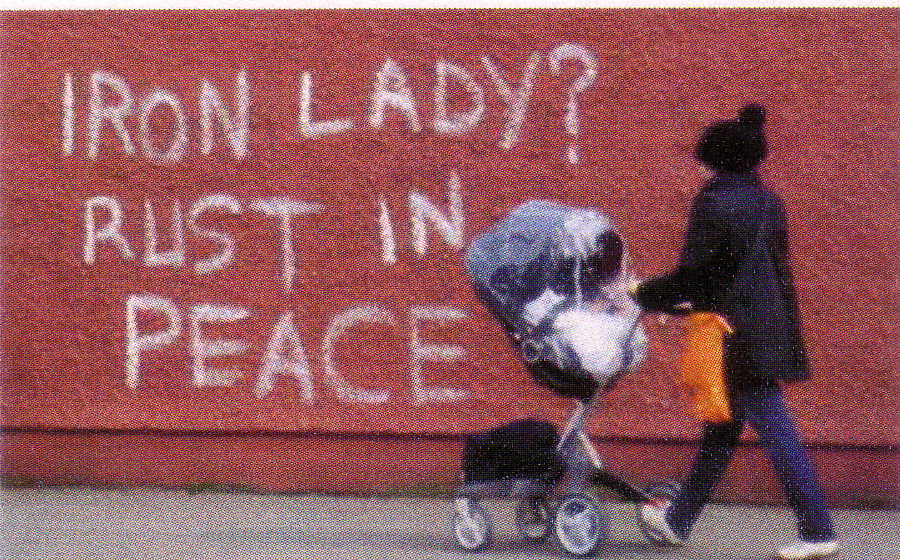 Several British MPs were opposed to Thatcher's government offering high-speed gunboats to the dictatorial Sri Lankan regime in 1985. But she overruled this opposition, with her conviction of fighting 'terrorism'. Though Thatcher labeled terrorist violence as 'a disease', she herself was prone to a virulent disease which has now received recognition for its prevalence among political leaders – hubris syndrome. Lord David Owen, an MP for Plymouth constituency for 26 years, from 1966 to 1992 and a physician (neurologist), had promoted this idea in medical journals. Writing about Margaret Thatcher, he had noted in the Brain journal, "Margaret Thatcher, we judge, did not develop hubris syndrome until 1988, 9 years after becoming Prime Minister. But some believe she was hubristic throughout her period in office." We all knew that after exiting office, she suffered from dementia, and her death was caused by dementia-related stroke.
It is a vital question to ask her personal physician(s), whether Thatcher showed symptoms of pre-senile dementia when she held the prime minister rank? Considering the fact that she became prime minister at the age of 54 and was evicted from that position at 65, I'm tempted to infer some of the erroneous political decisions she made could be attributed to symptoms of pre-senile dementia plus hubris. Remember, that her pal Ronald Reagan, who suffered from Alzheimer Disease, lived in a cloud during his final presidency years answering 'I forgot'!
Hugh Freeman: The human brain and political behaviour. British Journal of Psychiatry, 1991; 159: 19-32.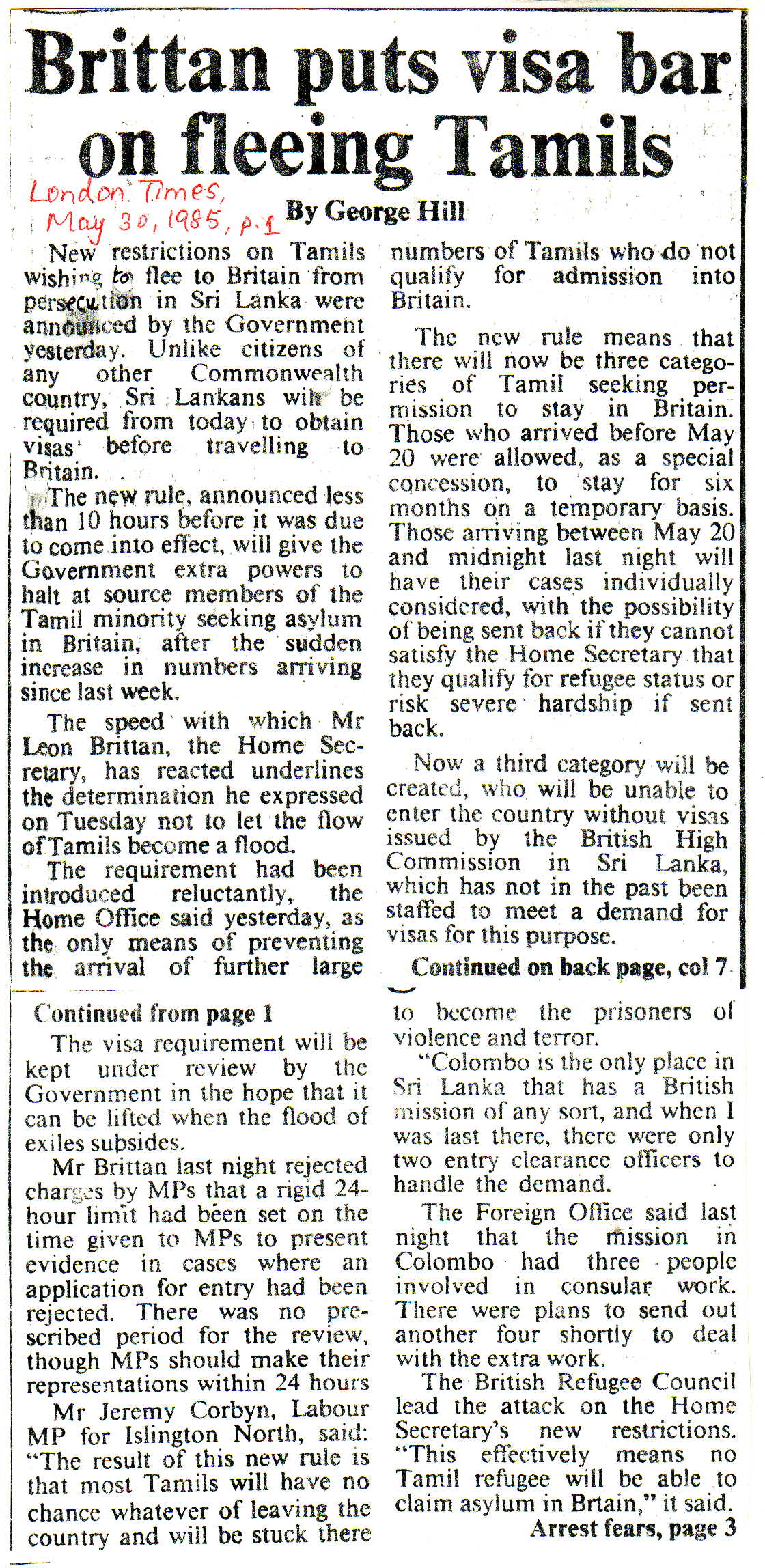 Sources
Lord David Owen: Hubris and nemesis in heads of government. Journal of the Royal Society of Medicine, Nov. 2006; 99: 548-551.
David Owen and Jonathan Davidson: Hubris syndrome: an acquired personality disorder? A study of US Presidents and UK Prime Ministers over the last 100 years. Brain, 2009; 132: 1396-1406.