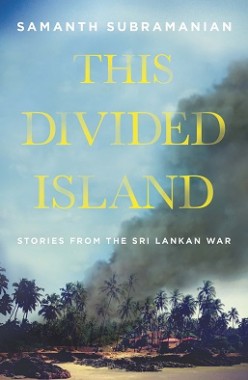 from Atlantic Books:
| | |
| --- | --- |
| Pages: 336 | ISBN: 9780857895950 |
In the summer of 2009, the leader of the dreaded Tamil Tiger guerrillas was killed, bringing to a bloody end the stubborn and complicated civil war in Sri Lanka. For nearly thirty years, the war's fingers had reached everywhere: into the bustle of Colombo, the Buddhist monasteries scattered across the island, the soft hills of central Sri Lanka, the curves of the eastern coast near Batticaloa and Trincomalee, and the stark, hot north. With its genius for brutality, the war left few places, and fewer people, untouched.
What happens to the texture of life in a country that endures such bitter conflict? What happens to the country's soul? Samanth Subramanian gives us an extraordinary account of the Sri Lankan war and the lives it changed. Taking us to the ghosts of summers past, and to other battles from other times, he draws out the story of Sri Lanka today – an exhausted, disturbed society, still hot from the embers of the war. Through travels and conversations, he examines how people reconcile themselves to violence, how religion and state conspire, how the powerful become cruel, and how victory can be put to the task of reshaping memory and burying histories.

This Divided Island is a harrowing and humane investigation of a country still inflamed.
————-
Samanth Subramanian studied journalism at Pennsylvania State University and international relations at Columbia University. He has written for, among other publications, the Guardian, the New Yorker, the New York Times, Mint, the Far EasternEconomic Review, Foreign Policy, New Republic, Foreign Affairs, The National andThe Hindu. His first book, Following Fish: Travels Around the Indian Coast, was published by Atlantic Books.
————
from Asia Society, NY:
Sri Lanka's long lasting civil war came to a denouement in 2009, but recent violence between religious communities threatens to undo the country's fragile peace. With much attention fixated on the tactical objectives of war, the human reality of the conflict escapes the limelight. What are the implications of the civil war on marginalized communities outside of major metropolitan areas? How have the geography and landscape of the country changed after decades of intense conflict? Join us in a reading and talk around award winning author Samanth Subramanian's new book This Divided Island: Stories from the Sri Lankan War, an intense and extraordinary account of contemporary Sri Lanka emerging from war.
————
from Winnowed.blogspot, July 23, 2014
At the Kangu Garage in post-war Jaffna, a few mechanics are hard at work. They don't talk much to each other. All of them are in their 60s and 70s, as are almost all cabbies in Jaffna since most young Tamil men living in the North have been devoured by the cruel war. Chief Mechanic Nirmaladevan focuses on his work with such concentration that he is oblivious to his surroundings and to journalist Samanth Subramanian who stands nearby watching the men work. Samanth has made many visits to Kangu Garage and spent many hours waiting, hoping to strike up a conversation with Nirmaladevan and get him to talk about life during the war. Samanth has turned up in the morning before the mechanics arrive, during their lunch break and other odd hours, but Nirmaladevan has always managef to fob him off, pleading work pressure, focusing on his work with ferocious concentration in the placid calm of Jaffna where nothing really seems to be urgent. The only bit of information which Samanth manages to pry out of Nirmaladevan is that in 1995 they were forced to close down Kangu Garage when the Tigers, on the verge of ceding control of Jaffna to the Sri Lankan army, tried to persuade all civilians in Jaffna to follow them into Vanni wilderness. Unlike in 2009 when they successfully managed to force a few hundred thousand civilians to follow them to their final redoubt in Puthukkudiyiruppu, they were unsuccessful in 1995 and men like Nirmaladevan merely went to their villages around Jaffna and returned in six months. Is Nirmaladevan really busy or is it that he hates talking of his experiences during the civil war?
Samanth has an almost similar experience with Chelliah Thurairaja, a retired Major General in the Sri Lankan army. Thurairaja continues to work even after retirement, just as he continues to play golf with his fellow army officers. What makes him tick? Samanth wonders. How did he survive the Sri Lankan government's "Sinhala Only, Tamil Also" policy which made it mandatory for serving civil servants and soldiers to learn Sinhala to get further promotions? Samanth has better luck with Thurairaja (than with Nirmaladevan), who opens up a bit, though he is very guarded in what he says. Not learning Sinhala was a way of penalizing onself, Thurairaja had reasoned to himself. If in France, one would learn French just as one would learn German in Germany. Samanth never fully figures out how in his own country, Thurairaja was able to put himself in the shoes of a foreigner who opts to learn the most widely spoken tongue in order to get by. Thurairaja does put him on to Sivagnanam, another army officer who used to be a radiographer in the army and had migrated to Canada, someone who could possibly speak more freely. Samanth goes to Toronto, but never get to meet Sivagnanam. However, he does talk to Ravi Paramanathan, a retired army major, who never supported the Tigers or even the idea of Eelam, but feels betrayed by the Sri Lankan government's treatment of Tamils.
In his quest to tell his readers about the events which led to the demand for Eelam, the creation of the LTTE, its defeat at the hands of a marauding Sri Lankan army and the continued victimization of Sri Lanka's Tamil community, Samanth does not restrict himself to Sri Lankan Tamils who served in the Sri Lankan army. Over a few years starting from just after the Sri Lankan army killed Prabhakaran on the banks of Mullivaikal, Samanth made a number of trips to Sri Lanka, each trip lasting over many weeks, travelled all over the island and met all sorts of people ranging from Tamils who continue to long for the LTTE and the possibility of Prabhakaran returning to lead the struggle once again, Hindu Tamils who work for and promote the Hindu Swayamsevak Sangh, Sinhala Buddhist leaders such as the liberal, left-wing Samitha who thinks that the Tamils of Sri Lanka have honest grievances, the chauvinist, right-wing Omalpe Sobitha, Sri Lankan Muslims, journalists, bloggers, Sinhalese soldiers, Sinhalese politicians, LTTE war widows etc.
If I have given you the impression that Penn State/Columbia educated Samanth Subramaniantoured the island with machine like efficiency, working non-stop, pestering people to part with their secrets, please forgive me. No, during his Sri Lankan sojourns, Samanth seems to have spent a fair of time drinking beer, arrack, whiskey or whatnot and talking shop with like-minded liberal journalists and falling seriously ill at least once. However, from Samanth's rambling travels and meetings comes out a very incisive and coherent discourse on Sri Lanka's past and the current state of affairs in the emerald paradise. Most importantlyThis Divided Island is unbiased, despite Samanth obvious sympathy for Tamil grievances and their current state of utter despair. All of this in very elegant prose, which is also simple and easy to read.
Samanth is a reporter and he keeps his analysis and opinions to a minimum even when detailing the most horrible atrocity or violation. I had known that the Tamil civilians who were herded together into a small strip of land at Puthukkudiyiruppu during the Tigers' death throes had a horrible time as the Sri Lankan army shelled and rocketed them without regard for human life, in a desperate bid to crush the Tigers. However, Samanth's detailing of those days, final days for many thousands of human pawns, left me breathless with shock and anger. Granted that many of those civilians were Tiger sympathizers and even relatives, what right did the Sri Lankan army have to shell no-fire zones, including hospitals, with such wanton frequency, which can only be interpreted to denote an intention to kill as many as possible, without any consideration of age or gender or non-combatant status? However, it was not only the Sri Lankan army which resorted to such inhuman behavior. In those last days, the LTTE which had never been shy of forcible conscription, went out of its way to snatch young boys and girls from families, forcing them to take part in a fight in which death was almost certain. Families pleaded in tears as their teenagers were taken away, never to return. As Samanth details how the Tigers used Tamil civilians as human shields, one scene from those final days at Puthukkudiyiruppu sticks in my mind. A man in his fifties tells a young Tiger in a calm voice that they ought to let the people go at least then. The Tiger whips out a pistol and shoots the man dead.
Samanth tells us that the LTTE had always been cruel, right from its inception. Even when the LTTE numbered just around 400 men, they were all yes men, as spies reported on spies and dissent was stamped out. Apparently Prabhakaran often asked new joiners if they would be willing to kill a brother who joined a rival Tamil outfit.
Many Sinhalese have a genuine fear of an "Ekanta Demala Rajya", a Greater Tamil Nation stretching from Tamil Nadu to Malaysia. The Sri Lankan government has played on this fear and used it to suppress the Tamil community. The Mahavamsa, a purported history of the Sinhalese race since their arrival in Sri Lanka from Bengal and the growth of Buddhism in the Island, celebrates the story ofDutugemunu, a prince who fought Elara, a Chola king who invaded Sri Lanka. Mahavamsa says that Elara was actually a fair King who did not oppress Buddhism, but despite that Dutugemunu battled Elara's forces for 13 years and finally killed him. Thousands of Tamils were massacred. Later when Dutugemunu suffered from the pangs of conscience, Buddhist monks comforted him by saying that the "Tamils were heretical and evil and died as though they were animals." Both the Mahavamsa and Dutugemunu are celebrated in Sri Lanka and a famous Sri Lankan army regiment, theGemunu Watch, is named after King Dutugemunu, not exactly actions which would inspire the Tamil minority to show confidence in the government and the majority community.
Respected Sri Lankan journalist Lasantha Wickrematunge who often spoke out against the government's human rights violations was shot dead by government-backed assassins a few months before the civil war was over. After the Sri Lankan government won the war, its actions akin to doctors excoriating a tumor, destroying the last suspicious cell with heavy chemotherapy, the harsh treatment of minorities has continued. With the Tamils totally crushed, organizations like the Bodu Bala Sena have started to target Tamil speaking Muslims, at times destroying their places of worship.
Why is it that Sri Lanka's Tamil speaking Muslim community has never identified itself with Sri Lanka's Hindu and Christian Tamils? Samanth tells us that the LTTE had, throughout the 1980s, made attempts to recruit from Sri Lankan Muslims, but it came to nought and later in October 1990 the LTTE ruthlessly expelled around 24,000 Muslims from Jaffna, forcing them to be refugees in their own land. If Sri Lanka's Hindu and Christian Tamils can unify on the basis of their mother tongue, why can't Sri Lanka's Muslims do the same? There seems to have been no history of Muslims placing their Tamil identity over their religion, though almost all Sri Lankan Muslims are Tamil speakers. I wish Samanth had addressed this issue.
"Sarath Fonseka" is another topic I wish Samanth had bothered to tell stories about. Why and how did the hero of Sri Lanka's victory become estranged from the Rajapaksa brothers and end up in jail? There is a stray reference to Fonseka's portraits in a Buddhist viharaya built next to a Tamil Hindu temple on Katys, and their subsequent replacement with Rajapaksa's and that's all that there is on the former army chief who, after the victory, aspired for political power.
On the whole, This Divided Island is an excellent book, a must-read for anyone interested in knowing more about Sri Lanka.
————
Spoils Of Victory
DURING THE 1990S, the ethnic wars in the crumbling Balkans were often ascribed to what the media called "ancient hatreds", a self-feeding cycle of fighting and vengeance with its roots deep in history: the Serbs were said to have detested the Croats since World War II and the Albanians since 1389. Deriding the theory, the journalist Stephen Schwartz joked that one might as well trace the animosity back 2,000 years, to a raid described by the Roman poet Ovid, in which the Sarmatians, notionally distant ancestors of today's Slavs, brutally crushed the distant ancestors of today's Albanians.  So tenuous were the extrapolations that the Balkan wars could even be seen as a natural sequel to the millennia-old battle of which Ovid wrote:
Swift, on horseback, the barbarians ride to the attack;
an enemy with horses as numerous as their flying arrows;
and they leave the whole land depopulated.
The theory provided convenient historical ballast for the nightly news, Schwartz argued; even more dangerously, it suggested that the violence was inevitable. Soon after he won the presidency, Bill Clinton read Balkan Ghosts, a Robert Kaplan book that subscribed to the "ancient hatreds" model. From Balkan Ghosts, the Sarajevo journalist Kemal Kurspahic wrote in his 1997 book As Long As Sarajevo Exists, Clinton drew "the comforting thought that nothing much could be done in Bosnia 'until those folks got tired of killing each other.'" Santayana's maxim was turned on its head: the Slavs remembered their past too vividly and were thus condemned to repeat it.
Like a show pony, the "ancient hatreds" argument is trotted out of its stable and walked around the paddock during every ethnic conflict. The warring parties themselves are happy to shoehorn their stances into this model, buffing their credentials by claiming to be part of some grander historical purpose. So it was during the civil war in Sri Lanka. Sinhalese nationalists and Buddhist extremists—and these two groups overlapped more often than not—pointed accusing fingers to the past, when armies from Tamil kingdoms in India invaded this peaceful island, their haven of Buddhism. On the other side of the divide, Tamil nationalists contended that many of their ancestors had arrived as merchants and fishermen—perhaps even before Buddhism reached Sri Lanka—and that Sinhalese kings had repeatedly slaughtered Tamil communities and grabbed their land. Living in Sri Lanka, I frequently got the impression that the Sinhalese and the Tamils had fought two wars: the terrestrial one, which began nominally in 1983 and ended in 2009; and an abstract one, which began centuries ago and is not quite finished yet.
Ever since the defeat of the Tamil Tigers in 2009, Sri Lanka's Tamils have been a cowed, cautious people, living under a crushing military presence in the island's north and east. For the moment, they present no physical or ideological threat, so Sinhala Buddhist extremists, who had been allowed by President Mahinda Rajapakse to build up a fearsome head of steam in the closing stages of the war, have redirected their attritional energies. Chauvinism can, in the absence of ancient hatreds, easily summon up modern ones to fill the void. Over the last three years, these Buddhist groups have begun to persecute the country's Muslim minority; one outfit in particular, the Bodu Bala Sena ('the Army of Buddhist Power'), formed last July in Colombo, has sought systematically to demonise Muslims, accusing them of eroding Sri Lanka's Buddhist heritage. Violence has been promised unto the Muslims; in turn, one Muslim leader has already said that there will soon be "no alternative to taking up arms", although he claimed to have been misquoted after he was arrested in May under the Prevention of Terrorism Act. This is all fresh friction, growing and deepening as we watch.
During the war, the text to which Sinhalese nationalists turned most often in the course of their arguments was the Mahavamsa, the Great Chronicle. The Mahavamsa is a long Pali poem that, in a mix of facts and legends, narrates the story of Buddhist Sri Lanka between the 6th century BCE and the 4th century CE. It deals often with historical figures, but it is by no means a watertight history. Buddhist monks worked and reworked the Mahavamsa over hundreds of years, tweaking it to suit the political agendas of their kings, and filling in the gaps—of the early years in particular—with the distilled products of their imaginations.
Far more than any other source, the Mahavamsa offered 'proof' of the antique enmity between the Sinhalese and the Tamils, but it also supplied the country's Buddhists with a moral imperative. Sri Lanka is, as designated by the Buddha himself, the ultimate refuge of his faith, and even violence is permissible in the protection of Buddhism here. This message is embedded most dramatically in the story of King Dutugemunu, a 2nd-century monarch who feared that the Tamils would push the Sinhalese into the sea, and who fought and slew the army of Elara, an invader "of upright nature" from south India. Late in his life, when he is troubled by the numerous Tamils he has killed on the battlefield, and concerned about his karmic accounting, Dutugemunu receives a delegation of monks.
"Ruler of men, we have been sent … to comfort you," one of the monks tells Dutugemunu.
"In truth, venerable sirs," Dutugemunu says, "how can there be comfort to me in that I caused the destruction of a great army of myriads of men?"
"There is no hindrance on the way to heaven because of your acts," the monk responds. Only the equivalent of one-and-a-half men died at Dutugemunu's hands, according to the monks' arithmetic, because the Tamils "were heretical and evil and died as though they were animals. You will make the Buddha's faith shine in many ways. Therefore, Lord of Men, cast away your mental confusion." Being thus exhorted, the Mahavamsa goes on, "the great king was comforted"; his kill rate never disturbed him again.
For Buddhist nationalists, the ancient hatreds embodied in the Mahavamsa were extrapolated into the 20th century's troubles between the Sinhalese and the Tamils. In discussing the civil war with me, one of the founding monks of the Jathika Hela Urumaya (JHU), a Sinhalese nationalist party, did not dwell too much on the state's various discriminations against the Tamils in the 1950s and 1960s—the proximate cause of the war. Instead, he preferred to peer further back into history, to answer the sort of questions one might encounter in a school playground. Who was here first? "There are thousands of inscriptions from 3rd century BCE in Sinhalese, but there isn't a single inscription in Tamil," he said, quite inaccurately. Who started the fight? "Not Buddhists. But if one's enemy comes to you, you have to fight back. Not to kill him, necessarily, but to protect yourself. Buddhists, all through history, if they have fought, they have fought for self-protection." Whose land was this? "There is no traditional homeland here for the Tamils," he said, his shaved head gleaming in the afternoon sun. "This is the homeland of the Sinhalese. The Sinhalese are the people who created this culture, developed this country, created this lifestyle and this nation."
The JHU and its monks proved useful, during the war's twilight, to Rajapakse as he consolidated Sinhalese Buddhist support, first to throw massive resources into finishing the war brutally, and then to win the elections of 2010. That base of support still props Rajapakse up, so Buddhist extremists have, in their harassment of Muslims, been quite unhindered and even goaded on by the government. In January, members of right-wing groups stormed into the Law College of Sri Lanka in Colombo, claiming that its examination results were doctored to favour Muslims. They have called for mosques and dargahs to be razed, ostensibly for being situated too close to Buddhist temples; in the ancient capital of Anuradhapura, during one of these demolition drives, a photographer captured a monk burning a green Islamic pennant that he had pulled out of a dargah's rubble. The Bodu Bala Sena has closed down Muslim-owned butcheries, attacked a popular Muslim-owned clothing store in Colombo, and forced the government to ban the certification of halal meat; other groups have painted pigs on the walls of mosques. In the town of Dambulla last year, when the chief priest of a local Buddhist temple led a protest to "relocate" a mosque, he warned in the process: "Today we came with a Buddhist flag in hand. But the next time, it will be different."
Soon after, in a spiky interview in the Colombo Telegraph, this Dambulla monk, Inamaluwe Sumangala Thero, tried valiantly to invent historical reasons to resent the Muslims. "The Muslims came to Sri Lanka by sailboats to trade in groceries. Only males came," he said. "Having come like visitors they robbed the Sinhala and Tamil women. They fooled our Sinhala and Tamil women and married them." This is nothing but desperation. There is, in truth, no hoary history of Sinhalese-Muslim dust-ups, no old tensions to plunder and jam into a new theory of ancient hatreds. As a community, Sri Lanka's Muslims have historically kept a low profile, conscious of being the country's third-largest ethnic group, and thus careful about maintaining cordial ties with the Sinhalese majority as well as the Tamils. The Muslims have never posed a demographic threat either. Less than 10 percent of Sri Lanka is Muslim; since the Buddhist population is seven times larger, no sensible person today could share King Dutugemunu's fear that the Buddhists will be pushed into the sea.
In their hounding of Muslims, the Buddhist extremists have shown themselves up. They can no longer insist—as they did during the civil war—that they are acting according to the precedents in the Mahavamsa, marching to martial bugles because they are trying to protect a vulnerable, fledgling faith. As an institution, Buddhism in Sri Lanka is wealthier, stronger and more sheltered by the government than it has perhaps ever been in the history of the island. The attacks on a weak Muslim minority form a way to extend the influence and power of these Buddhist factions, proving in the process that the appetite of religious extremism, once whetted, is difficult to sate.
Samanth Subramanian is a contributing editor at The Caravan and the India correspondent for The National. His new book, This Divided Island: Stories from the Sri Lankan War, will be published this month by Penguin Books India.