by Sachi Sri Kantha, December 17, 2016
Recent death of Jayalalitha Jayaram (1948-2016), the Chief Minister of Tamil Nadu, generated quite a quota of elegies for her services to the cause of Eelam Tamils. These elegies noticeably hid one ugliest contribution of what Jayalalitha and her coterie did in April 2002. This was, after the signing of the Cease Fire Agreement between the Sri Lankan government and the LTTE in February 2002. History should NOT be hidden. So, I provide below what this moody, paranoid, semi-literate dictator did to the Eelam cause.
I beg to differ from the sob-story scribes that Jayalalitha was a literate woman, well versed in English! Maybe, she thrilled herself in reading English pulp fiction. In an interview to Rediff On the Net site, with Suhasini Haider, George Iype and Saisuresh Sivasamy, in 1999, Jayalalitha had answered about her favorite authors as follows: "Denise Robins, Barbara Cartland, Mills and Boon. My real favorite authors are Charles Dickens, Jane Austen and among others, Oscar Wilde, Bernard Shaw, Sidney Sheldon, Danielle Steel, Pearl S. Buck, James Hadley Chase, so many others I can't recall all the names all at once." [www.rediff.com/news/1999/apr/01jaya.htm]
In my view, however, she was a semi-literate on Tamil history and culture. Many sensible, learned folks may scratch their heads why the University of Madras in 1991 stooped so low to confer Jayalalitha, a honorary doctorate in literature (1991) for "sublime sensibilities and ontological explorations to free the human psyche from bondage" or whatever that gibberish means!
In denigrating the legitimacy of LTTE's historic deeds to 'terrorism', Jayalalitha was in cahoots with another pundit (joker) Cho Ramaswamy (1934-2016), who died two days after Jayalalitha's exit.
In 2002, when the media attention was on Prabhakaran and LTTE, Jayalalitha simply wanted to hog the limelight, as the top leader of the Tamils.
Prabhakaran's press conference at Kilinochchi was held in April 10, 2002. For personal gains, this lady, who promoted herself as following the footsteps of revered M.G. Ramachandran (1917-1987), simply reversed the policy promoted by MGR on LTTE, when he was alive. On April 16, 2002, Jayalalitha as the Chief Minister of Tamil Nadu, rammed through the Tamil Nadu State Assembly to adopt a resolution, "urging the [Indian] Centre [government] to send the Army to Sri Lanka, with the consent of the island Government, to capture the Liberation Tigers of Tamil Eelam chief, V. Prabhakaran, for trial in the Rajiv Gandhi assassination case." What was worse? Jayalalitha went to the extreme of comparing Prabhakaran to Osama bin Laden. Though I had entertained doubts about her literacy earlier, this particular comparison by Jayalalitha made me a think that she was simply a dumbbell and nothing more than that.
MGR versus Jayalalitha
The main difference between MGR and Jayalalitha was that, MGR (even in his debilitated health status) had his own sensitive antenna on analyzing the problem Sri Lankan Tamils faced and didn't rely a word on news planted by the notorious RAW and the media lobby (the likes of N. Ram and Cho Ramasamy) on LTTE's threat to India. Jayalalitha simply gulped everything promoted by the RAW and the likes of Ram and Cho Ramasamy combine. This was the same woman who cried foul when she was pushed off the gun carriage that transported MGR's body to the funeral in December 1987, "A very small group of people was determined to see that I was nowhere near the body of my beloved leader. I was humiliated right from the word go…" [interview to Prabhu Chawla and S.H. Venkatramani, India Today, January 15, 1988, p. 10; Time magazine International edition, January 18, 1988, p. 11]  If she was so devoted to her 'beloved leader', how she could cavalierly abandon the wish of MGR in supporting LTTE in its war against the Sinhalese-dominated Sri Lankan army, 14 years later? When an interviewer asked Jayalalitha in 1988, about her relationship with MGR, she had replied, "He was everything to me!" [see below, for her interview with Pritish Nandy]. After 14 years, if the same woman goes against the wish of the man, with whom she was in love with, what sort of a woman she is?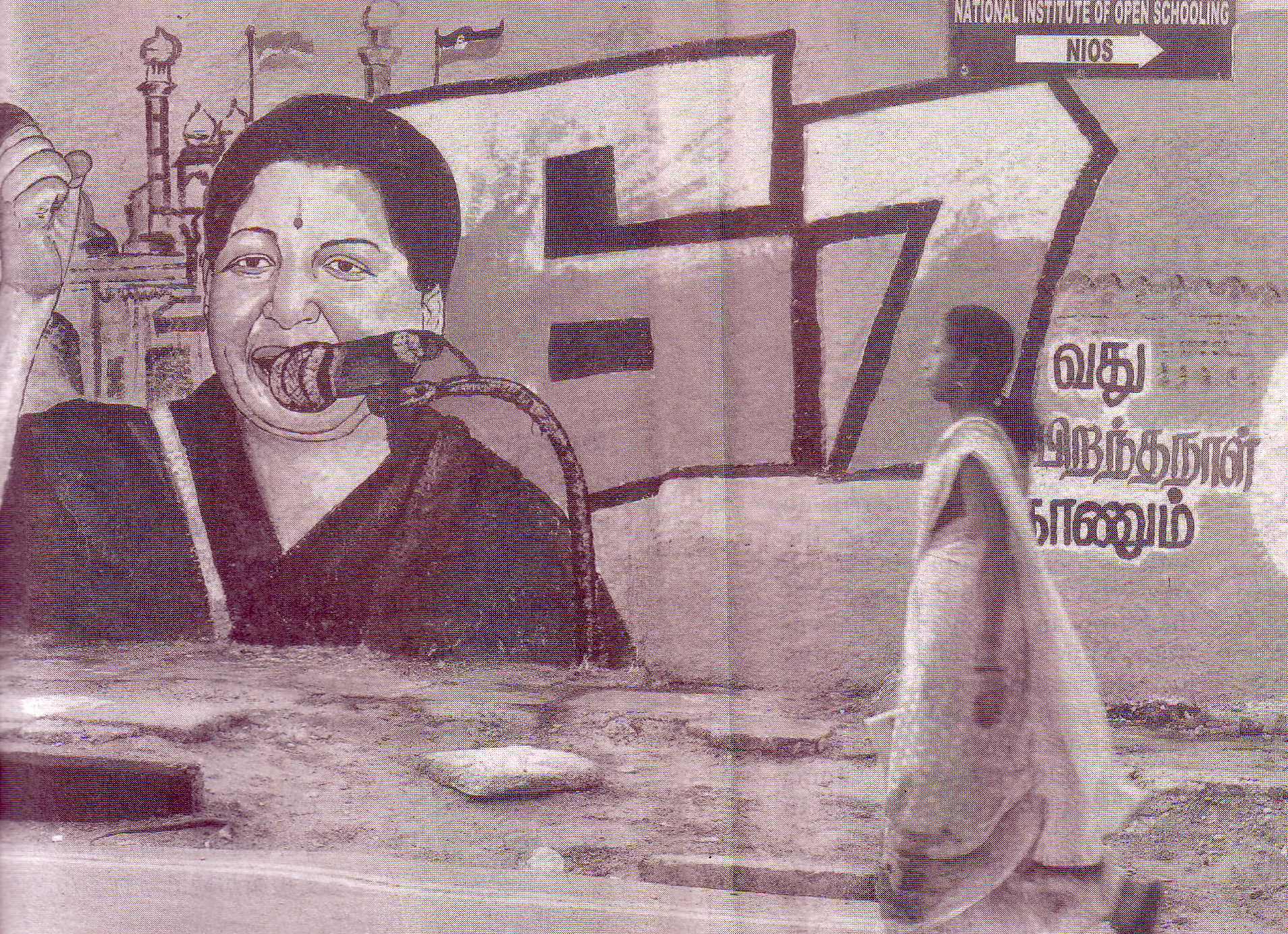 Jayalalitha's arrogance against Prabhakaran
For record, I provide below the entire news report, which appeared in the Hindu daily (Chennai) of April 17, 2002. The report, appearing under the unnamed by-line 'Our Special Correspondent' was titled, 'Send Army to nab Prabhakaran: Assembly'.
"CHENNAI, APRIL 16: Amid vociferous protests and a walkout by the Pattali Makkal Katchi and Left parties, the Tamil Nadu Assembly today adopted a resolution, urging the Centre to send the Army to Sri Lanka, with the consent of the island Government, to capture the Liberation Tigers of Tamil Eelam chief V. Prabhakaran, for trial in theRajiv Gandhi assassination case.
The 17-para resolution, moved by the Chief Minister, Jayalalitha, urged it to take legal and diplomatic efforts to get extradited the prime accused in the case. And, if the island government was unable to hand him over, the Indian Army should be sent to assist that country in nabbing Mr. Prabhakaran. No LTTE cadre should be allowed to enter the country.
Predictably, the resolution drew loud cheers from the Congress and the Tamil Maanila Congress, and fierce criticism from the pro-LTTE PMK. But the main opposition, DMK, chose to remain neutral, without 'either supporting or opposing' it. The two MLAs of the Congress Jananayaga Peravai, who won on DMK ticket, supported the resolution.
Even as the resolution was adopted by voice vote, the PMK MLAs who came in balck shirts to record their protest, walked out after raising slogans asking the AIADMK Government not to 'hamper' the return of peace to the ethnic strife-torn Sri Lanka. The CPI and the CPI(M) also staged a walkout. While the CPI leader, G. Palanichamy, said the resolution was a divisionary tactic, the CPI(M) leader, J. Hemachandran, said dispatching the Army to Sri Lanka was an 'infringement' on its sovereignty.
Moving the resolution, Ms. Jayalalitha virtually likened Prabhakaran to the dissident Saudi millionaire, Osama bin Laden, saying India should launch 'concerted' efforts like the U.S. did to nab the Al Quaida chief. Though the Centre had banned the LTTE under the Prevention of Terrorism Act, of late, its 'silence' on issues relating to the Tamil Tigers 'causes worry'. The resolution said though the LTTE was proscribed, the threat posed by the Tamil Tigers to India's sovereignty and integrity persisted. While the Tamil Nadu Government and the people would feel happy if the changed situation in Sri Lanka brought back peace and helped thousands of Tamil refugees return home, it 'cannot and shall not' allow the LTTE to set foot in the State. The Leader of the Opposition and DMK general secretary, K. Anbazhagan, striking 'neutrality', merely cautioned the Government that the peace process should not be harmed.
When he pointed out that the former DMK regime had ensured that the ban on the LTTE continued, Ms. Jayalalitha said that during her Chief Ministership, she herself wrote to the Centre demanding extension of the ban. But during the Karunanidhi regime, only the Chief Secretaries wrote, 'It makes no difference as the Chief Secretary represents the Government', Mr. Anbazhagan shot back.
The PMK leader, G.K. Mani, said the resolution was not pragmatic and would come as a setback to the 'right to life' strugged of the 25 lakh Tamils in Sri Lanka. But S.R. Balasubramaniam (TMC) said Mr. Prabakaran was a fascist 'worse than Hitler' and had eliminated several Tamil leaders, and should be brought to book. Opposing Army intervention in the issue, H. Raja (BJP) claimed that a few Congressmen had contacts with Rajiv Gandhi killers. But the Congress MLA, D. Yasodha, insisted, 'an LTTE supporter can never be a Congressman.' "
Jayalalitha versus Karunanidhi
Sad to say, simplicity, humility, democratic legitimacy and moral propriety were not Jayalalitha's forte. In this department, she could be compared to Imelda Marcos (b. 1929), the wife of Philippine's dictator Ferdinand Marcos, and Jiang Qing (1914-1991), the fourth wife of Mao Zedong, who was also an actress and a dominant figure during the China's cultural revolution of 1960s.
I'm not a fan of M. Karunanidhi's politics either, since he expelled MGR from DMK party in 1972. I have been a critic of Karunanidhi's flip-flop politics on Eelam Tamils issue. [Those interested can refer to my continuing series of 'Qua Vadis Karunanidhi?', parts 1, 2 and 3, in this website.] But, I will be utterly wrong if I assert that Karunanidhi is an illiterate. Karunanidhi's contributions to Tamil literature in varied genre (prose/ script writing, play writing, poetry/movie lyrics, political tracts) are a class of its own. In this department, Jayalalitha was a pygmy compared to Karunanidhi's stature as a giant.
Kannan, my fellow MGR biographer, in a commentary post-Jayalalitha period in Tamil Nadu, had aptly noted, "MGR used Anna's name as a mantra in his public speeches and writings. Jayalalitha was of a different mettle. Having come into her own, she pushed both MGR and his associates to the background so much so that the second 'A' in the AIADMK, came to stand for Amma and not Anna" ['Era of iconic Dravidian leaders coming to end', Times of India, Dec. 16, 2016]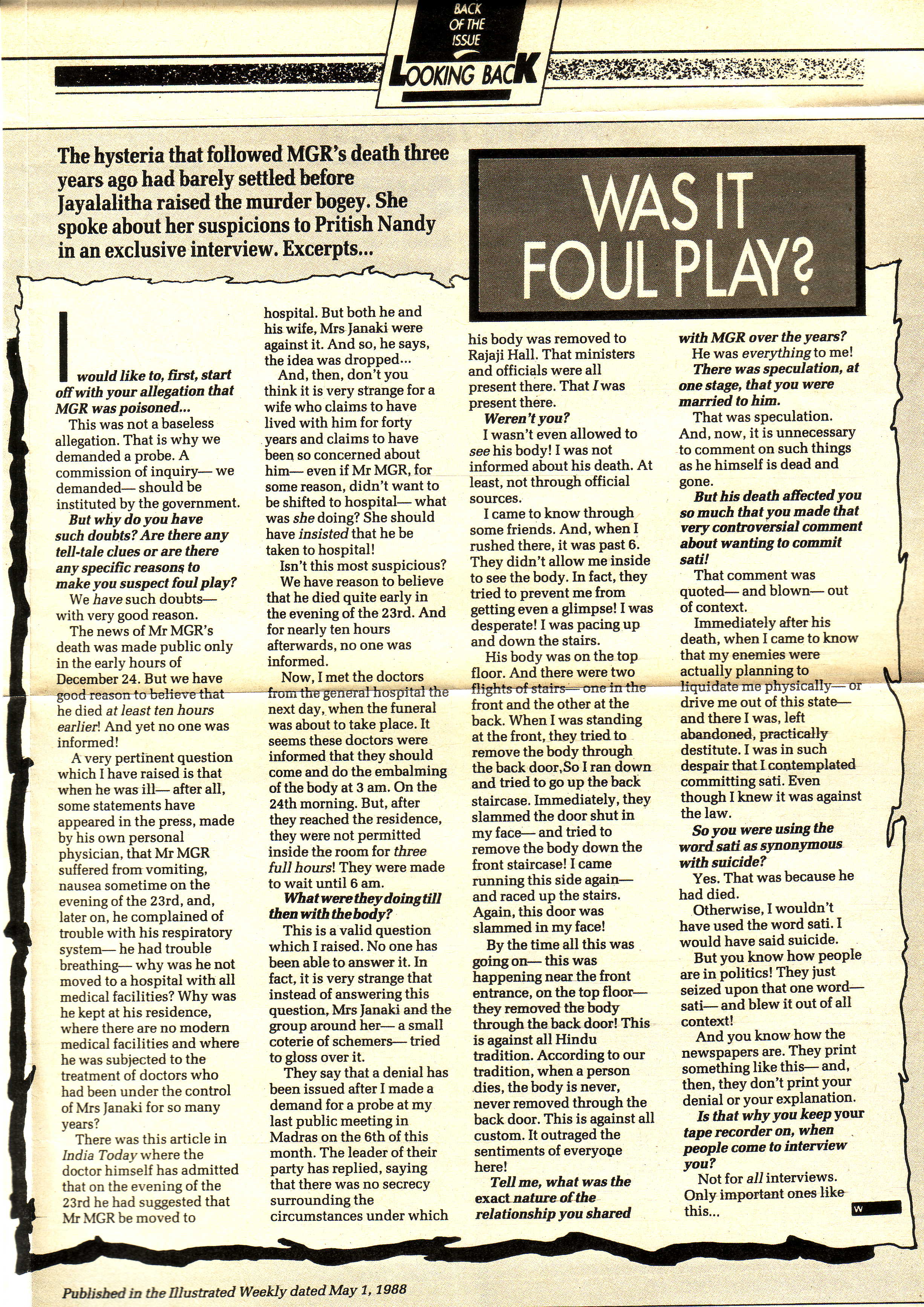 Jayalalitha's interesting interview in 1988
As MGR's 29th death anniversary falls on December 24th, and that, Jayalalitha is not among the living, I provide an interesting interview of hers to Pritish Nandy, which had appeared in the Illustrated Weekly of India (May 1, 1988). Excerpts of this interview was re-published in the January 5-6, 1991 issue of the same magazine. In this interview, Jayalalitha had (1) denied that the marriage between MGR and her, was "speculation"; (2) she did comment about commiting sati (i.e., dying at the funeral pyre of MGR, emulating the ancient Indian custom) after his death; (3) raised the bogey of foul play in MGR's death. As an aside, if Jayalalitha wished to perform sati, a separate fire bed should have been prepared, because MGR's body was buried, and not cremated!
[Note that the words in italics and dots, in Jayalalitha's answers are as in the original.]
Q: I would like to, first, start off with your allegation that MGR was poisoned…
Jayalalitha: This was not a baseless allegation. That is why we demanded a probe. A commission of inquiry – we demanded – should be instituted by the government.
Q: But why do you have such doubts? Are there any tell-tale clues or are there any specific reasons to make you suspect foul play?
Jayalalitha: We have such doubts – with very good reason. The news of Mr. MGR's death was made public only in the early hours of December 24. But we have good reason to believe that he died at least ten hours earlier! And yet no one was informed! A very pertinent question which I have raised is that when he was ill- after all, some statements have appeared in the press, made by his own personal physician, that Mr MGR suffered from vomiting, nausea sometime on the evening of the 23rd, and, later on, he complained of trouble with his respiratory system – he had trouble breathing – why was he not moved to a hospital with all medical facilities? Why was he kept at his residence, where there are no modern medical facilities and where he was subjected to the treatment of doctors who had been under the control of Mrs Janaki for so many years?
There was this article in India Today where the doctor himself has admitted that on the evening of the 23rd he had suggested that Mr MGR be moved to hospital. But both he and his wife, Mrs Janaki were against it. And so, he says, the idea was dropped…
And, then, don't you think it is very strange for a wife who claims to have lived with him for forty years and claims to have been so concerned about him – evenif Mr MGR, for some reason, didn't want to be shifted to hospital – what was she doing? She should have insisted that he be taken to hospital!
Isn't this most suspicious? We have reason to believe that he died quite early in the evening of the 23rd. And for nearly ten hours afterwards, no one was informed.
Now, I met the doctors from the general hospital the next day, when the funeral was about to take place. It seems these doctors were informed that they should come and do the embalming of the body at 3 am. On the 24th morning. But, after they reached the residence, they were not permitted inside the room for three full hours! They were made to wait until 6 am.
Q: What were they doing till then with the body?
Jayalalitha: This is a valid question which I raised. No one has been able to answer it. In fact, it is very strange that instead of answering this question, Mrs Janaki and the group around her – a small coterie of schemers – tried to gloss over it.
They say that a denial has been issued after I made a demand for a probe at my last public meeting in Madras on the 6th of this month. The leader of their party has replied, saying that there was no secrecy surrounding the circumstances under which his body was removed to Rajaji Hall. That ministers and officials were all present there. That I was present there.
Q: Weren't you?
Jayalalitha: I wasn't even allowed to see his body! I was not informed about his death. At least, not through official sources.
I came to know through some friends. And, when I rushed there, it was past 6. They didn't allow me inside to see the body. In fact, they tried to prevent me from getting even a glimpse! I was desperate! I was pacing up and down the stairs.
His body was on the top floor. And there were two flights of stairs – one in the front and the other at the back. When I was standing at the front, they tried to remove the body through the back door. So I ran down and tried to go up the back staircase. Immediately, they slammed the door shut in my face – and tried to remove the body down the front staircase! I came running this side again – and raced up the stairs. Again, this door was slammed in my face!
By the time all this was going on – this was happening near the front entrance, on the top floor – they removed the body through the back door! This is against all Hindu tradition. According to our tradition, when a person dies, the body is never, never removed through the back door. This is against all custom. It outraged the sentiments of everyone here!
Q: Tell me, what was the exact nature of the relationship you shared with MGR over the years?
Jayalalitha: He was everything to me!
Q: There was speculation, at one stage, that you were married to him.
Jayalalitha: That was speculation. And, now it is unnecessary to comment on such thing as he himself is dead and gone.
Q: But his death affected you so much that you made that very controversial comment about wanting to commit sati!
Jayalalitha: That comment was quoted – and blown – out of context. Immediately after his death, when I came to know that my enemies were actually planning to liquidate me physically – or drive me out of this state – and there I was, left abandoned, practically destitute. I was in such despair that I contemplated committing sati. Even though I knew it was against the law.
Q: So you were using the word sati as synonymous with suicide?
Jayalalitha: Yes. That was because he had died. Otherwise, I wouldn't have used the word sati. I would have said suicide. But you know how people are in politics! They just seized upon that one word – sati – and blew it out of all context! And you know how the newspapers are. They print something like this – and, then, they don't print your denial or your explanation.
Q: Is that why you keep your tape recorder on, when people come to interview you?
Jayalalitha: Not for all interviews, Only important ones like this…"