by Sachi Sri Kantha, October 29, 2015
Comments and Questions from a Correspondent
I was alerted by the sangam web editor about a few questions posted in French text by a correspondent from France. Here were the comment and questions of Ferdinand O. Lacour. The editor had translated the text into English.
Comment:  Monsieur,Votre sujet sur MGR est une mine d'informations que je parcours assez régulièrement…Merci pour ces précieux renseignements ! [Your subject of MGR is a mine of information that I read regularly, Thank you for this precious information!]
Question (1) — Monsieur,Peut-être que vous pourriez me répondre à la question suivante :
Le film de MGR, Dheiva Thaai, 1964 de P.Madhavan, (sur une idée originale de Nanabhai Bhatt), proviendrait d'un film hindi, du même Nanabhai Bhatt ?. Je recherche le titre de ce film. Connaîtriez-vous par hasard, la réponse ? [Did the MGR film Dheiva Thaai 1964 de P. Madhavan (from an original idea of Nanabhai Bhatt) come from a Hindi film, from the same Nanbhai Bhatt?  I am looking for the title of the film.  Do you know it by chance?]
Question (2) — Monsieur,Une autre question, l'histoire que MGR rédigea pour le scénario de son film Kanavan (1968) de Pa.Neelakandhan, lui fut inspiré par un roman russe, je cherche également le titre. Le connaissez- vous ? Merci d'avance pour votre réponse ! [Another question, the history that MGR wrote for the screenplay for his film Kanavan 1968 of Pa. Neelakandhan was inspired by a Russian novel for which I am seaching for the title. Do you know it?]
Question (3) — Bonjour ou bonsoir Monsieur,Auriez-vous une photo de l'acteur M.K.Mustapha ?Monsieur, merci d'avance ! [Do you have a photo of the actor M.K. Mustapha?]
Thank you for your interest in this MGR Remembered series. As per question 1, I'm not aware of this information. If you are interested, I can suggest why not check with the producer of the movie and then MGR's writing assistant R.M. Veerappan (b.1926). He is still living. He should know! As per question 2, again I cannot offer a definitive answer. But, the plot appears an 'Indianized (or Tamilized) version Shakespeare's play 'The Taming of the Shrew' (1590). If the Kanavan movie plot was inspired by a Russian novel, one may infer that this Russian novel couldn't have preceded Shakespeare's play. As per question 3, I have presented a photo in Part 13 of this series, captioned 'MGR drama troupe members (circa mid 1950). I reproduce the same here as well. It was from K. Ravindar's book, 'PonMana Chemmal MGR' (2009). In this photo, among those seated in the chair (second row), M.K. Mustapha is third from left, MGR is fifth from left, MGR's elder brother M.G.Chakrapani is sixth from left, Ravindar is eighth from left and R.M.Veerappan is nineth from left. M.K. Mustapha had acted in a few MGR movies, Thirudathe (1961), Madapura (1962) and Parisu (1963).
Other than Ferdinand Lacour, I appreciate the comment made by correspondent Arul as well.
Unauthorized Blatant Plagiarism of this 'MGR Remembered' Series
While searching for some information on actor M.K. Mustapha, I accidentally stumbled onto a site www.tamilnavarasam.com/Books/Others/M.G.R.PDF which had plagiarized this series without any acknowledgment or attribution either to Sachi Sri Kantha or to the Tamil sangam website, in which this series had continued to appear since Dec 2012. The PDF version of this site contains 314 pages, among which only the first 13 pages are in Tamil. The remaining content is simply copy and paste material lifted from my series, with deliberate deletion of the contributor's name! Each of the PDF page at the bottom has a handle name carries a handle name Ranga Rakes (at left) and  tamilnavarasam.com (at right)! I checked the 300-odd pages, where my name appears inadvertently, due to carelessness of the plagiarist. It does, in pages 130 and 240. 
I have seen quite a number of my writings re-posted with due acknowledgment to the author and the sangam website. But, this sort of plagiarism chicanery by Ranga Rakes deserves strong condemnation. What I find further distressing is that, in almost every chapter I have included a list of cited sources, to indicate that I have taken care to do research on writing this MGR biography. This list distinguishes my biography from that of other popular MGR biographies published in Tamil, without any proper citations. In the plagiarized version which have been assembled by this plagiarist, the cited sources have been deliberately omitted.
I feel a little sad about writing this, because it appears the individual who had done this is none other than an MGR fan. If this individual is indeed a sincere fan of MGR, then respecting MGR's warning about stealing in his classic movie 'Thirudathe' becomes a necessity for such individuals. Penned by lyricist Pattukottai Kalyanasundaram and sung by T.M. Soundararajan, MGR advised the wrong doers as follows:
'Thirudathe – Paapaa thirudathe. [Do not steal – Boy, do not steal]
Varumai ninanithu payanthu vidathe [Do not fear being poor]
Thiramai irukku maranthuvidathe'. [Do not forget that you have talent.]
Sinthithu paarthu seihaiyai maathu [Think for a while and change your habit]
Sirusai irukkayil thiruthikko [Its better to change when the fault is small]
Therinjum theriyaama nadanthiruntha [If it has happened inadvertently]
Athu thirumbabum varaama paarthukko [Make sure it will not be repeated]
Directors in creating the MGR 'Persona' since 1950
Among the 133 Tamil movies MGR acted, he had to act in minor and subsidiary roles in his first 20 (from 1936 to 1949, excluding his 1947 debut as a hero in Rajakumari) movies. Thus, only from 1950, his status was raised to the hero status. Of the remaining 113 movies, MGR acted as a hero, seven directors (including Krishnan – Panju duo) listed below played a prominent role in creating and sustaining the MGR 'persona' for the Tamil screen. 60 (53%) out of 113 movies were directed by these directors.
Neelakantan (17)
Chakravarthy Thirumagal (1957), Nallavan Vazhvan (1961), Thirudathe (1961),
Koduthu Vaithaval (1963), Kavalkaran (1967), Kannan En Kathalan (1968), Kanavan (1968), Mattukara Velan (1970), En Annan (1970), Kumarikottam (1971), Neerum Neruppum (1971), Oru Thai Makkal (1971), Sange Muzhangu (1972), Raman Thedia Seethai (1972), Netru Indru Naalai (1974), Ninaithathai Mudipavan (1975), Neethikku Thalaivanangu (1976).
M.A. Thirumugam (16)
Thaiku pin Tharam (1956), Thai Sollai Thattathe (1961), Kudumpa Thalaivan (1962), Thayai Kaatha Thanayan (1962), Dharmam Thalai Kaakum (1963), Neethikku pin Pasam (1963), Thozhilali (1964), Vettaikaran (1964), Kanni Thai (1965), Mugarasi (1966), Thani Piravi (1966), Thaiku Thalaimagan (1967), Vivasayee (1967), Ther Thiruvizha (1968), Kathal Vaganam (1968), Nalla Neram (1972)
T.R. Ramanna (8)
KoondukkiLi (1954), Gul-e-bakaavali (1955), Pudumaipithan (1957), Paasam (1962), Periya Idathu Penn (1963), Panakkara Kudumbam (1964), Panam Padaithavan (1965), Parakkum Pavai (1966)
Sankar (8)
Panathottam (1963), Kalankarai Vilakkam (1965), Chandrodayam (1966), Kudiyiruntha Kovil (1968), Adimai Penn (1969), Pallandu Vazhga (1975), Uzhaikkum Karangal (1976), Indru Pol Endrum Vazhga (1977)
Tapi Chanakya (4)
Enga Veetu Pillai (1965), Naan Anaiyittal (1966), Puthiya Boomi (1968), Oli ViLakku (1968),
B.R. Panthulu (4)
Ayirathil Oruvan (1965), Nadodi (1966), Rahasiya Police 115 (1968), Thedi Vantha Mappillai (1970)
Krishnan – Panju duo (3)
Petral Than Pillaiya (1966), Engal Thangam (1970), Idaya Veenai (1972)
Among this list, T.R. Ramanna and B.R. Panthulu served double duty as producers as and directors. M.A. Thirumugam was the younger sibling of MGR's intimate pal M.M.A. Sinnappa Thevar. Thus, these producers had a preferential eye on box office collection offering entertainment to masses, rather than artistic quality of the film. With the exception of R. Krishnan (1909-1997) – S. Panju (1915-1984) duo, it is difficult to include others among the top ranked movie directors in India. From late 1940s to early 19790s, Krishnan – Panju duo were the iconic directors of DK and DMK party's popular movies such as Paithiakaran (1947), Nallathambi (1949), Parasakthi (1952) and Ratha Kaneer (1954). In fact, before becoming a full-fledged hero, MGR had acted in subsidiary roles of Krishnan – Panju directed, Paithiakaran (1947) and Ratnakumar (1949) movies.
Later, C.V. Sridhar, who deserves a placing among the top ranked movie directors of India did work with MGR in two movies, Urimaikkural (1974) and Meenava Nanban (1977). This MGR- Sridhar association was primarily financial. As Sridhar himself had explained in his autobiography, MGR opted to bail out Sridhar's production company, by acting under Sridhar's direction. Before Sridhar, B.R. Panthulu reached for MGR in 1965, after his movies with Sivaji Ganesan (especially the biopic on Indian freedom fighter, V.O. Chidambaram Pillai (1872-1936), flopped in box office. It was in Panthulu's movie Ayirathil Oruvan (One in a Thousand, 1965), MGR was paired for the first time with Jayalalitha, though the latter's debut movie was Sridhar's Vennira Aadai (White colored Dress, 1965). While Vennira Aadai was released in April of that year, Ayirathil Oruvan was released three months later in July. Thus, this year marks the 50th anniversary of Jayalalitha's entry into Tamil cinema.
Playwright and journalist Palaniyandi Neelakantan (1916-1992) leads the above list by directing 17 of MGR movies. Here is a short profile of him, which appeared in 1981, when he was the President of Film and TV Institute of Tamil Nadu, Madras, having been appointed to that position by MGR, when the latter was the Chief Minister.
"Palaniyandi Neelakantan, playwright and film director was born on 2nd October 1916 at Villupuram. He started his career as a journalist at the age of 19 and contributed many short stories, criticisms and articles on various journals. He has written many radio dramas. Out of his many stage plays, Mullil Roja (Rose in Thorn) and Nam Iruvar (We Two) were most popular. His drama 'We Two' was later produced as a film. His book entitled, Vannappukkal (in three volumes) is a rare publication. He is one of the well known film directors in Tamil Nadu. Having directed more than forty pictures in Tamil, two in Kannada and two in Sinhalese. He was awarded Kalai Mamani or Sigamani by Tamil Nadu Sangeetha, Nataka Academy and was also adjudged as the best director for the year 1970 by the Tamil Nadu government."
An entry on Neelakantan in the Encyclopedia of Indian Cinema, also reiterates Neelakantan as 'a Tamil director associated mainly with MGR's persona' while giving credit that he made his directorial debut with Annadurai scripted film Or Iravu (1951), and he also had directed Karunanidhi scripts, Poompuhar (1964) and Poomalai (1965). Borrowing the thoughts of an academic critic M.S.S. Pandian, the compilers of this Encyclopedia had filled in further about Neelakantan as, "According to M.S.S. Pandian (1992), the hit Thirudathe inaugurated the MGR persona of a subaltern in the service of society. This trend continued in Mattukkara Velan with MGR playing the double role of the cowherd and the lawyer, and in Ninaithathai Mudippavan with MGR demonstratively consuming proletarian food and displaying an inability to eat peas with a fork."
Why MGR opted to act under docile, subservient, weak-willed directors? Was it, because he had a streak of narcissism and could manipulate the movie's story line according to his whims and party interest? Was it, because he found it incompatible to work under strong-willed directors? Was it, because he was given a free hand by the producers & directors to choose his co-stars, lyricists, playback singers, movie directors, stuntmen, costume designers etc?
On the subservience of MGR's directors, lyricist Vaali offers an anecdote in his memoir, Ninaivu Naadaakal (Memory Threads). Here is a word to word translation of this anecdote.
"One MGR picture. Direction by Mr. T.R. Ramanna. In that, an actress was playing the role of MGR's mother – that too, a poor mother living in a cottage. I went to the shooting location to see Ramanna. I asked him quietly, 'Why Elder? Does MGR knows that this actress has been arranged to play the role of his mother?' Ramanna was a bit surprised and replied, 'No he doesn't know. What's the matter?'
Many many years ago, when MGR was acting as a hero under Rajah Chandrasekhar's direction in the movie 'Chaaya' [Note by Sachi: this was in 1941; and the movie wasn't completed!]. There was a scene in which MGR had to mount a horse. But, while doing that scene, MGR had slipped and fell. That movie's heroine was this lady, and she had laughed then. Now, she had been arranged to play the role of MGR's mother. When I told this, Ramanna instantly said, 'Aiyyaio' [Oh' My God!] and quickly changed that actress and arranged another lady to complete that shooting.  How can my mouth would remain silent? After one or two weeks, I told this to MGR. [His response was] "Too bad! It's not appropriate to change that actress. Then, she was big heroine. When I fell while mounting the
horse and she did laugh, I felt little embarrassed too. Nevertheless, one shouldn't take that into account now and ill treat her." MGR called Ramanna, and requested to re-shoot the same scene with that heroine actress. MGR also solicited and made arrangement to pay 10,000 rupees (then, a big sum) for her. This is what Sage Valluvar called, magnanimity [இன்னா செய்தாரை ஒறுத்தல் அவர் நாண நன்னயம் செய்து விடல்; Make a wrong doer feel shy, by doing a favor to that individual] in one of his verses. MGR was a living example for it."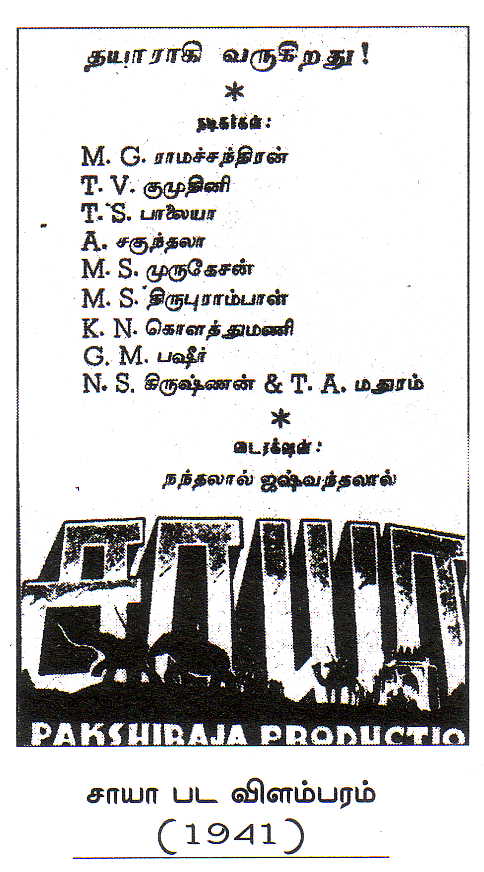 Though lyricist Vaali didn't identify that actress by name, we can identify this heroine actress as T.V. Kumuthini, who starred with M.K. Thiyagarajah Bhagavathar in the 1941 hit movie Ashok Kumar. MGR himself acted in a minor role in this movie. About his acting and horse riding experiences in the unreleased Chaaya (1941) movie, MGR had reminisced in chapters 10 to 12 of his autobiography. He had mentioned that for the hero role assigned to him, he was paid a monthly sum of 385 rupees.
Some comments about the influence of directors of Tamil movies are warranted. In the early years, many of the directors were producers themselves. These included, K. Subramaniam (1904-1971), S.S. Vasan (1904-1969), T.R. Sundaram (1907-1963), A.V. Meiyappan (1907-1979) as well as B.R. Panthulu (1910-1974). They would have probably felt that if they were investing the money, why offer the direction task to a second guy. There were a few respected directors like Raja Chandrasekhar (1904-1971), A.S.A. Sami (1915-1998), T.R. Raghunath (1912-1990), and Krishnan (1909-1997) – Panju (1915-1984) duo who were employed by other producers. MGR had acted in the movies of such respected directors. Then, in 1950s and 1960s, few powerful directors appeared to sculpt movies according to their taste. These included, A. Bhimsingh (1924-1978), A.P. Nagarajan (1928-1977), C.V. Sridhar (1933-2008), K.S. Gopalakrishnan (b.1929) with the sobriquet 'Iyakunar Thilakam' and K. Balachandar (1930-2014). All opted to work with Sivaji Ganesan and other leading heroes of Tamil cinema. For their taste, MGR was considered as an outlier by these directors.
But, when reality struck the bottom-line, few like Panthulu, Sridhar and Nagarajan were at MGR's gate to retrieve their financial losses. K. Balachandar's entry into Tamil movies was via MGR's Deiva Thai (1964) as a script writer. K.S. Gopalakrishnan also worked as a script writer in one of MGR's movies Sange Muzhangu (1972). Bhimsingh never worked with MGR.
There was another movie director from Kerala with the same name and initials K.S. Gopalakrishnan, who had directed one MGR movie Panakkari (1953), an adaptation of Tolstoy's novel Anna Karenina (1877). According to Tamil movie historian, Randor Guy, this K.S. Gopalakrishnan, "didn't meet with much success. He is scarcely remembered today and many mistake him for the other K.S. Gopalakrishnan, a successful Tamil film maker." Randor Guy's clarification on the identities of two directors carrying the same name and initial is of much help.
Superstition on Lucky Number 7
Lyricist Vaali also had recorded one of MGR's superstition in believing the success of being associated with number 7. He records that, whenever feasible, MGR wanted his movie titles to be in 7 Tamil alphabets cumulatively. I did check on this fact. Among the 113 movies MGR had acted as hero between 1950 and 1978, 21 movies had 7 alphabet titles (18.6%!). Two conditions did apply. One, unlike recent times, Tamil grammar was not made flexible to create 7 alphabet titles in MGR movies. Second, for political correctness, titles should have positive, up-beat meanings. Here is the list:
Manthiri Kumari (1950), Anthaman Kaithi (1952), Malai Kallan (1954), Nadodi Mannan (1958), Sabash Maapille (1961), Rani Samyuktha (1962), Pana Thottam (1963), Vettaikaran (1964), Thayin Madiyil (1964), Chandrothayam (1965), Thali Bhagyam (1965), Parakum Paavai (1965), Arasa Kattalai (1967), Ther Thiruvizah (1968), Kathal Vahanam (1969), Rickshawkaran (1971), Sange Muzhangu (1972), Annamitta Kai (1972), Urimai Kural (1974), Navarathinam (1977) and Meenava Nanban (1977).
Comparatively, only two MGR movies, between 1936 and 1949, when MGR was minor player in the naming of Tamil movies, had 7 alphabet titles. These being, Dakshayagnam (1938) and Harishchandra (1944).
'Lucky number 7' is a universal belief. Questions may arise, why MGR came to believe in lucky number 7 concept, and whether it did work in his real life? The financial success of Manthiri Kumari movie in 1950, after a long wait for recognition as a hero might have tempted MGR to trust this superstition. Nevertheless, not all of his 21 movies which carried 7 alphabet titles were successful in box office. Some were duds, by MGR's movie yardstick in Tamil Nadu. These include, Thali Bhagyam, Arasa Kattalai and Navarathinam. The last two deserves mention. Arasa Kattalai (released in May 1967) was promoted as the first movie after MGR's shooting incident in Jan. 1967, after the Feb. 1967 General Election, when DMK party was elected to rule the Tamil Nadu for the first time. This movie was directed by MGR's elder sibling, M.G. Chakrapani. Like some MGR's successful movies in the past, it did have two heroines, B. Saroja Devi and Jayalalitha. But, it flopped. Navarathinam (released in March 1977), directed by much respected A.P. Nagarajan (1928-1977, an influential director in Sivaji Ganesan's camp, who in 1950s had directed a few movies with anti-DMK plots), who had switched to MGR to retrieve his financial losses. MGR's magic couldn't help Nagarajan much and the latter died few weeks later on April 1, after the release of his movie, aged 49!
Cited Sources
Randor Guy: Blast from the Past – Panakkari (1953), The Hindu, Chennai, Dec. 26, 2008.
Neelakantan: Film and Television Institute. In: Spotlight on Tamil Nadu, Associated Journals Ltd, New Delhi, 1981, pp. 106-108.
Ashish Rajadhyaksha and Paul Willemen: Encyclopedia of Indian Cinema, Oxford University Press, New Delhi, revised ed., 1999, p. 165.
MGR: Naan Yean Piranthen [Why I was Born?] Part 1, Kannadhasan Pathippagam, Chennai, 2014, pp. 139-186. (in Tamil)
[Poet] Vaalee: Chapter 29, MGR, Ninaivu Naadaakkal [Memory Threads], Vikatan Pirasuram 611, Chennai, 4th ed. 2013, pp. 152-158. (in Tamil)