Nisha Biswal, U.S. Assistant Secretary of State for South and Central Asian Affairs, during her recent visit to the blessed island told reporters, "We have recognized that there is a different opportunity that exists today and a different landscape for trying to advance reconciliation. We look forward to a process in Geneva that allows an opportunity to reflect on that." [Shihar Aneez, 'U.S. sees new chance for Sri Lanka reconciliation after civil war', Reuters News, Aug. 26, 2015.]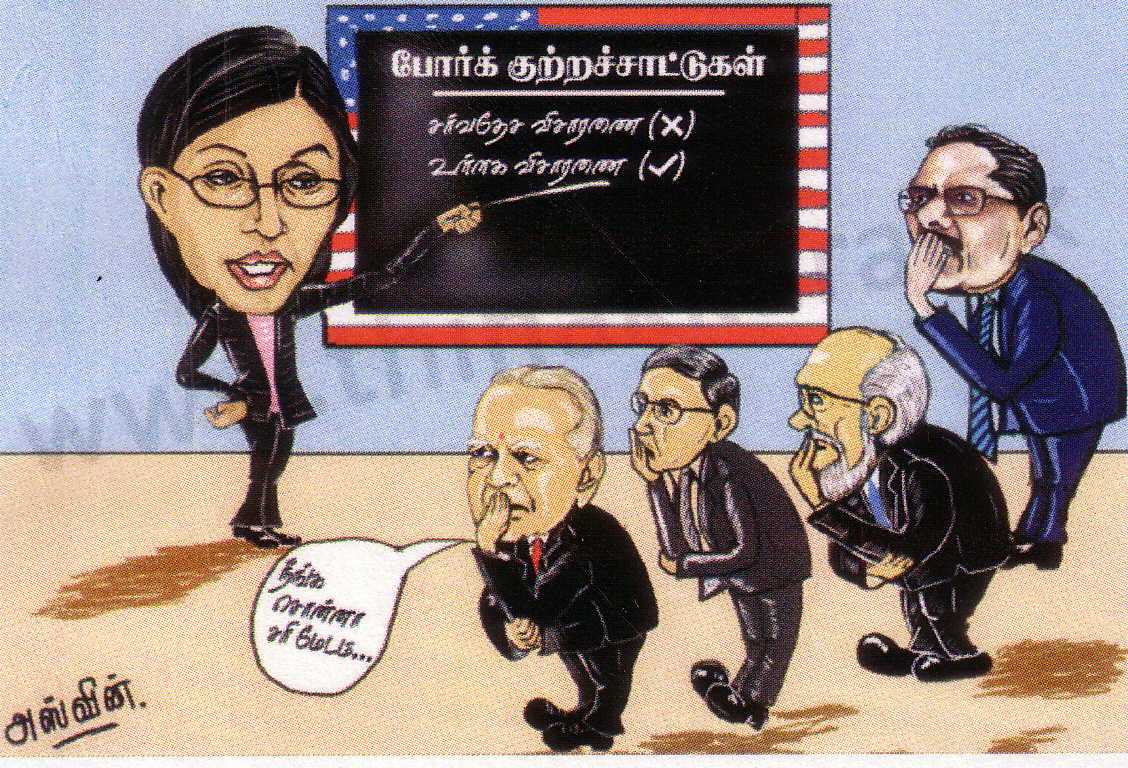 This sort of gibberish is what I ridicule as, 'Foggy Bottom-ese' , a variant dialect of American English; I have derived it from the location where the building of the Department of State is positioned. To be sure, I checked the New York Times 'search' function for the phrase; 'Foggy Bottom' alone offers 1,128 items. But my new creation 'Foggy Bottom-ese' fails to bring a single item. Now, to the original meaning of Foggy Bottom, from word maven William Safire's Political Dictionary (1980).
"State Department offices were built on land that had originally been called Foggy Bottom, and the name was reapplied because it recalled a fogginess of official language."
As apt as the name, diplomats representing the US State Department (whether their native tongue is English, or as in Ms. Nisha Desai Biswal's case, Gujarathi or Hindi) are trained to talk only foggybottom-ese, and not simple, plain English (or any other living language).  In contrast to the photo presented in the 'Biswal in Colombo' feature of Dharsha Bastian, dated Aug. 27, 2015 (http://sangam.org/biswal-bullish/) I would invite the readers to check a humorous and apt cartoon drawn by Aswin for Thinakural journal.  I present it nearby.  The four men figures are the leading Eelam Tamil politicians (from left to right) R. Sampanthan, M. A. Sumanthiran, C.V. Vigneswaran and Maavai Senathirajah – all in a scrounging pose! The young-looking Biswal is presented as a teacher, and the four politicians presented as students.  Biswal is pointing to the blackboard which have three lines.
1st line: Heading: War Crimes Investigation
2nd line: International Inquiry (No)
3rd line: Internal Inquiry (Yes)
All four dumb students, stand in a humiliating stance with fingers in their mouth. Leader of the team, Sampanthan is musing the words in the balloon 'If you say so, Madam.' (in English translation).
All four Tamil politicos appears delighted by Nisha Biswal's verbal strip tease act. What makes this cartoon funny are the two contrasts from reality. First, the teacher is younger than the four students. Secondly, the teacher is a dumb ignoramus on the main topic (i.e., the perennial issue of discrimination of Eelam Tamils in Sri Lanka) she pretends to teach and the students know better than the teacher, by their own life experiences.
Why Ms. Biswal is now pouting the teasing line, 'a different opportunity and different landscape'.  This is the same old verbal strip tease act for genocide solutions in which Uncle Sam had played a notorious role.  Think about the Cambodian genocide led by Pol Pot and his coterie.  Uncle Sam had a notorious role in sustaining Pol Pot's regime, even after its downfall in 1979 (during Carter, Reagan and Bush Sr. administrations).  Eventually, Cambodian genocide inquiries were downgraded from International Inquiry into Internal Inquiry to punish only the local leaders.  Other genocides in Africa and elsewhere, since 1980, also had Uncle Sam's finger prints.  But downgrading the rigor of inquiry from international scale to internal scale makes it easier for Uncle Sam to protect his citizens (such as Gotabhaya Rajapaksa) who were actively involved in perpetrating the Tamil genocide.
Source
William Safire: Safire's Political Dictionary, 3rd ed., Ballantine Books, New York, 1980, pp. 237-238.